A contestant participating in a trapeze act with her husband on America's Got Talent took a heart-stopping plunge  during the routine – and it was definitely not part of the the act.
Fortunately, however, the artistes had taken the necessary precautions in case an accident happened.
Acrobatic couple Mary and Tyce, who perform as Duo Transcend, put on a death defying routine which had the judges on the edges of their seat during Tuesday's episode of America's Got talent.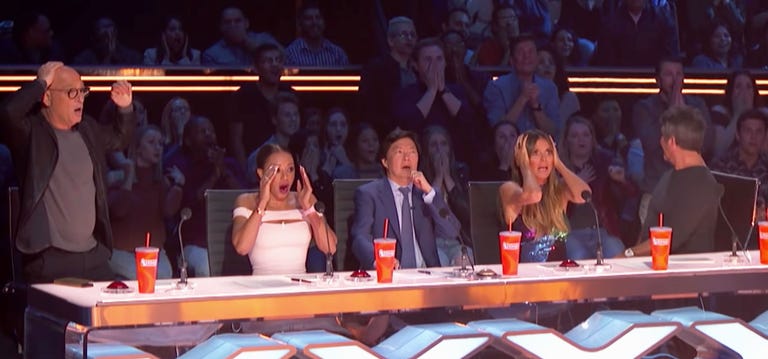 IMAGE: YOUTUBE SCREENGRAB/AMERICA'S GOT TALENT
Things went well until Mary slipped from Tyce's hands and fell to the ground during one routine, forcing the broadcaster to cut to commercials.
Tyce is partly blind due to a progressive eye disease but he was blindfolded and fire added for the first time to step up the act.
He said afterwards he was terrified when he felt Mary slip through his hands but he and Mary had lost communication with each other due to the screams and clapping of the crowd.
Fortunately her fall was cushioned by a mat on the stage and although she suffered bruises she was otherwise unharmed.
The story has a happy ending. Duo Transcend progressed to the next round despite the fall.