Socialite and model Nicole Nyaba has caused quite a stir on social media this week, when she announced her intention to 'start posting receipts' about someone on Instagram.
The Instagram star published two very provocative videos on her account – they've since been deleted – that led many on Twitter to believe she was in the middle of a break up with rapper AKA and was throwing shade at the Touch My Blood star's baby mama, DJ Zinhle.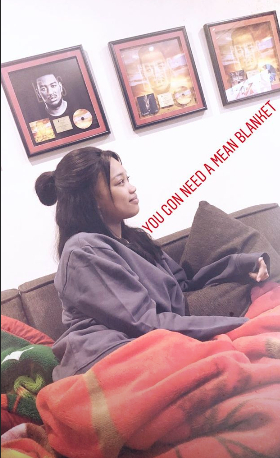 Nyaba formerly denied that there was anything between her and AKA back in May. However, while the two video posts didn't name the person she was lashing out at, they both referenced someone Nyaba referred to as 'your baby momma', leading many to believe the model was referring to Zinhle.
The rumour fires were further fuelled by Nyaba posting a picture of herself wrapped in a blanket chilling in what a lot of fans declare is AKA's crib.
Naturally the conspiracy theorists, Twitter detectives and rubberneckers all came out of the woodwork and it wasn't long before Nyaba, AKA and DJ Zinhle were the subjects of posts, memes and flame wars.
This being South African Twitter, things got very spicy, very quickly indeed.
A lot of commentators seem to think that Nyaba's reaction has something to do with an interview DJ Zinhle did with East Coast Radio earlier in the week. Zinhle revealed that she didn't hold onto resentment or anger over her break up with AKA and his alleged involvement with Bonang.
Whether or not all will be revealed in time remains to be seen. Watch this space…