"Harry Potter: A History of Magic", which opens in London on Friday, includes Chinese oracle bones from 1192 BC — the oldest datable items in the library's vast collection — as well as annotated sketches, notes and books by the author.
Marking the 20th anniversary of the publication of the first book in the world-famous series, the display brings together nearly 100 other historic treasures, including cauldrons and scrolls, with original material provided by Potter publisher Bloomsbury.
Artworks by Jim Kay, illustrator of the books, including paintings and sketches of key characters, are also among the exhibits.
The four-month show, which took a year to curate, has sold a record 30,000 advance tickets, with an additional 11,000 made available free to school groups, which have a day and a half reserved for them each week for exclusive visits.
"It's the biggest, best thing happening in London at the moment," said Jamie Andrews, head of culture at the British Library, as he unveiled the exhibition to the media on Thursday.
To tell the history of folklore and magic around the world, the curators set up eight themed viewing rooms based on subjects studied at the books' Hogwarts School of Witchcraft and Wizardry, from "Alchemy" and "Astronomy" to "Defence Against the Dark Arts" and "Care of Magical Creatures".
Among the many dazzling displays is the Ripley Scroll, a six- metre (20-foot) manuscript of symbolic imagery from the 1500s describing how to create the philosopher's stone, which in the books is able to give everlasting life.
A stunning celestial globe dating from 1693 has been enlivened by a collaboration with Google Arts & Culture with interactive screens offering an augmented reality experience of the stars and constellations.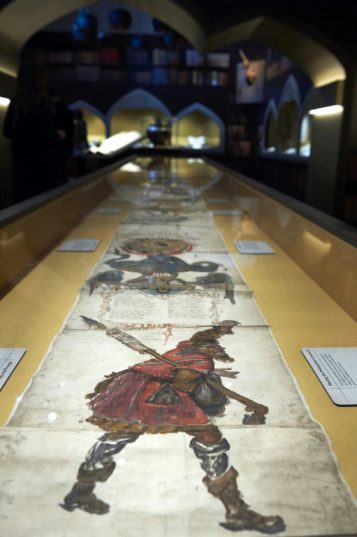 Other highlights include the Battersea Cauldron dating back to 800 BC, which was dredged from the River Thames; a mermaid, reputedly caught in Japan in the nineteenth century; and the first record of the charm "abracadabra", written in ancient Greek.
"Our exhibition sets J.K. Rowling's wonderful Harry Potter stories in the wider cultural context," said Julian Harrison, the lead curator, who said he hoped it would appeal beyond the books' fans.
"It demonstrates that many of the stories that she features relating to cauldrons and broomsticks, unicorns and dragons, they all have historical, mythological precedence," he said.
The exhibition also features two rooms showcasing rare Harry Potter material, such as a unique first edition of "Harry Potter and the Philosopher's Stone" annotated and illustrated by Rowling.
Rare international editions from among the nearly 80 different language versions published, including Tibetan, Turkish and Ukrainian, are also on display.
Rowling said in a statement the library had done "an incredible job".
"Encountering objects for real that have in some shape or form figured in my books has been quite wonderful," she said.