Nothing For Mahala is a different animal altogether, part of a campaign by the Heartlines NGO to promote a value system among its viewers that includes prioritising giving over receiving, and caring for others over being selfish.
Such a goal is laudable, but film fans deciding where to spend their money want to be entertained while they're being inspired, so anything too preachy would simply be dead in the water.
All of the potential pitfalls associated with misjudging the tone of such a project are avoided thanks to high-quality filmmaking, solid performances and script that balances message and merriness. Heartlines has had a long relationship with production house Quizzical Pictures (formerly Curious Pictures) and the reasons for going back to that resource are clear: the film looks incredible.
Leading man Thapelo Makoena is a real find in a film-carrying role. He's hardly an unknown face (Fear Factor fans will remember him presenting the local version of the series in 2005, and he's starred in Generations, Wild At Heart and the feature film Drum), but this story and the role of self-centred yuppie Axe Gumede allows him plenty of scope to present his credentials as a comedy performer, something he does with flair and a great deal of charm.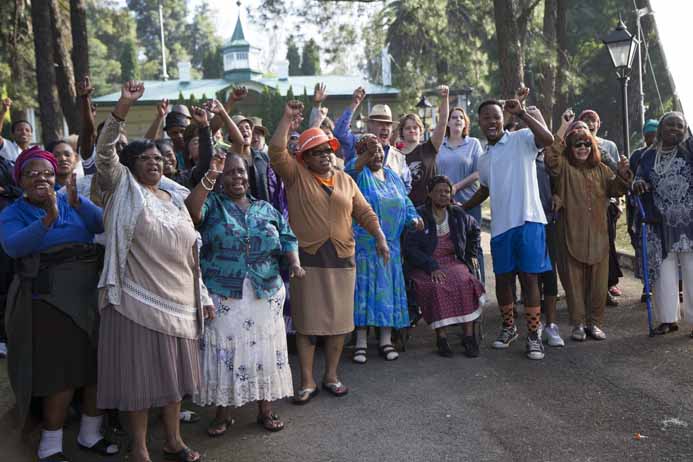 His nemesis onscreen is the crusty, obstreperous Hendrik, an old man Axe is tasked with caring for as part of a community service sentence, who is played by Marius Weyers. Reneilwe, the young woman in charge of the home in which Hendrik lives is as attractive as she is strong and responsible, and Mmabatho Montsho, a veteran of the South African soapie scene and past host of a number of SABC series, makes an impressive transition to the big screen. As with Makoena, Nothing For Mahala is likely to prove an effective stepping stone to reaching a wide cinema audience.
Jamie Bartlett rounds out the major roles as Axe's boss Mike, and his manic energy sees him stealing many of the scenes in which he appears.
A coming of age story in the emotional sense, Nothing For Mahala takes cues from many famous films in which disparate characters become unlikely allies as they discover aspects of themselves previously suppressed. Gentle humour helps to involve viewers in the character's loves and maintain a useful pace throughout.
The film doesn't have anything like the pathos of something like Rain Man, which has a similar theme – cocky, selfish type challenged to care for someone they don't understand, and comes out the better for it – but it has enough moments in which the moral of the tale is hinted at to suggest that its stated goal of changing viewers' attitudes might be achieved.