It captures the true essence of the thrills of motor racing without compromising its story and with two strong leads in Chris Hemsworth (below) and Daniel Brühl as James Hunt and Niki Lauda respectively, and a striking script by Peter Morgan (The Queen) fame, you can hardly go wrong.
Rush is a potent character study of two diverse personalities. Brit playboy James Hunt and the no nonsense, by-the-book Austrian Niki Lauda engaged in a hardcore war of psyches with no holds barred during their track duels in 1976.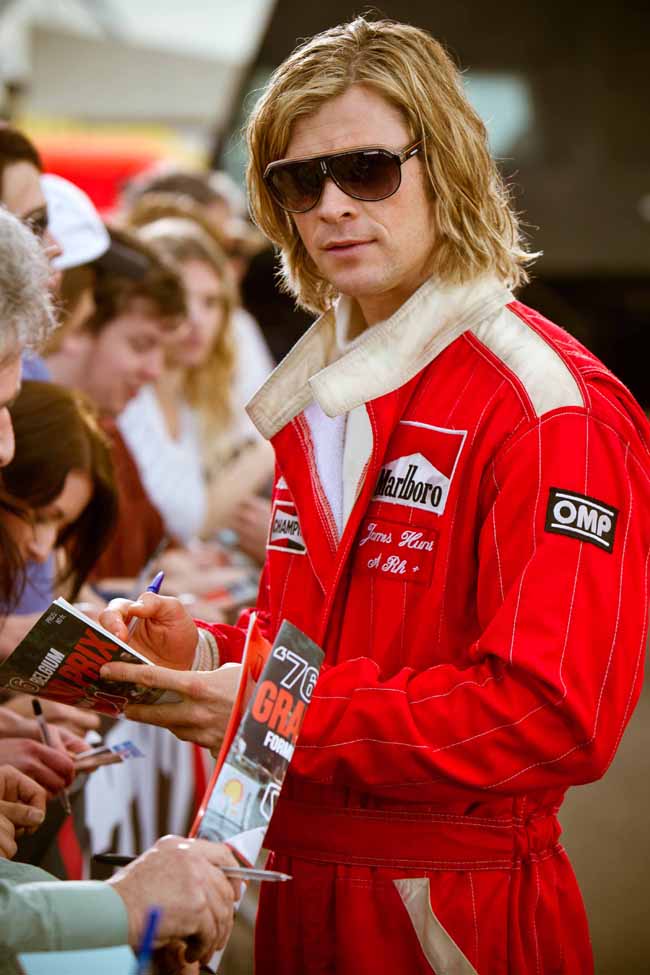 With Oscar-winning cinematographer Anthony Dod Mantle shooting a series of racing sequences and Morgan's script, which is loaded with humour, heartache and some verbal fireworks, the film rises elegantly above the Fast & Furious mob.
Rush burns on a high-octane mix of danger, sex and unexpected gravitas as it follows the careers of these two celebrated names. The two lead actors could not have been better chosen.
The blond Hemsworth, the Aussie best known for playing Thor, is a revelation and transforms himself into a devil-may-care stud whose hobby off the track is bedding a succession of delectable beauties, including model Suzy Miller (a saucy Olivia Wilde), who eventually left Hunt for actor Richard Burton. He oozes the playboy charm demanded of the role in a nicely nuanced interpretation.
Daniel Brühl, the Spanish-born German actor who excelled in Inglourious Basterds, matches Hemsworth at every turn.
As Lauda, with his ferret teeth and need for total control, he is the anti-romantic, yet he wins the love of Marlene (Alexandra Maria Lara), an acid-tongued Italian beauty. She shows resilience, especially after a near-fatal accident leaves Lauda badly burnt and suffering the loss of an ear and his eyebrows.