At an elephant camp alongside the Masuwe River, 8km outside Victoria Falls town, something special awaits both locals and tourists looking to delve further into the African roots of Zimbabwe.
The Elephant Wallow is known locally for being the ultimate wedding and event venue, but what makes it so fascinating escape are the elephants who reside there.
Art of Africa have created the perfect adventure for visitors to Victoria Falls who want to take a part of it home with them. Here the visitors create their own souvenir; their own work of art both literally and figuratively.
First comes a brief introduction to the Elephant Wallow and their lead characters. I and the other guests learn their names, where they came from and what not to do. Then we wait for our "meet and greet" on a balcony overlooking the Masuwe River and its beautiful surroundings.
The elephants and their handlers come to the platform just below us. This first encounter is the most important, as the elephants get a sense of who you are and you familiarise yourself with their movements and temperaments. I am taken aback by their kind and gentle nature.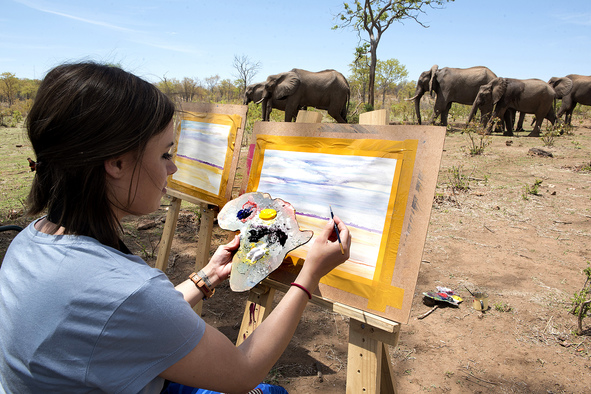 The next stage involves feeding them with food pellets that are the elephant equivalent of sweets, apparently. As I'm feeding them, a comforting calmness comes over me, which I expect is Art of Africa's aim with this project, as it allows their visitors to escape stressful thoughts and focus on the moment.
Finally, I make my way down to the watering hole alongside the herd, which after getting close to them isn't so scary now. As I move closer to the painting stations, I notice the paint palette, which is shaped like the African continent, the aprons and the canvas taped and ready, all in direct view of the elephants as they groom each other.
As I begin painting on the canvas, I experience something entirely different to any other moment in my life. I am not sure if it's the elephants or being outdoors while painting or both, which make this a life-changing moment. Stroking my brush up and down, I watch the image in front of me simultaneously existing just behind the canvas. At the end, we are all surprisingly impressed with our masterpieces.
Art of Africa has found a way for tourists and locals to meet, humans and nature to interact, and a space where creativity can be triggered by just watching how an elephant interacts with its surroundings.
For more news your way, follow The Citizen on Facebook and Twitter.