Alberton Record, along with the rest of the world, is celebrating the birth of music legend Hugh Masekela, who would have turned 80 years old today. Born on April 4 1939, in Kwa-Guqa township in Witbank, Masekela was best known as an international jazz trumpeter, composer, and singer whose music was instrumental in spreading an anti-apartheid message around the world.
Masekela started learning to play the trumpet when he was 14, quickly mastered it and joined the Huddleston Jazz Band, South Africa's first youth orchestra. In the midst of the oppression faced by black South Africans in the 1950s and 1960s, Hugh Masekela's music took on the role of reflection on and protest against the situation.
ALSO READ: VISUALS: The life and times of SA jazz legend Hugh Masekela
Following the Sharpeville massacre of 1960, the talented young man left South Africa to study music in London. Masekela would later move to the US and marry legendary jazz vocalist Miriam Makeba. He was known for recording hits such as Grazing in the Grass, and collaborate in scoring the Broadway play, Sarafina.
After 30 years in exile, Masekela returned to South Africa in 1990, following the release of Nelson Mandela from prison, where he continued to solidify his rightful place as the Father of South African jazz. By the time Masekela released his 2004 autobiography, Still Grazing: The Musical Journey of Hugh Masekela, he had 40 albums under his belt and had explored funk and mbaqanga in addition to jazz. Hugh Masekela was a recipient of many honours, including three Grammy Awards, one MTV Award, and two honorary doctorates.
On January 23 2018, Masekela lost his battle against prostate cancer, but his legacy lives on.
Visit www.google.com to see the doodle.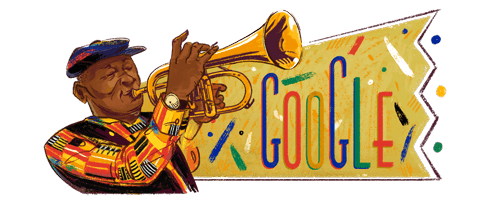 South Africans have taken to Twitter to honour the jazz legend:
Today marks the 80th birthday anniversary of Jazz legend & a great torch bearer of our liberation struggle, Bra Hugh Masekela. We thank Google for honouring him as today's Doodle – a testament of the rich legacy he left behind, that will live on for many generations to come. pic.twitter.com/gidxU4MkOn

— Min. Nathi Mthethwa (@NathiMthethwaSA) April 4, 2019
Whoooopa!!!!

???? Happy 80th Birthday to Hugh Masekela!!????????????

So many great things happening!

A whole Hugh Masekela Google doodle!! ????????????

A scholarship to the prestigious Manhattan School of Music, where he studied, for 6 talented South Africans! Spread the word! Apply! RT! pic.twitter.com/2XHJB8eOth

— marang setshwaelo (@marangdream) April 4, 2019
Happy Birthday to the Originator….Hugh Masekela
Stimela on repeat….????????#GoogleDoodle pic.twitter.com/XG2f6T7zRM

— Blitz Bazawule (@BlitzAmbassador) April 4, 2019
Happy birthday to our late Jazz music legend/icon Bra Hugh Masekela????❤. His activism was through music that protested about apartheid, slavery and apartheid government. We thank you for the music you gaveus we'll forever celebrate you????.#ThumaMina✊#GrowSouthAfrica
???????????? pic.twitter.com/jO5nKRB69L

— Tleho_M (@SbongzTshabalal) April 4, 2019
Google doodle just made my day as it joins us in celebration of Bra Hugh Masekela's 80th birthday.

Founder of #ThumaMina ….#HughMasekela80th pic.twitter.com/gazeOcGpGM

— Katlego Maseng ???? (@KatlegoMaseng1) April 4, 2019
Hugh Masekela turns 80. Thanks to google for celebrating the legend's birthday with us #HughMasekela80th pic.twitter.com/vYuR3AcIHA

— Papa Mfungho na Ntshaho (@choppa_matsimbi) April 4, 2019
For more news your way, download The Citizen's app for iOS and Android.