THIS COMPETITION IS CLOSED.
CONGRATULATIONS TO OUR WINNER:
An affordable and functional stylus smartphone.
Sometimes, the easiest way to remember something or explain it is to scribble it down or sketch a diagram. The benefits of writing something out by hand are well documented. From unleashing creativity to helping us to learn better, sometimes writing is better than typing. Hence the popularity of stylus smartphones, which offer the best of both worlds. But most of these come with a premium price tag. That's why LG launched the LG Q Stylus – part of its Q series of midrange smartphones equipped with premium features.
The LG Q Stylus features handwritten input for when writing is more productive and expressive than typing, offering convenience and functionality beyond the typical keyboard experience. Plus, the intelligent palm rejection system ensures accuracy is never an issue, even when you're resting your hand on the display. Even with the display off, the LG Q Stylus will recognise and record handwritten notes, making it ideal for sudden flashes of inspiration. Beyond jotting down notes and memos, the stylus can also be used to personalise photos and videos and to create animated GIFs.
The LG Q Stylus is packed with premium features normally, including advanced cameras (8MP front camera and 16MP rear lens) and the same advanced DTS:X sound technology found in the V and G series, plus USB Type-C fast charging, IP68 water and dust protection and MIL-STD 810G compliance. The Smart Rear Key fingerprint sensor not only provides easy-to-reach security; it also doubles as the selfie camera shutter button.
For more information visit LGnewsroom.com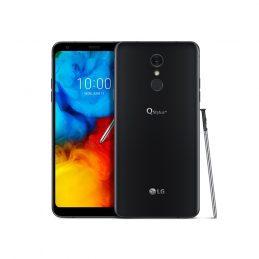 Competition closes on 31 May at midnight. 
Ts&Cs apply. By entering the competition, you accept The Citizen's standard terms and conditions
For more news your way, download The Citizen's app for iOS and Android.