New directives on how small businesses should run during Level 4 lockdown have been released by the Small Business Development Minister Khumbudzo Ntshavheni.
Here is what you need to know:
Does my business need a permit in terms of the business act to operate during lockdown?
The directives indicate that store owners, who do not have general trading permits (permits as required in terms of the Business Act that businesses should have as a rule of thumb), should apply for temporary permits.
Meanwhile, the Limpopo High Court has indicated that, in the capital of Limpopo, no temporary permits are needed to operate a business during lockdown.
Readers should contact their legal advisors if their businesses do not have permits envisaged in the Business Act of 1991.
If I am a non-south business owner, what do I have to do for my business to legally trade?
You need to have a valid passport and visa authorising to you to operate a business
Alternatively, you need to be the holder of an asylum seekers permit issued in terms of section 22 of the Refugees Act
In terms of the lockdown regulations, what permit do I need for my small business to keep operating?
You need to have a permit to perform essential or permitted services as per form two of the regulations.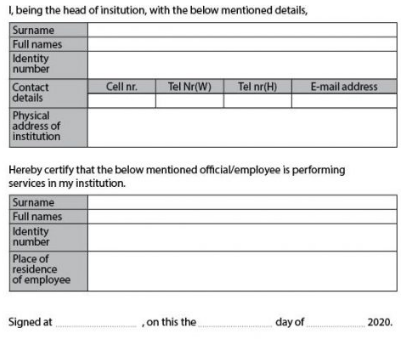 This permit is given to employees by employers. The employees must present it to law enforcement officials when required to do so. Employees may only work for employers if they have this permit.
If I am a head of a small business, do I also need this permit?
If you are the head of the business or sole proprietor, you must have the above permit issues by yourself to yourself.
You must also have:
An affidavit indicating that you are performing a service permitted in term of the regulations
Any documentary proof of the existence of and nature of your business, e.g., a CIPC registration certificate, a sole trader document issued by Sars or certified copies of the trade certificate of the owner or college certificate in the related qualification.
An affidavit is a document signed under oath in the presence of a commissioner of oaths. You can go to your local police station to have your affidavit commissioned.
If you are requested by law enforcement officers to provide your permit and the relevant documents, you will be able to do so.
Originally appeared on Centurion Rekord
For more news your way, download The Citizen's app for iOS and Android.