As an entrepreneur, every decision you make impacts your bottom line. So, it's no surprise that you'd put your products or services, staff, and suppliers through their paces before committing to do doing business with them. Ensuring your bank is able to provide trusted, reliable financial support is equally important.
The right bank can play an integral role in not only meeting your business' current needs, but its future aspirations too.
Alan Shannon, Head of Relationship Banking Sales at Nedbank, said entrepreneurs should firstly consider value for money when trying to find the bank and account type that best suits the needs of their business.
He went in to add that entrepreneurs should also think about whether they want to fix their banking costs or whether they're happy with variable of banking costs. Generally speaking, banks offer clients fixed and pay-as-you-use accounts. Fixed options take the form of bundles, which come with some trade-offs in that clients are given a finite number of capabilities and transactions over a specific period. Should they breach those transactions, they'll be liable for out of bundle rates.
"Be sure of what you think your transactional volumes are going to be and what you think your requirements are going to be. You will probably find, specifically in the early stages of your business, that there is value in subscribing to a bundle because it does give you certainty in terms of costs. But, as and when your business grows, you may well also outgrow a bundle," he said. He added that switching from a fixed arrangement to a variable arrangement is simple and can be effected in a matter of minutes.
Given that the products offered by several banks boast similar features and functionalities, Shannon said it is important to select a bank based on the broader services on offer. "If you're in it for the long term, one of the most important things you can do is to start forming a banking relationship with the bank. The relationship is important because the more your bank understands your situation, your business, how your business works, what the needs of your business are, the better it can help you in the long term".
He added that Nedbank provides each and every one of its small business clients with access to a dedicated relationship banker. "Having a dedicated relationship banker to deal with the holistic needs of your business from transactional to funding and investment is priceless. If I was an entrepreneur and I wasn't being offered that, I wouldn't even consider that particular institution," he said.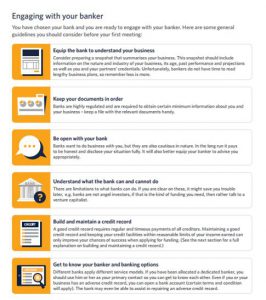 Shannon said Nedbank's small business clients also have access to its Money Manager™ and Nedbank Accounting Sage One tools to enhance financial record keeping, as well as its free Essential Guide for Small-Business Owners and SimplyBiz portal for advice on starting and running a successful business. 
Whether you are starting a business, running an established business or looking to expand, you need a reliable, affordable banking partner who understands the challenges of your business and responds with flexible solutions to your needs. Nedbank has extensive experience in serving small businesses and offers a comprehensive suite of payment, investment and finance solutions, as well as industry specialisation and services that extend beyond banking. Why not contact one of Nedbank's small business experts to help you see money differently and take your business to the next level? Call 0860 116 400, email SmallBusinessServices@nedbank.co.za or visit www.nedbank.co.za/business for more information.