At the start of his playing career at the Police College in Pretoria, he was known as an aggressive, no-nonsense abrasive lock, but these days Johan Ackermann has earned accolades for his people skills as the highly successful Lions rugby coach.
At one stage, Ackermann, now 45, held the record for being the oldest Springbok when he turned out at the ripe old age of 37 for the national team in 2007, before Victor Matfield made that record his own last season.
Bok hooker Bismarck du Plessis said Ackermann played a huge role as his mentor as a young player in Durban at a stage when Ackermann was nearing the end of his long career as a player.
Lions skipper Warren Whiteley had no doubt when asked what the secret behind the recent growth and success at the Lions was.
"This all started when Ackers took over as head coach and encouraged the players to play for each other and the jersey. He put the pride back into Lions rugby, which had a major influence on the team," said Whiteley.
"We enjoyed a strong finish to Super Rugby in 2014, and we did well during last year's tournament. We also did well in the Currie Cup. This is all a reward for the work we've put in to ensure the Lions excel as a unit … as a family."
Ackermann took over as head coach from John Mitchell in 2013, after previously filling the forward coach role – and in 2014 he won the Saru award as Coach-of-the-Year.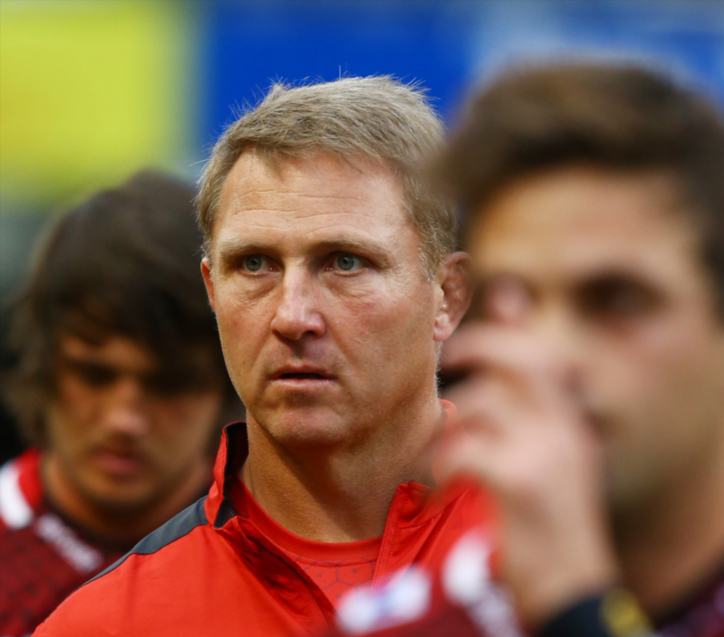 Ackermann proudly admits the team have come a long way, but he has always been quick to compliment his players and management staff for the hours of work they have put in.
"We'll just keep working hard. The players know where they stand with me, they've just got to keep working hard for the jersey, and as long as they do that, I can't ask for more," he said.
"If we go higher than we are then it's great but the growth since last year is definitely there."
But he stressed that it was a concerted effort through from union president Kevin de Klerk, CEO Rudolf Straeuli, their admin staff, assistant coach Swys de Bruin, defence and technical analyst JP Ferreira, team managers Mustapha Boomgaard and Johane Singwane, the medical staff – and most importantly the players.
"It's one big family, but there's still a lot of work to do. We have put last year's Currie Cup win behind us. It's a new year and everybody starts afresh," he said.
"So for me there's a lot of growth in store as a coach and also for the players. But we must also be realistic and remember where we started three years ago, so there have been big strides."
Ackermann played 13 Tests for the Boks in a career spanning from 1996 to 2007 and also played for the Blue Bulls, Griquas, the Lions and the Sharks.
He even enjoyed a stint with the Northampton Saints between 2001 and 2002. And it's this past experience as a player he is ploughing back into the team.
"I sometimes put myself in a player's position and as a player who played there, the thinking is that the more I play, the better I get," Ackermann said.
"But then I think if I get the opportunity like a Jacques van Rooyen or a Ruan Dreyer, that they will play with the energy of using that chance."
Ackermann said there was no magic recipe at the union – just plain old hard work.
"As a coach you get a gut feeling, you will always sit down with a player weekly and you are going to have to decide whether to play the one player and not the other one," he said.
"But then you hope it will work for you and you can only say afterwards if it was the right mindset."
In the words of De Klerk: "Johan is more than just a coach. It's his personality which currently makes the Lions such a tight-knit unit. A fantastic and humble person."
Sometimes good guys do come first.