Mother Nature unleashed her wrath in Vryheid last night, leaving some with serious property damages, others homeless, and many in tears, following what is being described as the worst storm the town has seen in decades, reports Vryheid Herald.
Public Safety officer TS Mthembu said that while he was still assessing the damage together with a disaster team which had been sent from Zululand District Municipality (ZDM), he had received countless reports from Coronation, Shoba, Hlobane, and Gluckstadt of roofs that had been blown off, and in some cases, houses that had been flattened down to the foundation.
ALSO READ: Collapsed Eskom line electrocutes animals in Kruger Park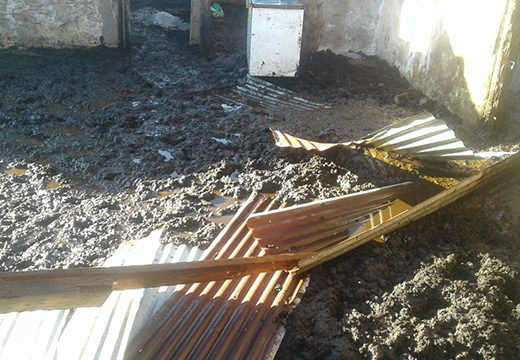 Businessman Dries Naudé, who lives in the Leeunek area, said his family huddled together in their bathroom after the roof of their home blew off. They quickly ran to their vehicle when the wind died down a little, and remained there until this morning.
"It (the storm) was like something you see on TV. I lost four sheep in the hail and I have been left homeless," he said.
Annemarie Engelbrecht, who lives on a farm just outside Vryheid, said all of the windows on one side of her house were shattered and her house was flooded.
"The trees were blown away and we couldn't even get out of our yard," she said, offering an apology for becoming emotional as she spoke.
"The wind was scary, there was a lot of hail and heavy rain. It was just a disaster and there was nothing we could do besides stand there and watch our house being torn apart around us. We have never experienced a storm like this before."
Sandra Annandale, who lives along the Hlobane Road, said she and her husband were fast asleep at 11.40pm, when they were awoken by the howling wind.
"When my husband looked out the window, he saw that the corrugated iron from our garage was lying on top of my car. Then it started hailing and it was severe hail. A tree collapsed onto our garage, another six trees in our property were completely uprooted, and five houses in our area were totally damaged. It was horrific. I have never experienced anything like this before. This was the worst storm I have ever seen," said Annandale.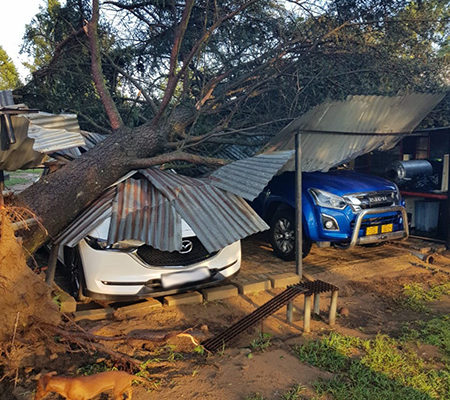 "The worst part was the noise of the trees falling over and the feeling of complete helplessness, knowing that you can't fight nature. I believe that God created the storm and he will fix everything in the end so I am trying to stay positive. If He brings you to it, He will see you through it. We are lucky to have our lives and fortunate that nobody was hurt."
Bereng Ndaba, a resident of Shoba, admitted: "During this storm, it felt like it was the end of the world. I thought my life was going to end. It was bad.
"The roof blew completely off my house. I have nothing left. My wife and I took shelter in an outside rondavel and my three sons waited out the storm in our bakkie. We watched as the wind got louder and the clouds became bigger and darker until it was pitch black. The next thing we knew, our roof was propelled 10km away. My son was hurt when part of the ceiling collapsed, but luckily there were no serious injuries."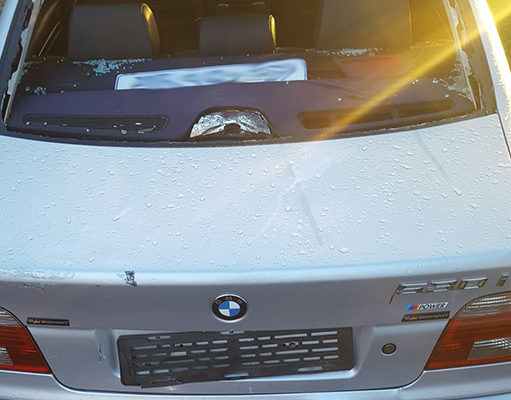 Sarie Rohrs, a well-known retired hairdresser who lives with her husband on a farm just outside Vryheid, said there was nothing left of her house.
Her son-in-law, Faan Coetzee, said: "90% of the roof is gone and trees are broken, blocking access to their property. There isn't any electricity at the moment as a result if the storm. We [are] trying to salvage what we can, but it really is terrible and they don't have insurance."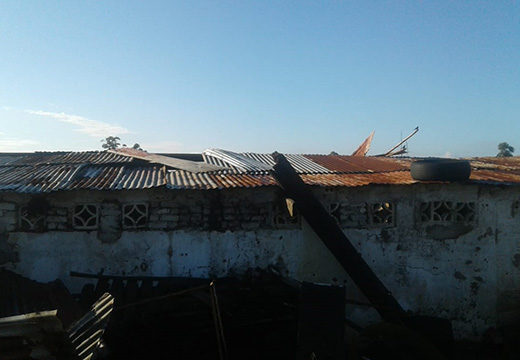 Senzo Jiyane, who lives in the Emadoshini area, said his roof sheets were so crumpled that there was no way he would be able to straighten them out again.
"I don't know what to do," he said.
The Vryheid Herald also received word that roof tiles and windows were broken at the main hall and some of the guest rooms at Black Horse Lodge. While some of the guests had to be moved to other rooms, none of the guests or staff had been hurt.
At the Mondlo police station, broken shards of roof tiles litter the yard, windows are broken and there is severe water damage in all of the offices. Furthermore, the station is facing disruption to water supply and a power outage, computers are not working and telephone lines are also down.
"Right now, things look really terrible," said municipal manager, Bonga Ntanzi.
"At my own little piggery, we had all the roofs blown off and six windows were destroyed. We are aware of a roof in Bhekuzulu being blown several meters away. At Mondlo, one roof flew near the police station. Rooms were dilapidated at the Black Horse.
"Basically, there was major damage on the East side of Vryheid from Ngoje to Coronation. In Mondlo, there is no electricity. Trees fell onto the substation, causing some damage, and without electricity, the pumps at the dam won't work either. We are still tallying up, but we will have the full report on all the damage by tomorrow morning."
For more news your way, download The Citizen's app for iOS and Android.