16:52 – Compensation laws in South Africa are also being furthered, Oliphant notes as he closes.
16:49 – "There are many more examples to show our local capabilities".
16:48 – "South Africa is leading the world in tonnage for Macadamia Nut production".
16:46 – Macadamia nut farming sites in "advanced stages" are being spoken of now by Oliphant, the project has been running since 2013 and is the Eastern Cape.
16:45 – Oliphant is comparing mining situations in South Africa in comparison to those occuring in Dolarised economies like Australia and the United States – Notes that South Africa are in a greener situation.
Oliphant's #SONAdebate speech focuses on the effect of the mining sector on economic growth #SONAdebate #MM

— Connect (@ConnectNewsSA) February 16, 2016
16:43 – "To stem the tide of job losses in the mining industry, government and labour came together to create an initiation to reduce job losses and delay retrenchments".
16:42 – "The mining industry will continue to be central to our country's economy. This is a long term value business."
16:38 – Oliphant notes uncertainty in the global economic markets. "Currency volitarity in emerging economies are not immune to such dynamics".
16:37 – "it is important to utilise our knowledge and experience to approach the next century of mining. We should be able to push back poverty and unemployment".
16:36 – Oliphant calls Malema "Judas" and a "sell out".
16:35 – "Maimane, we want to work with you to limit the instances of drug abuse across the country, even in the Western Cape… unfortunately the cowards from the EFF have left."
16:32 – Oliphant speaks broadly of the freedom that has been afforded South Africa. Directs thoughts to mine workers at Lily Mine.
16:31 – Godfry Oliphant takes to the stage now.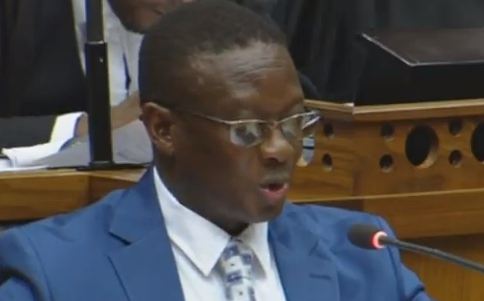 16:30 – "it is no wonder thousands are set to vote for the DA for the first time this year – the ANC is an out of touch old age home, good bye."
16:30 – Van Damme, like her party leader Maimane, is highlighting the success stories of employment and job creation in the DA lead Western Cape.
16:28 – "The ANC governs like young black lives DO NOT MATTER" – Van Damme is as scathing as anyone who has gone before her, as expected Education is a big thorn in this debate, one that President Zuma failed to address in last Thursday's Sona.
16:27 – "Put your money where your mouth is President, put that money towards universities".
16:26 – "The DA looks forward to the funding announcement from Minister Gordhan".
16:24 – "It is time to vote the WHOLE of the ANC out of power!"
16:22 – The DA's Honorable Van Damme is next on stand, and she instantly targets Zuma's failure to speak on issues of University crisis occuring across the country and labels the president "completely out of touch, he does not care of young people – they only see young people as voting cattle".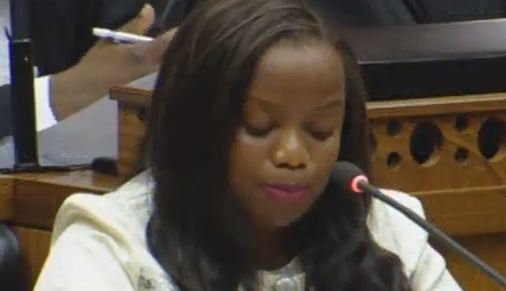 16:21 – Holomisa about to get turned off… he is talking well beyond his time, "This is contempt of the first order". He leaves the stage.
16:20 – Zuma's attempt to bring the "Nkandla saga" to an end has been noted by the UDM. "His adverse handling of South African matters has affected the trust and confidence of members within the house". "Vacate the office with dignity" Holomisa states.
16:19 – Independant National Fund Forum, another of the means that the UDM proposes be established to manage pension and providend funds.
16:18 – An "All inclusive national summit" must be had, Holomisa argues.
16:17 – The UDM's Holomisa takes the stage now.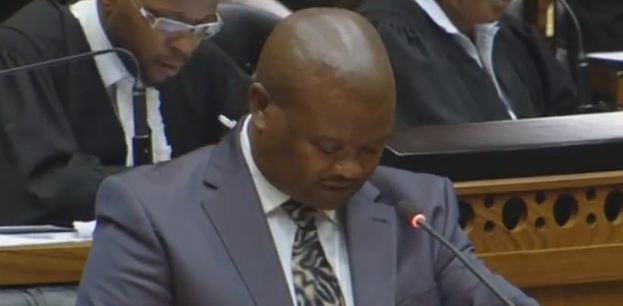 16:16 – "The Time for change has come, the time for Zuma and the ANC to go. Zuma Must Fall." Shelembe ends, that was a stinging speech by the NFP's speaker.
16:15 – "We need the biblical Samson who will fight the just cause of the ordinary people against the philistines – the ANC".
16:14 – "We deserve a state president who will treasure the cornerstones of governance, such as transparency".
16:13 – "Millions of Rands were used to maintain and upgrade Nkandla – Zuma said nothing until he was forced to".
16:12 – "This is the crux of the problem with President Zuma, he never takes responsibility for what is going wrong".
16:11 – "The Sona is an insult to each and every South African. Very little was said to give a true account of our nation." That's a quick start.
16:10 – NFP's Shelembe is next up.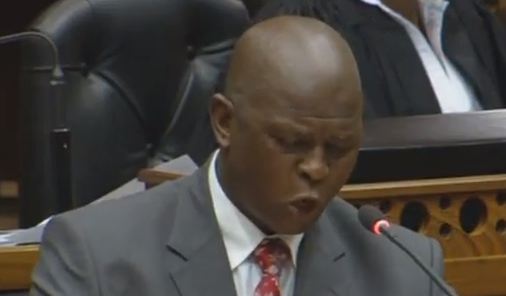 16:09 – "Sanral is doing remarkable work in our part of the country… we take the President's challenge that South Africa should be come the economic hub of Africa".
16:07 – Masualle seems to be doing his best to say a lot, while not saying very much. Basically justifying what Zuma said in his Sona, by giving examples of how the Eastern Cape is doing this. "We commit to take care of the bulk carrier vessels that have been registered in Port Elizabeth".
16:06 – Historic contribution of Fort Hare will "be celebrated properly" Masualle promises in 2020.
16:05 – The Eastern Cape's low matric pass rates have yet to be touched on. Tribute instead is being paid to the founders of Fort Hare University.
16:04 – Wind and solar farms are being progressed. Much needed job opportunities follow hand in hand with these, the EC Premier states.
16:01 – "Part of the Manganese corridor development with its export facility is on track. Along with this is a manganese smelting facility. Our partnership with NMMU in the area of shale gas research is in an advanced state that will lead to the use of shale gas in the Karoo. These partnerships are committed in themselves to move this country forward."
15:59 – "Last weeks Sona was concise on what needs to be done to address South Africa's challenges" Masualle says
15:57 – Eastern Cape Premier, Honorable Masualle now rises to speak and is interrupted almost immediately by Madisha of Cope. Madisha says "You have already made a rule, now we want to understand". Mbete refusing to rule on interuptions at the moment, Madisha declares Mbete is "Out of order". She says he must withdraw his statement, or be thrown out. He looks around, and withdraws.
15:52 – "We were bailing out SAA 10 years ago. Why are we still doing it? As long as there is policy uncertainty, we will not attract foreign investment".
15:51 – Zuma's admission is a "damning one" Buthelezi states – this in reference to abuse of funds by government officials. "Is this too little, too late? Undoubtedly it is not enough" the IFP leader states.
15:50 – "IFP welcome the establishment of the IMC" – this committee, another of Zuma's responses, is aimed at helping our ailing economy and banks.
15:49 – "There is no prospect of turning our economy around in the near future" – 5% growth is a long way off Buthelezi concedes.
15:48 – The soft-spoken IFP leader, Mr Buthelezi takes to the stage now.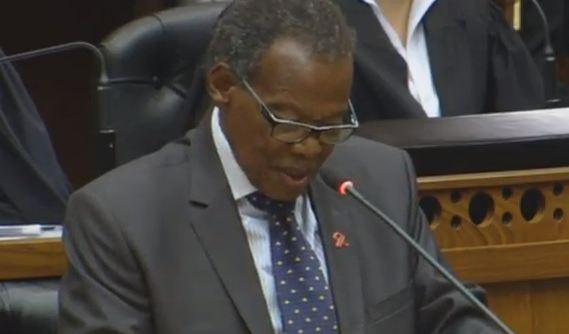 15:46 – "Mr Zupta, your legacy can be summed up into 3 things: Mshiniwami, Nkandla, Guptas… and I'm leaving, I can't sit here to debate what you have said, you are not a legitimate president… bye bye" and on that note… Malema leaves.
15:43 – "You are more Zuma members that being members of the ANC. To all South Africans our message is clear. Freedom is coming, the EFF is the last chance to create millions of jobs and quality education, healthcare for all. We are the last hope for the war against corruption."
15:42 – "I lead the charge on the removing of President Mbeki after a meeting with Zuma who said he was not willing to work with Mbeki. This despite Mbalula called me from the mountain and asked me not to participate in the removal of Mbeki. Had I listened to him, we would not be in that state. We apologise to President Mandela for allowing Zuma to tarnish his memory and turn South Africa into a junk country".
15:40 – "Money continues to disappear under his watch… We will be left with no country. We wish to apologise for being part of those who removed former President Mbeki… the one misleading us is sitting right here" – Malema points to President Zuma.
15:38 – Malema taking aim at the Premieres of North West, Mpumalanga and Free State as he labels them "Some of the most corrupt members in South Africa… they are untouchable". And back to the Guptas Malema goes. "The Guptas are party to the institutionalisation of mediocrity in South Africa" – something he feels their media houses encapsulate. "We call for the immediate removal of President Zuma".
15:38 – "Mr Zuma is at fault for the many ills plaguing our country".
15:37 – Malema has now moved onto the issue of the drought and the economy's "junk status" created due to Nhlanhla Nene's axing, "Which is all because of one man" Malema says, not for the first time.
15:35 – The 'Zupta' train has arrived, Malema "speaks from experience" to when the Guptas decided who the minister of sport for South Africa was. An interesting story that is sure to gather steam in days to follow…
15:33 – Malema speaks of the EFF's support of the "one capital" move Zuma wants to take in South Africa. Malema continues to hold the EFF's stance that they will not accept "Die Stem" in South Africa's national anthem, a point Makwetla objected to as Parliament opened proceedings earlier. Malema takes it all the way back to 'Showergate' and Zuma's now infamous shower which made South Africa "the laughing stock of the world".
15:32 – "Your so called Sona" Malema chimes in. "We speak of the problems in South Africa as you did not" Malema continues.
15:31 – Malema's speech has so far focused exclusively on the failings of Zuma's government to create jobs in South Africa. "What kind of a country fails to provide food for itself despite the availability of arable land?"
15:31 – "The majority of people in our township live like pigs, when they are alive and even when they are dead."
15:30 – "The ANC has destroyed nursing and policing by paying peanuts".
15:29 – The ANC "betrayed its founding principals".
15:28 – Malema says he will speak of and support to RMF and FMF in his speech.
15:27 – Malema dives straight down the same path Mmusi progressed on, highlighting a lack of jobs, education and growth in South Africa.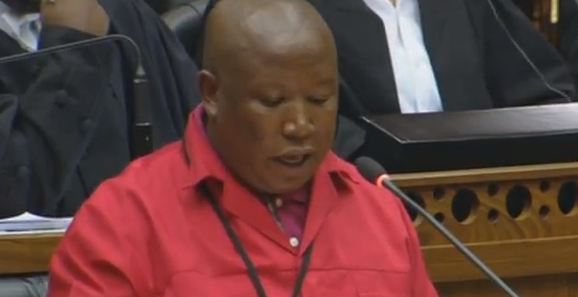 15:26 – "We should make ti very clear that we do not want to debate the Sona that was put here by an illegitimate president." Malema off to a feisty start.
15:26 – "We are better together, we prosper together, we need a president who is an example to his government and nation. We need a president who is in touch with the people of this country. We need a president who puts people first, and himself last. You sir, are not that president. I thank you" Mmusi ends to rapturous opposition support and applause. Malema is called to the stand.
15:25 – "In your parallel universe, I'm sure your Sona would have been fine. But here, in the real world, it does not cut it."
15:24 – "This is how we craete a safe, prosperous South Africa".
15:23 – "We WILL declare the drought a national tragedy, because we must protect our food supply"
15:22 – Mmusi says 250 000 cops will be placed on the streets as well.
15:21 – Privatisation of Eskom, SAA, cutting of bloated cabinet will happen if DA is voted into power, Mmusi says.
15:19 – Mmusi continues to paint the picture of success that the DA lead Western Cape has been. "While you and your cronies are on Planet Zuma, we are here where the people are. Step by step, day by day we are making progress. James Baldwin once said, 'the most dangerous creation of any society is a man with nothing to lose'. Mr President, your neglect has created 8.3m jobless people with nothing to lose. The time is coming soon when they will vote in a new government, and when we deliver our inaugural state of the nation adress, it will sound very different to yours."
15:17 – A point of order is brought up, "Is it the DA's policy to keep in power racist people too?" – Steenhuizen reacts harshly, saying Mbete does not deal with people speaking against the DA equally, but always acts harshly against the DA.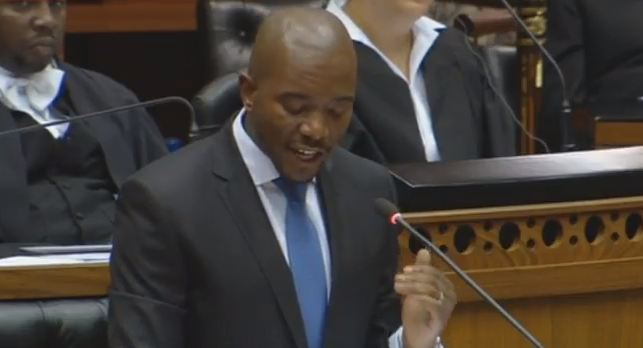 15:15 – Mmusi now plugging the work the Western Cape has done under the DA – highlighting cost-cutting "Not because the economy was in meltdown, but because we don't think the government is above poor people… the poor receive the most generous package of free electricity and water". "Government focuses on getting the fundamentals right" Mmusi continues.
Zuma is almost falling out of his chair with giggles at this point.
15:14 – "No one is expecting miracles… we are expecting our country to move in the right direction."
15:14 – "There are many more stories from the 8.3million people your government has forgotten about, but we couldn't fit them into this book", a commentor online has hit the nail on the head, this Mmusi speech is a scolding. "Why do you govern as if black lives don't matter? Why do you govern for the elite for as if poor lives do not matter?"
15:13 – Mmusi delivering stories of people who cannot find work or cannot live on the social disability grants the government is giving them.
15:12 – Malema and Shivambu are smiling and nodding – they're enjoying Mmusi's speech.
15:11 – "You have allowed the education of the African child to decay".
15:10 – Maimane claims Zuma has been thrown "under the bus" by his own legal team. "But how much will you pay? Here's the thing, it will be nothing compared to what the people of this country have already paid for your presidency".
15:09 – Steenhuizen says Mbete is being "Overly restrictive". Mbete disagrees.
15:08 – "The position we take here is in respect to the seperation of powers – please stay out of issues that are still before the court honorable Maimane".
15:06 – Another point of order, from deputy Chief Whip. "The matter you are referring to is in a cort of law with no judgment so why are you raising it", is pointed to Maimane as he dips into Zuma's Nkandla ConCourt case – something Mbete agrees cannot be discussed, due to subjudication. "The chair must apply this rule" she says, only general terms of the case can be discussed, no direct points may be made that can "prejudice" the case.
15:05 – "There is nothing wrong with the South African people, only the South African leadership."
15:04 – Mmusi now quoting Chinua Achebe, "The trouble with Nigeria is simply and squarely a problem with government".
15:03 – "There are still some cabinet ministers who do a good job… we noted the glum faces and muted applause from the ANC benches. Who can blame them? Every honorable member on this side knows the damage that this man is doing to this country and this party. But not one of you have the guts to speak up against what is happening! It is, simply, a failure of leadership. You should be ashamed" – Mmusi is going off.
15:03 – "Planet Zuma's gravitational pull is so strong that the whole ANC has been sucked in. The party that was once the defender of freedom is now the defender of just one man."
15:02 – Mbete asks Mmusi to respect the president, "This is difficult to do as he has disrespected this house" Mmusi responds.
15:01 – Hlomane Chauke rises on a point of order "Even if we differ, respect must maintain, he is still the President" – Huge chorus against Chauke's point of order.
15:01 – "We cannot respect a man who puts his rich friends ahead of anyone else in this coutry. Jacob Zuma is not an honorable man, because if he was an honorable man, he would do the honorable thing and resign!"
14:59 – "On Planet Zuma, equal education isn't an issue, that's why we didn't hear a single word about the education crisis in South Africa… the president lived up to our expectations on Thursday, we expected to hear the words of a man out of touch with his people, and that's what we got… we stayed until the bitter end because this is what South Africans expect of us… we came to listen to hte president out of respect for the constitution and the office he holds, but we did not come out of respect for Jacob Zuma."
14:59 – "In his speech on Thursday we learnt more about Planet Zuma than we did South Africa."
14:59 – "Planet Zuma is a place where mine workers can be massacred by police with no apology".
14:58 – "Planet Zuma is a place where a perfectly good finance minister can be replaced by a back-bencher no one has ever heard of."
14:57 – "Planet Zuma is a place where a swimming pool can be a "fire pool" and all the continents in the world fit into Africa".
14:56 – "Last week while razorwire went up around Parliament, the President was tucked up safely on planet Zuma… far away from ordinary South Africans"
14:55 – Mmusi Maimane takes to the podium. "I would like to offer up my thoughts and prayers to the workers trapped underground at Lily Mine". "We stand with you as a nation" he begins.
14:54 – "Take us seriously, we should not come to work to sleep" Ndlozi points out to sleeping MPs.
14:48 – "Political looting? Absolutely not" Davies mentions with regards to who may be involved in these new industries. He speaks here with regards to opposition claims that these will all be given to Gupta-esque connections within government.
14:47 – "New areas of gas industrialisation will be focused on" says Davies. "Imports are now being changed to production within South Africa" Davies continues.
14:47 – Singh rises on a point of privilege, "The honorable minister has refered to an NGO report, one that is completely inaccurate" says Singh.
14:46 – "The honorable Shivambu does come to those meetings, I know" says Davies.
14:45 – Mbuyisen Ndlozi has risen on a point of order, "Will Davies accept a question?". "No I will not, you can come to the portfolio meeting… but I see YOUR party (the EFF) does not come to the portfolio meeting". "You are deliberately misleading the house" Shivambu no chimes in – he has taken exception to Davies' comment that the EFF apparently does not come to portfolio meetings.
14:44 – "All of these succeses are from government direction and a stop to substandard products infiltrating our borders".
14:43 – Interesting comment is overheard from one of the MPs, "But what about all those bloody trains you got from Spain" – Davies gives a sideways glare in the direction of the comment, and then continues.
14:41 – Discontent seems to be growing as Davies continues, but he still largely has the support of the floor. Speech thus far largely highlighting growing investment in South Africa, and investment in locally produced industry that were once dominated entirely by imports.
14:39 – Busses, taxis are being manufactured in SA now Davies states – MP's continue to disagree with the points he is making. It seems DA MPs are disagreeing with him over his automotive points. Davies declares South Africa the growing "automotive hub of Africa". Davies now highlights South Africa's growing ship building industry.
14:38 – Davies highlighting a "trend" in investing in South Africa's automotive sector, citing BMW's R6bn investment (something a number of MP's shout out is not a trend).
14:37 – Davies seems to be doing a covering act at the moment, highlighting the saving of sectors like textiles in the past and how similar programs can and must be applied to help ailing parts of SA's economy
14:36 – "Mining closely tied to importing sectors", commodities (as expected) is a sector of concern for Davies, one that will have a big knock-on to other sectors of the economy.
14:34 – "Unlocking bottle-necks" a must for Davies if South Africa is to grow.
14:33 – Renewable energy and automotive production can be built on according to Harvard study on SA's predicament, Davies agrees. "We have strengths and capacities we can build on" he continues.
14:32 – Commodity prices, rising interest rates are a worry, but can be met and challenged says Davies.
14:31 – 4 points must be focused on says Rob Davies. 1) Work with Nene – 2) Correct errors (such as load shedding, we are not out of the woods) – 3) Act to mitigate effects in vulnerable sectors (such as mining) – 4) Need to identify sectors of job creation and grow on these.
14:30 – Davies now takes aim at Zuma's Sona. Zuma claimed we can do a lot to change local factors, something he agrees with.
14:29 – Damning speech from Davies – effectively calling short term solutions "crack remedies"
14:29 – "All developing and developed countries are being affected… Brazil and Russia are set to be declared in recession this year".
14:28 – "We have been, and will continue to be heavily affected… We are facing this year an El Nino that is associated with drought".
14:27 – Trade minister Davies takes to the stage "We will continue to be battered by an unrelenting global economic crisis that wills trike our soft under belly".
14:24 – "Spurious points of order are an abuse of freedom of speech" Mbete continues.
14:23 – Mbete finally begins dealing with today's schedule. "Members may only speak if recognised by the presiding officer. Speaking without such is an abuse of freedom of speech" Mbete says (One wonders who that was directed at…)
14:22 – "Thabang Makwetla is trying to be relevant, he isn't raising a current point" says Shivambu. EFF's deputy Pres is unhappy with issues from "two weeks ago" being dealt with today that are not on the agenda – something Shivambu seems to be doing himself.
14:21 – "I demand respect from Thabang Makwetla, he must sit down" says Shivambu
14:20 – "You are now throwing questions at the chair, this is not a point of order. I now recognise Honorable Shivambu".
14:19 – Makwetla making sweeping statements at Parliament's opening, claiming that speakers are not being protected by the speakers or presiding officer while they are on the floor.
14:18 – "The presiding officers have switch off buttons there, at what point are those buttons used?" The Deputy Minister asks. "We have heard your question, please take your seat" Mbete calls. "SIT DOWN BABBA, SIT DOWN" calls from Parliament's floor ring out.
14:17 – Deputy Minister – "In order for business to proceed easily, the presiding officer must address a member, only then can the member rise and continue", something clearly directed towards a "mockery" that the speaker feels the EFF brought to EFF last week.
14:16 – Deputy Minister (Makwetla) continues to stand amid Shivambu interruption from the EFF end. "Allow the minister to finish" Mbete asks
14:16 – Mbete asks for this to be placed in writing to be "fully considered".
14:16 – Clapping ensues, loud jeers and shouts still resounding.
14:15 – "We are sworn in to uphold the constitution, and upholding the constitution involves upholding all symbols of the republic. It is an obligation of honorable members to uphold laws of the country, but because the incident took palce in a joint sitting, my recommendation is that this be heard in both houses in Parliament and be addressed there".
14:14 – "chapter one of the constitution, section 4 – decrees the national anthem. When members of parliament take office, there is an oath they are sworn to. The oath governs members holding respectability" – Parliament erupts into shouts
14:13 – Deputy Minister rises instantly on a "substantive point of order".
14:12 – Delay attributed to Parliament's lift by Mbete.
14:11 – Madame speaker Mbete has entered. "There will now be an opportunity for silent prayer or meditation"
14:10 – Stream is live, mp's bustling about Parliament and making their final prep for what is expected to be a fiery grilling for President Zuma's 2016 Sona.
Buildup:
South Africans can expect a fiery State of the Nation Address (Sona) debate today, according to political analyst Andre Duvenhage.
There is also likely to be a continuation of the disruptions of last Thursday's Sona by President Jacob Zuma. During the Sona, Congress of the People (Cope) leader Mosiuoa Lekota was the first to say Zuma was not honourable before walking out.
It then took about an hour before the president could address the nation due to disruptions by EFF members, later asked to leave the National Assembly.
Livestream: (LIVE)
Courtesy – eNCA