Senior politics reporter, Carien du Plessis has been banned from attending the upcoming African Nation Congress (ANC) birthday celebration in Rustenburg for referring to the attendees as "pantypreneurs" and "tenderpreneurs".
ANC will be celebrating their 104th anniversary over the weekend. Unwelcomed guest is a reporter who tweeted "derogatory remarks against women", this is according to the ruling party's spokesperson, Zizi Kodwa.
Carien du Plessis tweeted: "Seems Rusty News Cafe will be a choice hangout for pantypreneurs and tenderpreneurs at this weekend's #ANC104 bash"
ANC's spokesperson Zizi Kodwa responded to the tweet: "ANC takes offence to this kind of derogatory remarks against women, we will take up this matter with yourself and employer."
Opposition party, Economic Freedom Fighter (EFF) deputy president Floyd Shivambu said: "That's sexism of the worst sexism Carien! You must withdraw that statement."
The word "pantypreneur" means "a female who uses her body to sleep with prominent figures to achieve her desired outcomes, like money, cars etc.
Du Plessis later tweeted: "I realise the term "pantypreneur" is problematic. Thank you for the engagement and my unqualified apologies for using it in my tweet."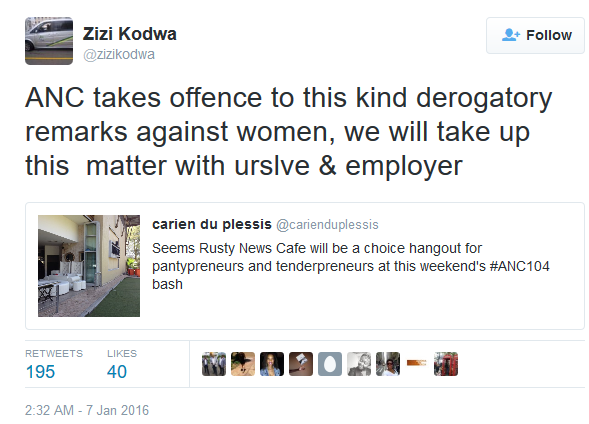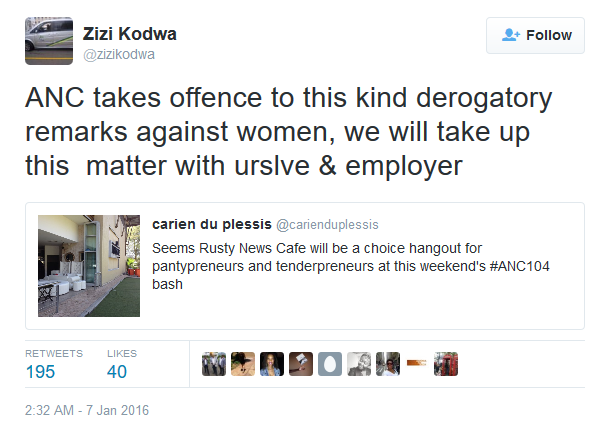 The ANC anniversary will be held at the Royal Bafokeng stadium in North West on January 9, 2015 with special guests. The celebration will begin at 7am.
This is what people said behind the pantypreneur term:
I don't get why you guys are so angry, #Pantypreneur is a real thing & you know it.

— Lesego Maphanga (@LSG_Maphanga) January 7, 2016
Ha! You leave #twitter for a few hours and a word like #pantypreneur springs forth. #Interesting #newwordlearned

— David Heugh (@davidheugh7) January 7, 2016
I used to sell men and women underwear. I guess I was a #pantypreneur back then. Buying them cheap in Durban. Sold to rural teachers then.

— Nkululeko Somhlahlo (@nkululekosom) January 7, 2016
https://twitter.com/fhum_ulani/status/203070331127205888