The outrage over former estate agent Penny Sparrow's Facebook post continued on Monday afternoon, amid promises by the ANC Youth League to lay a complaint with the SA Human Rights Commission. Earlier the DA had laid a criminal charge against Sparrow.
On Saturday former Jawitz Properties estate agent Penny Sparrow wrote in a barely literate post on her Facebook Page:
"These monkeys that are allowed to be released on New years Eve and new years day on to public beaches towns etc obviously have no education what so ever so to allow them loose is inviting huge dirt and troubles and discomfort to others.
"I'm sorry to say I was amongst the revellers and all I saw was were black on black skins what a shame (sic)".
Sparrow went on to say she knew "some wonderful thoughtful black people" and followed it up with "This lot of monkeys just don't want to even try. But think they can voice opinions about statute and get their way oh dear . from now I.Shall address the blacks of South Africa as monkeys as I see the cute little wild monkeys do the same pick drop and litter. (sic)".
Outrage on social media was swift with most black South Africans describing the post as vile, offensive, deeply hurtful and saying such sentiments had no place in the new South Africa.
Many called for her to pack up and go to climes where she would feel more welcome.
"It is extremely disappointing people like this still exist in our country," said Tshepo Ditshego.
He had earlier emailed Jawitz Properties as a "very patriotic citizen of this country who is interested in making it a better country to live in" and called for Sparrow's dismissal due to the offensiveness of her remarks.
Speaking to The Citizen, Ditshego said comments like Sparrow's dampened South Africans resolve to reconcile as a nation and create a non-racial society.
"It really takes us back quite a few steps as a country when we are trying really hard to unite people of all races and reverse the ills of apartheid.
"What these comments show is that the divisions and lines created by apartheid are still very clear 21 years on," Ditshego said.
In another Facebook rant, a Justin van Vuuren calls Durban beachgoers "animals" and the "scum of the nation". "Go back to where you came from and take your 13 kids with you!" he wrote on his page.
"The separations still exist not only physically but in terms of attitudes and mindsets," Ditshego noted.
"When we see these kind of posts, they take us back to pre-1994 and it shows us that although it looks like things have changed, they haven't really. However it doesn't mean black people want white people to leave the country, all it means is that there is a distrust and there is reluctance to want to progress from the side of whites and as a result it makes us wonder as to why we should be as peaceful and harmonious as we've always been."
This morning DA Leader Mmusi Maimane tweeted that Penny Sparrow's comments are insulting and must be criminally pursued.
As a result, the DA has laid criminal charges against Penny Sparrow, for investigation of Crimen Iniuria for infringing the dignity of all South Africans and for dehumanising black South Africans.
DA member Herman Mashaba laid the criminal charges against Penny Sparrow with the SAPS, and a case has been opened.
"Attitudes of such vitriolic racism have absolutely no place in South Africa. Today the DA in KZN has therefore also served notice of intention to suspended the membership of Penny Sparrow and has referred her conduct to the Federal Legal Commission for investigation," it said.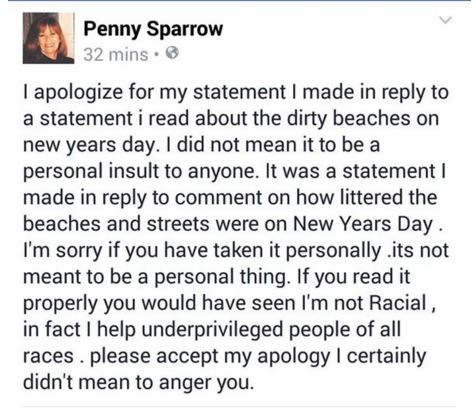 Jawitz's statement in full:
Herschel Jawitz CEO of Jawitz Properties has condemned the racist statements made by an ex-estate agent who left the company in November 2015, labeling them as unacceptable.
The ex-agent's Facebook page erroneously stated that she was still an employee of Jawitz Properties. This has now been corrected. In addition, properties reflecting her name on another property website have also been updated.
Jawitz Properties has been operating for many years during which it has built an impeccable reputation in the marketplace. We would like to strongly emphasise that the racial comments made by the ex-employee were done in her personal capacity and have no reflection whatsoever on our company or its views.
We are exploring all legal options and are engaging with our Industry regulatory body to ensure that Penny Sparrow is held accountable for her words. I feel both personally and professionally as the CEO of our company the same anger and outrage about these comments as the public. It is unfortunate that the anger from the public has been misdirected towards our brand and not the person responsible for the comments made.
There is no place for these views in our country, in our society, in our industry and especially not in our Company.