Yesterday, political party the Freedom Front Plus (FF+), confirmed that it would make a last ditch attempt at the North Gauteng High Court next week to bring e-tolls to a screeching halt.
The urgent application which has been placed on the court roll would as for an interdict against e-tolling, said FF+ spokesman Advocate Anton Alberts.
Transport Minister Dipuo Peters announced last week that e-tolling would be implemented on Tuesday, December 3.
The SA National Roads Agency Ltd (Sanral), the Transport and Finance Minister's and the President as respondents in the matter have opposed the application, while the Gauteng Premier and Transport MEC have both indicated that they would accept the outcome of the court.
Both the Speaker of Parliament and the National Council of Provinces chairperson would take notice of proceedings, he said.
The party would seek to have the Transport Laws and Related Matter's Amendment Bill to be deemed as unconstitutional.
Alberts has said that the Bill was initially incorrectly tagged under Section 75 which does not allow for consultation between provinces in Parliament. It would pursue having the Bill reclassified to Section 76 which allows for this process to take place.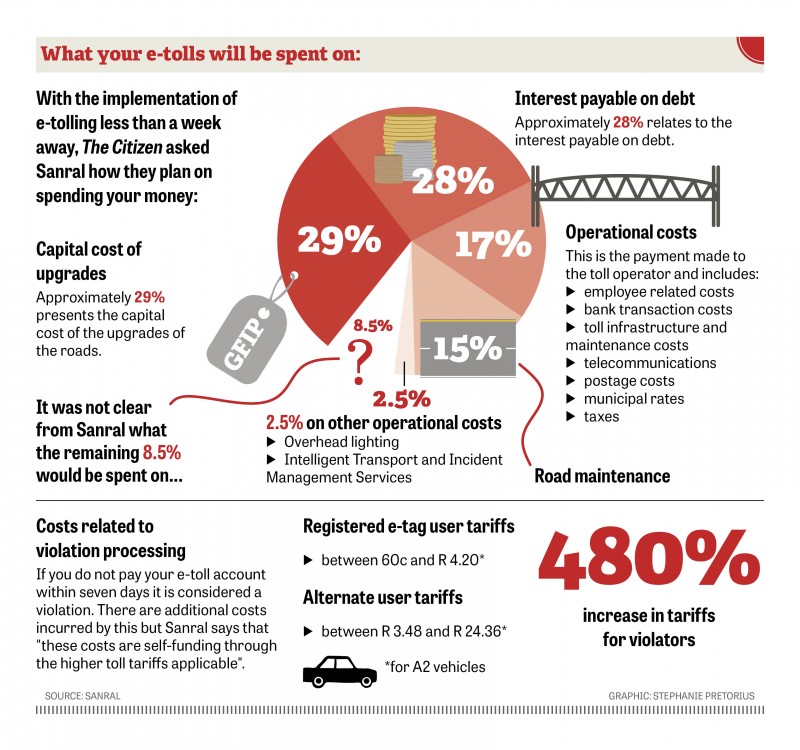 Albertsa said the legal team would further ask the court to halt the system, pending its ruling on the matter.
"That is if the court cannot rule in a short space of time."
Two other matters on the Gazetting of the Bill and the issuing of the toll date, by Peters would moreover be challenged, added Alberts.
The Democratic Alliance will launch a similar application in the Western Cape High Court, where it would similarly attempt declaring the Bill as unconstitutional.
Alberts had expressed confidence in the case.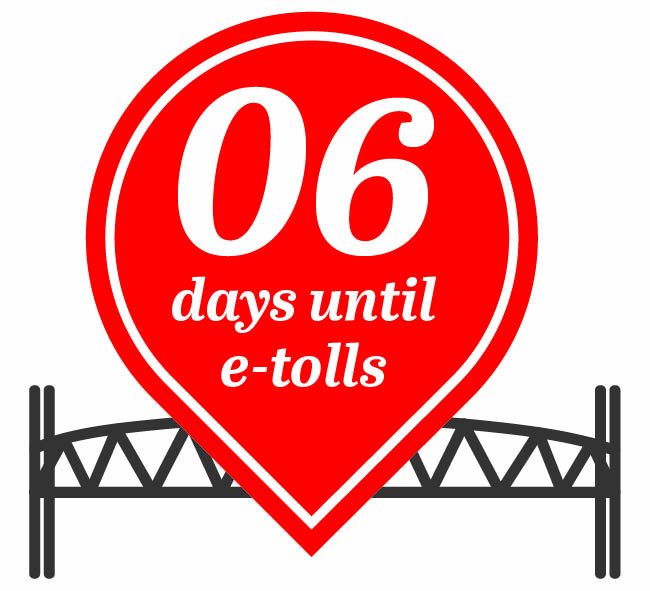 President Zuma signed the Bill on September 21 before jetting off to New York to address the 69th session of the General Assembly at the United Nations.
The public were made aware four days later amid a Supreme Court of Appeal (SCA) matter against e-tolls, that Zuma had penned his signature.
The SCA appeal by the Opposition to Urban Tolling Alliance (Outa) was later dismissed. This lead to Outa abandoning any further legal bids to have e-tolling scrapped because of lack in funding, according to its chairman Wayne Duvenage.
Sanral last week put the number of sales in e-tags to 707 000.
Outa late yesterday however, accused Sanral for misleading the public over its e-tag sales.
Duvenage said the sales numbers were "merely a ploy" to create the impression that motorists were flocking to purchase e-tags.
"…Which is clearly not the case, as the total figure of over 700 000 includes large fleet operators, banks, car rental companies, government fleet and leasing companies.
"Sanral have yet to confirm how many actual, individual road users have purchased an e-tag which we suspect is a much smaller proportion of total e-tag sales."