UPDATE: Woolworths have responded on their official Facebook page to widespread criticism and community backlash over a store display that appears to portray a slavery scene with mannequins tied together with ropes.
According to Woolworths' social media team – the display itself was incorrectly assembled and not complete at the time at which the picture (which has since traveled the globe online) was taken. The 'rope' itself was meant to be a support for Christmas globes and baubles.
Woolworths' statement in full follows:
Hi everyone

We apologise for the distress caused by an incorrectly assembled RE: in-store installation.

At the start of any campaign, our stores are taken through the creative direction for installations via a 'model store' set up. This festive season's installation is supposed to hold Christmas baubles suspended off ropes, being supported by the mannequins. One store implemented the installation incorrectly, using the rope without the Christmas baubles.
The mannequins used in RE: displays are made from recycled materials which is why they are naturally grey in colour; they don't represent a particular race.

As soon as we became aware of the error yesterday afternoon we contacted the relevant team to make sure the mistake was corrected as soon as possible. The offending display is now fixed.
Earlier:
Woolworths received criticism for draping ropes over black mannequins. On Monday, Twitter went on an uproar over a picture that was shared showing these mannequins with ropes draped over their shoulders and hands, resembling the way slaves were chained.
A Facebook user by the name Mvusiwekhaya Sicwetsha posted on the Woolworths SA Facebook page pointing out that he has a problem with the ropes on the mannequins, to which Woolworths responded: "You've got a very valid point. We've contacted our store installation team and will get back to you as soon as we can".
It was not exactly clear which Woolworths store the customer saw the mannequins as he refused to give them his contact details and told them "to check their stores" and apologise later.
Twitter users also did not fail to express their opinions, with one user saying: " Woolworths disclaimer: no mannequins were harmed during this stunt. Any resemblance to past events or actual persons is purely coincidental."
Some defended the store, saying South Africans are too sensitive and that Woolworths would never portray a slavery scene.
Read the exchange below: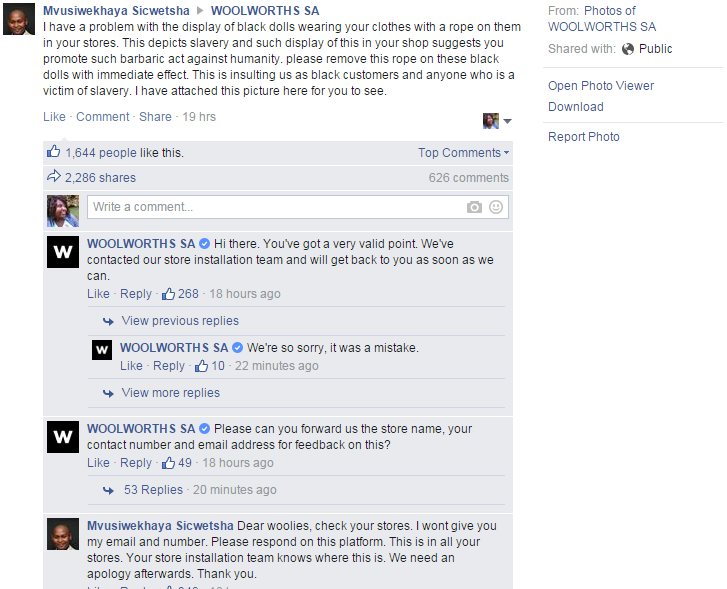 And the tweets:
This Woolworths nonsense is disgusting.

— Refilwe Modise (@RefilweModise) November 17, 2015
White Privilege: @WOOLWORTHS_SA depicting slavery and saying sorry afterwards. Even the explanation they giving us is stupid. Yaah neh!

— Slakki sama pilapila (@SifisoSpeaks) November 17, 2015
Where is the joke in this? Is @WOOLWORTHS_SA mocking black people's struggle? #ChainedManikin @moflavadj pic.twitter.com/nAMKNMmdro

— AFRICA ???? (@PressPlaySA) November 17, 2015
To the @WOOLWORTHS_SA merchandiser: YOU ONLY HAD ONE JOB! only one. https://t.co/IhWHKSz4k1

— CURRENT_AFFAIRS_GURU (@ThuleCoupe) November 17, 2015
https://twitter.com/DhlaminiLucia/status/666506411086651392
@WOOLWORTHS_SA If you guys had mixed your models(black n white) I'm sure ppl wudnt have reacted that way. ThinkBeforeAdvertising

— UMP by GucciWDeJ (@TravelTheGGlobe) November 17, 2015
https://twitter.com/Fashion_Trash/status/666509019968872448
Woolworths is on the ropes

— African (@ali_naka) November 17, 2015
If black people say Woolworths display offends them, why are certain white people even commenting on it, where does it affect them?

— My name is (@Sanele_so) November 17, 2015
What hurts me the most is that black workers had to cuff and tie these ropes. Black staff oppressed! @WOOLWORTHS_SA pic.twitter.com/868GxwoIEp

— Quennell (@Quennell_Africa) November 17, 2015