It would also have saved millions of rands in legal fees paid by organisations trying to prevent the user-pay system from going ahead – and the government using taxpayer's money to defend its decision to toll.
Stay-away protests, as organised by the Congress of SA Trade Unions (Cosatu), against e-tolls would not have happened.
The South African National Roads Agency (Sanral) has argued that it is unfair for the rest of South African motorists to help fund the Gauteng Freeway Improvement Project (GFIP), which e-tolling will pay for.
However, The Opposition to Urban Tolling Alliance (Outa) has said that the fuel levy is still the most viable option to pay for new road infrastructure in South Africa's major economic hub.
There was no fuel levy increase in 2006 – however, there has been in the subsequent years. The levy has been raised by 15 cents this year and went up 20 cents last year. The combination of an earmarked fuel levy and money from the National Treasury would have resulted in Sanral having some change left over.
The money would have amounted to R18.4 billion with R17.9 billion spent on the GFIP.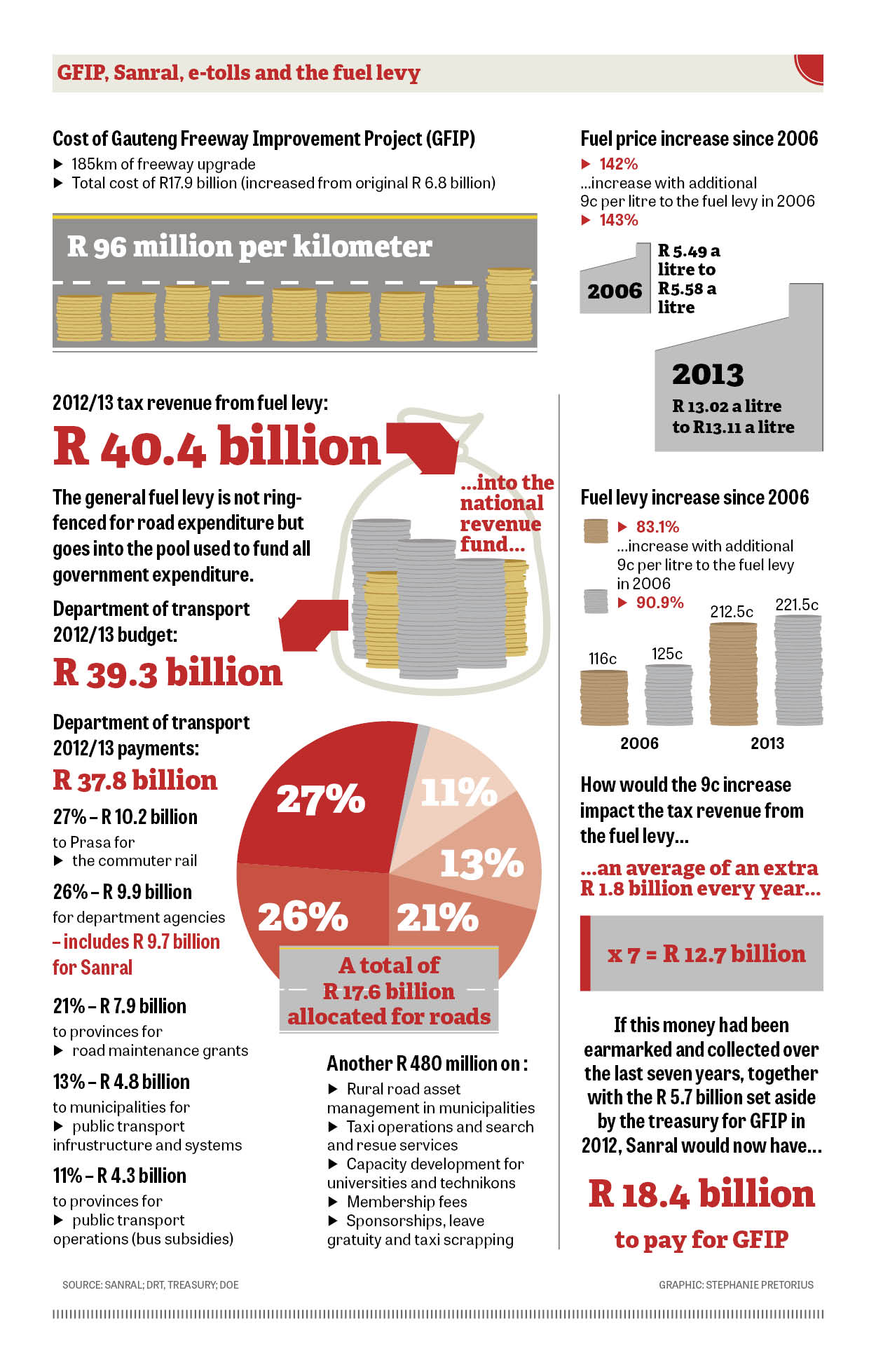 Outa chairman Wayne Duvenage said if Sanral had conducted a thorough public engagement process in 2007, it would have been able to recommend to the National Treasury that the most efficient way to fund the GFIP was to allocate around R1.9 billion per annum to pay off the bonds, including interest, over 20 years.
"Instead, however, someone or some entity convinced them to introduce an elaborate electronic tolling system to get the funds from Gauteng motorists only. Unfortunately, they didn't do their homework and now, the chickens are coming home to roost."
Duvenage said an extra nine cents in 2006, plus the R5.7 billion provided by treasury in 2012, would have raised about R19 billion to end 2012, therefore, the capital cost of GFIP would have been accounted for. "With their almost three-year delay since the first planned launch in April 2011, we have wasted so much time to address this matter."
A fuel levy could still save motorists from paying e-tolls, he said. "The fuel levy has been increased substantially over the past decade or so and the authorities effectively have the funds from motorists for the GFIP upgrade."
The Democratic Alliance, which will soon challenge the legislation paving the way for e-tolling, has said, despite feasible alternatives government has insisted on moving ahead with e-tolling. DA Gauteng premier candidate Mmusi Maimane said a fuel levy would be the most feasible way to pay off the GFIP.
Cosatu said the best way to fund the GFIP was general taxation, but the fuel levy was an option.
"The fuel levy, while not the best option, is far better than
e-tolls because it costs so much less and millions of rands of taxpayers' money would be saved," the labour federation's spokesman, Patrick Craven, said.