According to the latest Living Conditions Survey by Statistics SA, this can be attributed to many factors.
The findings apply to one example: the Mutshembele family in Durban, KwaZulu-Natal – despite their monthly spend of R3 261 on groceries. The couple, an air space controller and a paramedic, have been together for 18 years.
They have two children – aged nine and five – who live with their paternal grandmother in Johannesburg. Their family's living arrangement also requires them to send R1 500 a month to cover their children's grocery bill.

"Not long ago we could live on R1 000 a month as a couple, and if we go over budget it was R200," says Gabisile Mutshembele, who was preparing the couple's bonded house in Pretoria to be rented out to increase their bond repayment amount while they live in a rented flat in Durban.
"Because of the high living expenses we are working on a plan to return to Gauteng in about six to 12 months. This will take a lot of pressure off our income. Inflation has made things so expensive and often we have to improvise," Gabisile says.
The Mutshembeles are just one of many families feeling the impact of food inflation that continues to rise and had clocked in an annual increase of 7.1% by August this year.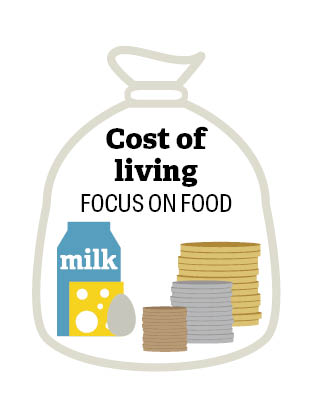 Statistics SA says this increase was driven by the bread and cereals group of foods, which showed a recorded 8.6% increase.
"Our expenditure on sandwich fillings for lunch boxes like polony – especially chicken polony and cheese – have all gone up in a short space of time," Gabisile says.
The family has already adapted to try and ease the pressure of food costs on their budget by buying in bulk. However, she says this was impossible to do with meat, vegetables and fruit.
"Buying in bulk means we can skip a month on buying certain items like mealie meal, sugar and canned foods. When the children are visiting during school holidays we have to buy double of some items, such as eggs, polony and a larger peanut butter," she says.
"My family makes an effort not to waste anymore. Instead of doing the laundry twice a week, that has gone down to once a week. We have also changed our fish oil to olive oil, because you only need a small amount to cook."
Juicy steak stays affordable
Consumers will be able to breathe a sigh of relief during the upcoming festive season as the prices of meat will remain within reach of all the braaiers, says Absa economist Ernst Janovsky.
The prices of beef and chicken are expected to remain constant for a couple of months. He warns, however, of possible slight increases due to a couple of days of lost productivity that comes with holiday seasons.
"Looking at meat prices recently, they rose slightly more than inflation, especially pork and poultry, due to maize prices, which have been high," Javovsky says.
He said producers' prices were recently under pressure due to meat prices. Because of drought in certain meat-producing areas a lot of livestock has come into South Africa from Namibia, which in turn eases meat prices.
"Poultry has recently increased due to import and export tariff changes and the prices are expected to remain constant, while a shortage of pork is expected due to a lot of pork producers having pulled out of the market because of production cost pressures. This may increase pork prices because it will not be readily available.
"There are seasonal trends in the meat market as people eat more meat during holidays. And although production days will be lost, prices will go down again in January," says Janovsky.