Violence never solves anything, she says.
A skinny Indian lawyer with the mark of greatness – who was thrown off a train in Pietermaritzburg for defying in principal an unjust law – once said that Ahimsa – a sanskrit word which means respect for all living things and the avoidance of violence towards others – is one of the world's greatest principles which no power on earth can wipe out.
"Thousands like myself may die in trying to vindicate the ideal, but ahimsa will never die," he said.
It was in fact Ela's grandfather who uttered those words – Mahatma Gandhi.
And for his granddaughter, a 75-year-old who exudes the wisdom of life with a calming sense of peace about her, this principle was the tactic used against the oppressors who she said, did not know any better.
We meet Gandhi at her home in Durban on a windy afternoon. The views from her upper most level flat are breathtaking. So are the black and white pictures of her grandfather which sit above a piano.
She hugs us as we enter.
"May I offer you some tea? Or something to drink?"
We decline, eager to hear her story as a women's rights and peace activist.
She starts by recalling her family life as a chatterbox of a young girl growing up in Inanda, in the Pheonix settlement which was established by her grandfather. There was no variation between caste, colour, creed or gender or race, she says. Everybody lived together as one.
That was no privilege however, says Gandhi. "Everybody should have been able to live that way. It was an important part in my life because as we grew up we were taught to look at human beings as human beings. There was no segregation in terms of residents. "
Mahatma Gandhi had chosen to leave a posh house in West Street to live in that rural area with the people, she says.
"My grandfather's idea was that everybody shares in all the work. From early childhood we were taught to do things, in the garden, kitchen – so we learnt to do everything. I grew up looking at my dad and my mum, they shared all the work. For me there was no gender differentiation in our home – Which was important because that is how we grew up – it was only outside that we discovered the gender differences."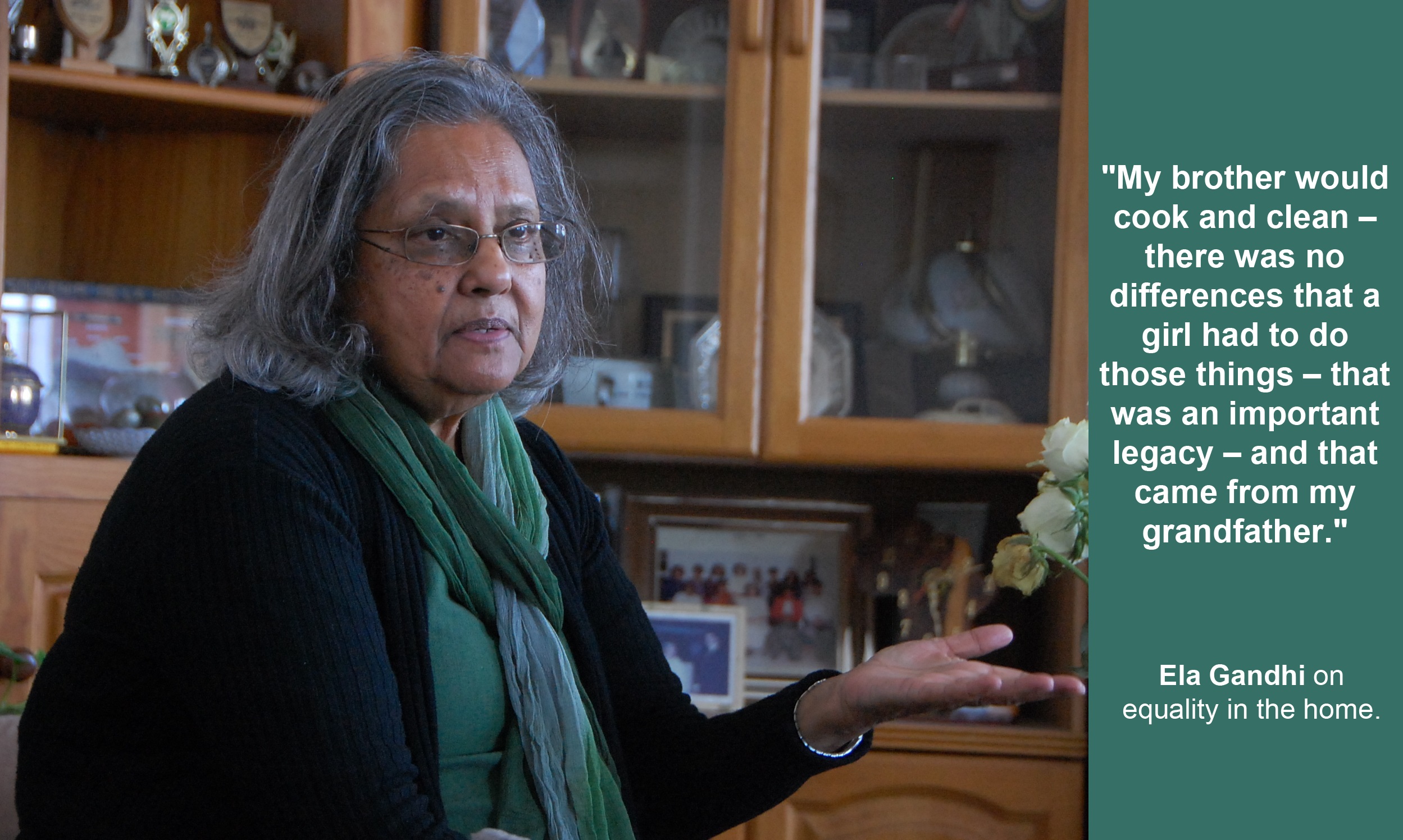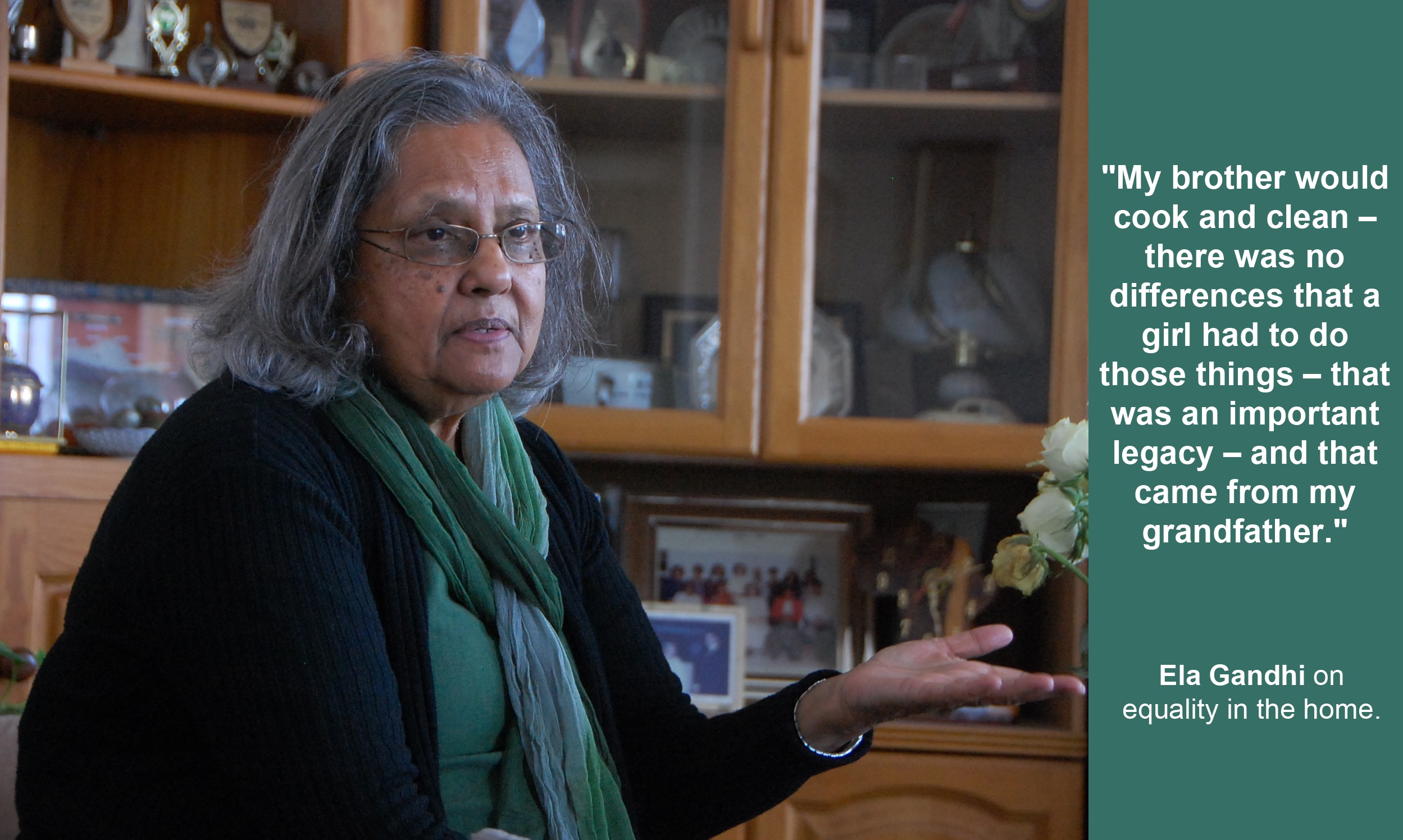 It was on the outside too that she learned about societal segregation and began asking questions.
"We asked what kind of country is this that beaches are only for one race group? How can you demarcate the sea?"
The entire family next became politicised, taking part in rallies and in the defiance campaign.
"We would march and sing. At that time people shouted Mayibuye – and not Amandla.
Unfortunately because my father passed away, neither my mum or I could go to the women's march in Pretoria in 1956."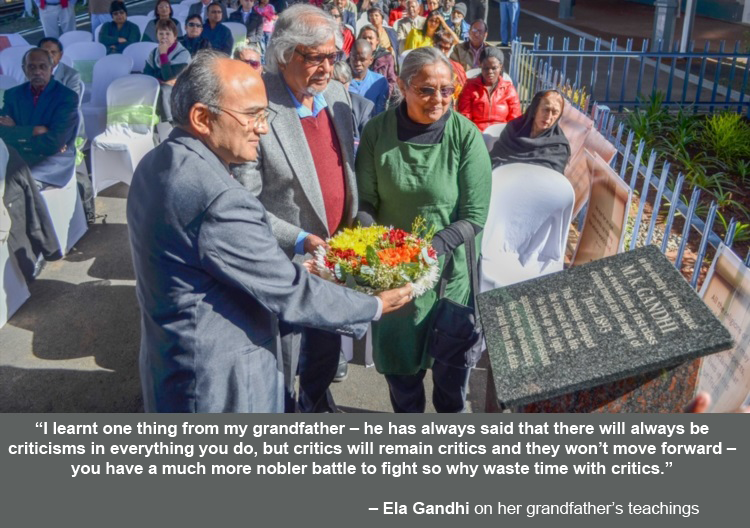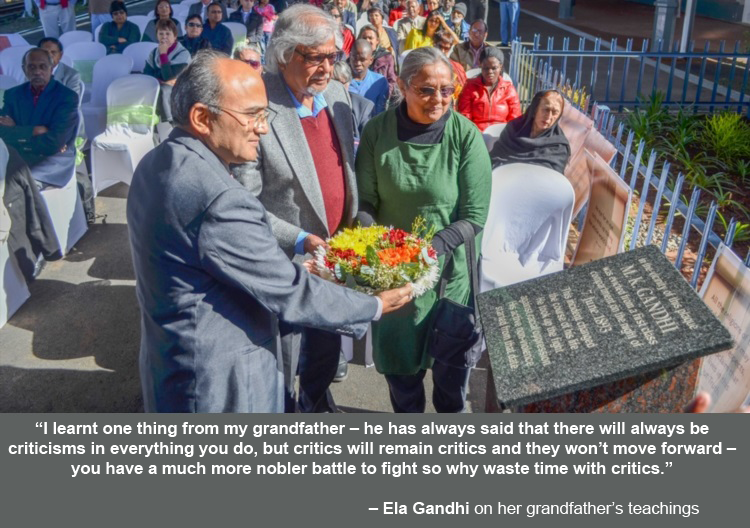 Being proactive against injustice was something that came naturally, something that ran in her blood.
"You can't just ignore injustice – when you see an injustice being committed you have to do something about it – you can't just let it go. When you have that feeling in you, you can't just sit back and accept it – you have got to do something."
She married at 21, to a man who was "fairly liberal in the sense that he wasn't a chauvinist".
"I would never have married a chauvinist." Gandhi says equal responsibility is not just "doing something for the other on Mothers's Day".
"It's a different thing when I feel sorry for you and on Mother's Day I will cook. That is not responsibility you think you are doing somebody a favour. In my opinion that is not being non-chauvinistic. Non-chauvinistic behaviour is when you take equal responsibility.
"I tried to teach my children that this is how it should be, and in our house it wasn't totally like that. And slowly we grew apart and he found another partner and he is happy – and I am happy," she says smiling, adding that having a life without a partner doesn't mean loneliness.
"Dependency on anyone is not a good thing – you come into this world alone and you go alone. Alone doesn't mean loneliness at all – because the whole world is there around you – you have to feel part of the world – you have to feel part of the universe with everything around you – you don't feel lonely."
Prior to late President Nelson Mandela's release from prison, Gandhi had been chosen to visit in prison, and there is utter joy displayed on her face when she recalls that day.
"When I saw my name on the list I was just blown away."
She was one of two women in the group, the other, Mama Albertina Sisulu.
"I didn't know what to expect because I had read a lot about him and I had seen photographs, but to see this person… His personality was huge. When he stood in the room – he dominated it – there was just an aura around him that makes you feel that you are standing in the presence of somebody really great."
She felt humbled when Madiba had called her by her name.
"He shook my hand and hugged me and asked me Ela how's the work going – he knew I was a social worker in the community." The rest of the discussions the group had around a table remain confidential to this day.
National Defence Force. She often had to remind the committee that she was present too.
Standing alone, she had to convince a room of big burly generals and some of her ANC comrades with entrenched ideals, that woman should be allowed on submarines.
"We had such an argument. They said we have to protect our women. And I said – a lot of men feel bad too about going too. If there are women who want to go – then let them go. if she feels she is capable of going then why should she not be given an opportunity?"
"I said do you know there was a time when people felt that a woman can't be a farmer because her hands would get dirty – today some of the big farmers are women all over the world. It's the same with medicine and law – so why such a big emphasis on submarines – I said let the women decide, you don't close the door – there will be no law to say no women."
And they gave in.
After about an hour, Gandhi tells us about a lesson learned from her grandfather.
"A lot of people said that Gandhi was a great person but he didn't pay enough attention to his family As a member of the family as person that was living so many kilometres away here in SA – I had the privilege of visiting him with my parents in 1946 in India.
"Whilst we were there we lived with him for four months. There was so much of warmth and love that he showered us with."
And on January 30, 1948 he was assassinated. But in that month penned a letter to his granddaughter. The letter is now contained at the Gandhi Museum in India.
"If you think of the history of that time there was all this rioting – people criticised him – his health was not good – all those things were happening. India had been writing up their Constitution and during that time these leaders would come to him to read piles and piles of information.
"I think of what a busy time that must have been for him – and yet, he thought it necessary to write a letter to me. So those who want to say he didn't care – can go on saying so till the cows come home. I know that he did care for us and for the family, my father, my parents and myself."
The letter had contained a single message, says Gandhi. He had reminded her about the gift of silence.
"As a little child they called me a chatterbox and I used to talk – talk – talk – all the time. So when he wrote to me he said it is very nice to talk, but sometimes we must also learn to observe silence – it's very important."
The message rang clear. Gandhi would eventually go on to listen to the people during the struggle, and assist those in need.
It was the greatest gift he had ever given her.