She developed after a friend introduced him to the one of editors of the Sunday Express in the late 70s.
"And he said, would you like a column of a 100 words, at R1 a word. I don't think that's changed, I think they still pay R1 a word," he laughs.
"Suddenly I had 100 words in which to do funny things about our lives. And it was obvious that it had to be political. Once a month I would create a woman in this column who at a party in Pretoria would say 'skattie have your heard'? She would come up with all the scandal. About a year into this thing the editor said to me… who is this woman? I said she is just a character – she is the real Evita of Pretoria."
And suddenly there she was. Late former President Nelson Mandela would eventually call Uys asking him to "do Evita".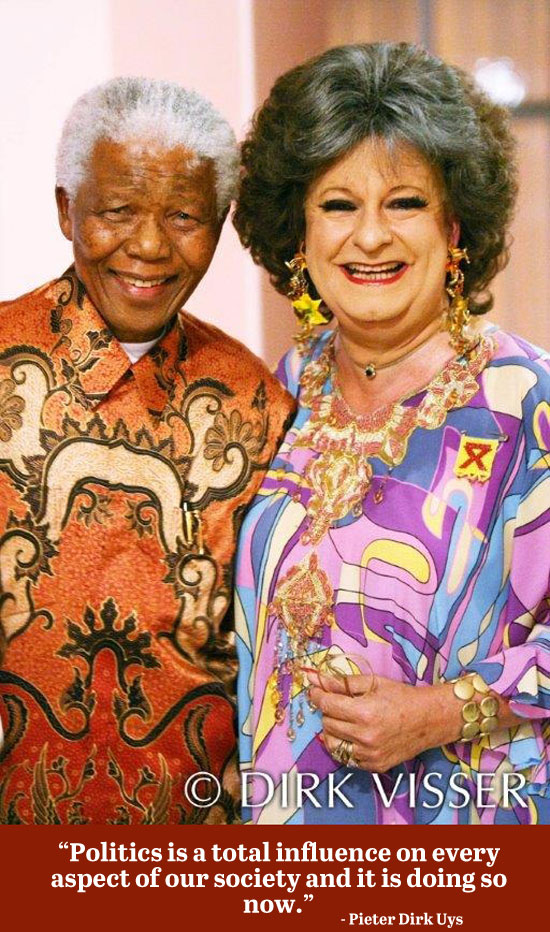 "Oh, Pieter, where's Evita? She must make Oprah laugh," he says giggling after an impressive imitation of Madiba's distinctive voice.
"And yes we did! She was like 'ohhh my God'."
Away from that character however, is a deeply-set opinionated, humorous and gentle person, whose messages for a better South Africa are driven by the various characters he embodies.
Uys is 70 years old, which is difficult to imagine with the amount energy he exudes.
"Really, I have been unemployed since 1975," Uys says without the stage makeup or bling – when we meet at a charming coffee shop in Melville, Johannesburg.
After not being able to find a job he had to begin his one man shows.
"I have to become my job. If I do nothing, nothing happens… if I do something, everything happens.
"So I thought let me do a one man show and make fun of PW Botha and white liberals. People wanted something to make them feel reassured."
Uys describes himself as a "Cape Town kid who eventually rebelled in the 60s".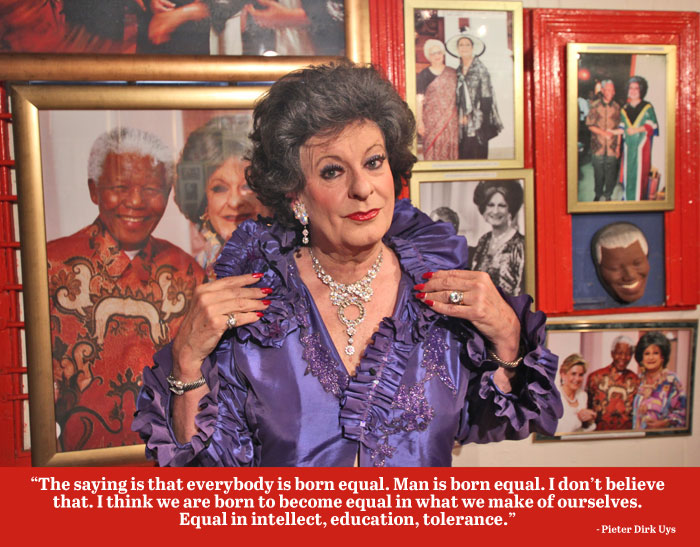 "There was always this fear of authority. I grew up with that fear and I think one of the liberations was to start making fun of authority and laughing at the fear of it."
It was the theatre that created the most understandable mirror of what a decent alphabet of life meant, he says.
At drama school in the 60s, Uys remembers the 'token' "black man" that was in his class.
"I never thought of him like that, he was just such a fabulous friend – who plays my brother in this play and we are touching each other and arguing with each other. But when we left that room we couldn't go anywhere. We couldn't have tea together or a drink together or sleep together, we couldn't do anything like that.
"Suddenly he was not of my tribe, class or my humanity."
Race is something that doesn't go away, says Uys.
"It is embittering people, making them feel like losers, and violence is brewing and the xenophobia is becoming an option for that."
And that is why we must "turn the negative into the fashionable".
"My biggest worry is every discussion about this country is when black people and white people discuss, and the black person says to the white person 'you're racist…
Because yeah, we were brought up as racists.
"Like an alcoholic that drinks, we must start everyday saying I will not be an alcoholic, I will not. But it never moves from there, and that's when it becomes stagnant and that's why racism wins."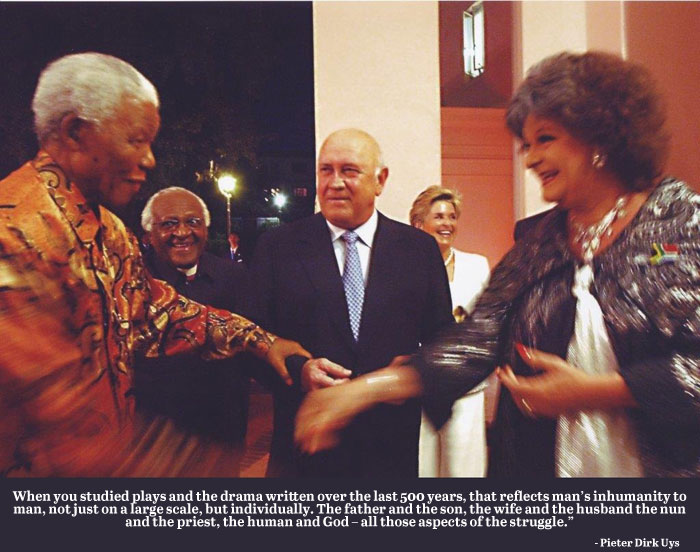 Uys says he agrees with the removal of colonial statues.
"But it mustn't be destroyed. The moment you destroy it there is a new statue that will take its place. And that's whey Evita says I have a place in Darling, it's called Boerassic Park, and it's a little museum.
"We have got apartheid signs in there, and we have got a gravy train with Thabo Mbeki on the engine."
Uys adds that he understands the anger and frustration embedded in the country at the moment.
"But some of these leaders are using this to gather power – the Malema way, which is the Hilter way."
Julius Malema "frightens" Uys.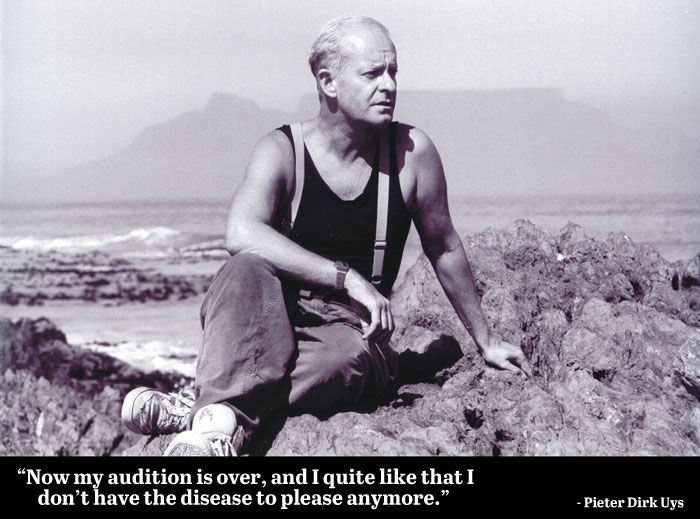 "All he has to do is promise the poor what they want, as long as they vote."
He speaks of the EFF not having any stationary at their offices in Parliament, and when he heard this, Uys boxed as many red staplers, pens, pencils etcetera that he could.
But there was not even a thank you from the party after sending the box to their office, "with love from Evita".
Since 1994, the satirical performer says he has enjoyed the acceptance and a government with a sense of humour.
"Sense of humour is an interesting thing. Every single politician has a sense of humour, including Stalin."
Humour however, can be weapon of "mass distraction or destruction".