It was a quiet evening on Oct 25, 2006 when a Cape Town university professor crushed 18 morphine tablets mixed into a glass of water, and handed it to his terminally ill mother living in New Zealand.
"There was great relief after she drank it. I then sat at her bedside and spoke about my earliest childhood memories. She loved hearing that. It took about an hour before she lost the ability to talk and fell asleep. I too had a nap for an hour. When I awoke, she was gone…"
Sean Davison, 50, recently returned from New Zealand, after being under house arrest for helping his 85-year-old mother Pat to die following her battle with cancer.
Davison, says he was not playing God in acceding to his mother's request after she did not want to live any longer.
He had become Pat's primary care giver after visiting her at her home abroad. She had lost the ability to read, move her limbs and got to the point where she was not able to end her own life, he said.
"My mother was rotting in her own bed, and that was very difficult to see."
Pat had first embarked on a hunger strike but had failed in that attempt to end her own life. She had also been stockpiling her morphine medications during this time.
"I assumed she would die very quickly after she requested not to be force fed. This went on for five weeks, and during that time she got weaker and weaker, but didn't die.
"She kept waking up in the morning horrified to be alive and would often exclaim 'God, I'm immortal'," Davison said.
Pat had first asked a very close friend to help euthanize her but he had declined on religious grounds. That was when she was forced to ask Davison to step in.
She did not want to ask her youngest born to help her but there was no other choice, Davison said.
She was a doctor, and had told him what to do.
"I had agonized on whether I could do it, because my instinct was to keep her alive. But after that I realised that this was what she wanted, and if I didn't help her she would have suffered a lot more."
Davison, who claims to be more spiritual than religious, had also not told any of his siblings that he would assist in his mother's death.
"A doctor had certified her death as natural causes. There was no suspicion at all," he said.
It was a diary Davison kept and a manuscript of it sent to police which he wanted published that led to his arrest by New Zealand authorities in 2010.
He had pleaded guilty to assisted suicide during his trial in 2011, and was sentenced to five months of house arrest, which concluded earlier this year.
Davison said his soft sentence could be attributed to a letter sent by Archbishop Emeritus Desmond Tutu who wrote a letter to the high court judge asking that she be lenient.
"I am extremely happy to be back home with my wife, two boys, dog and my cat.
"They have been so supportive given the fact that they were the ones who suffered and always left wondering what would happen next."
While Davison is back at work, as head of the forensic DNA laboratory at the University of the Western Cape, he is also campaigning for euthanasia to be legalised in South Africa.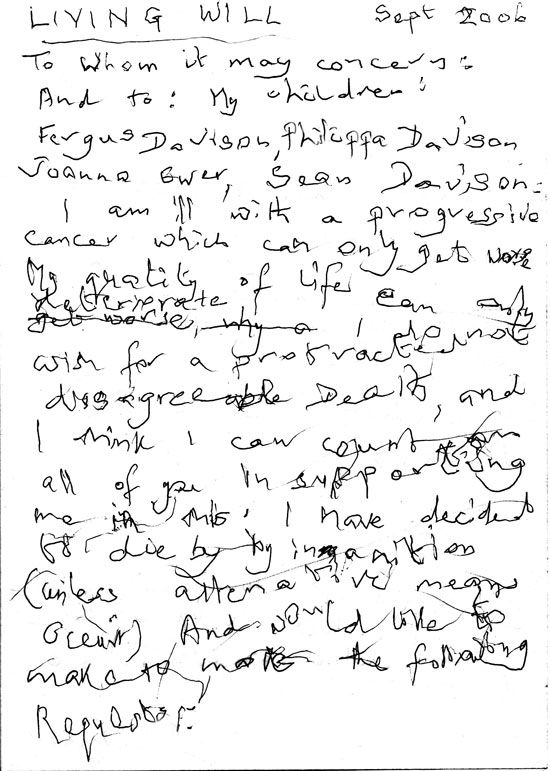 He has established DignitySA.com to show support for law change, and a policy document for it has been drafted, Davison said.
"My situation is not unique, and anyone who judges me should put themselves in the same situation. There are a number of suicides by terminally ill elderly, I just helped my mother because she was unable to do it.
"Our society has embraced issues such as abortion, homosexuality and AIDS, and this has led to a better educated and understanding society. I believe we are now ready to openly discuss issues around death and dying."
Pat was cremated a week after her death and her ashes were split amongst her four children.
"My portion of her ashes were scattered from the harbor view of her house," Davison said.