In April this year there were 157 518 police officers in the country, excluding civilian staff. The 2011 census said there were 50.59 million people in the country, which adds up to one police officer to every 321 people. This means the chances of you running into a convict with a police badge are better than winning the national lottery.
"I'm busy cleaning up the police by removing officers who are using it as a vehicle to corruption, bribery and other criminal acts," said National Commissioner Riyah Phiyega. "Work on the anti-corruption unit which will focus on dealing with these issues is progressing well and the unit is beginning to take shape.
"We are almost done with terms of reference and I will soon begin the process of appointing a senior executive to run the Integrity Management Service."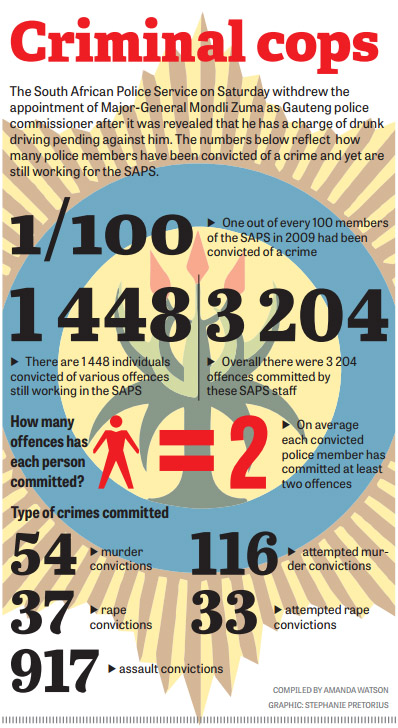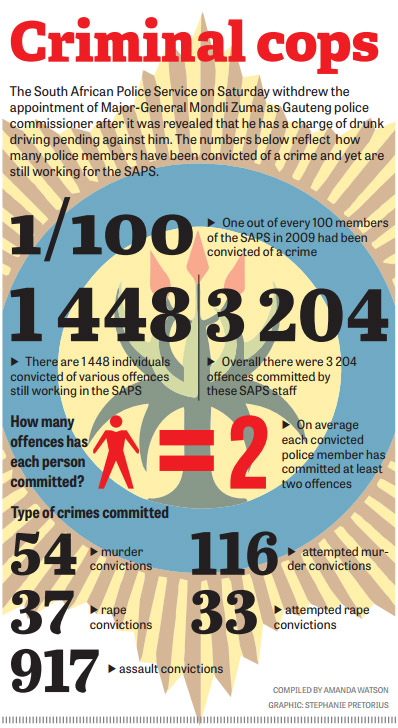 Member of Parliament Dianne Kohler Barnard broke the numbers down and said 3 204 offences were committed by the 1 448 convicted police members who are still employed in the SA Police Service.
This was only up to the end of 2009 and the real, current number could be very different, especially as the audit doesn't take into account those officers with pending cases. Phiyega said her department had to follow labour law when it came to a police officer's potential dismissal.
According to employment specialist Imraan Mohamed, with most of the convictions having occurred after their employment, it would be difficult to summarily dismiss the convicts.
"Phiyega was correct in her response as to why the officers were not dismissed immediately. One simply can't dismiss a worker without complying with the labour laws."
He added that the police needed to clean up its act as quickly as possible. "We also need to know what is being done to prevent this from happening in future."