Government turned a deaf ear to the gravity of xenophobia in South Africa, despite research and recommendations on the human rights violation made available as far back as 2005.
And if acted in contrast, cold-blooded attacks on foreign nationals could have been largely avoided. It is, however, not too late in preventing further waves of violence, as experienced in South Africa currently.
"All this academic research hasn't been taken seriously. There wasn't political will to concentrate," says Roshan Dadoo, acting executive director of the Consortium for Refugees and Migrants in South Africa (Cormsa).
"The only good thing is that those research and recommendations means we don't now have to start from scratch. It is regrettable that more lives were lost and people were attacked.
"We don't have to go back to the beginning, and we can act quickly now. "
SAHRC Report
The SA Human Rights Commission (SAHRC) published a report following the 2008 attacks with full draft of recommendations, most of which were not implemented or only partially, says Dadoo.
"These covered all government departments from security to health and education and called for an Inter-ministerial Task Team. If we had education programmes as part of our school curricula for the last seven years, as was one of the recommendations, maybe it would have saved lives.
"We need our young people to learn about our own history and how African countries and others such as India played a huge role in assisting us during our struggle for liberation … (We) don't need to reinvent the wheel (just) need to check the SAHRC report, update and implement."
We need speedy adoption of hate crimes legislation
"This will enable prosecutions on the basis of crimes motivated by hate, bias or prejudice. We have been working with the Department of Justice and they have informed a policy has been drafted.
"We need the legislation to be published with extreme urgency to ensure that we put an end to the impunity for perpetrators of such crimes including most urgently xenophobic violence and racist crimes and those perpetrated against the LGBTI community. Hate crimes legislation will cover all of these," she says.
Paper: "Xenophobia and Problems Related to it"
A January 2005 Background Paper – prepared for open hearings on "Xenophobia and Problems Related to it" and hosted by the SAHRC with the Portfolio Committee of the Departments of Foreign Affairs and Home Affairs – it is stated that: "Achieving democratic, rights-based migration policy in South Africa is extraordinarily difficult … because South Africa is a highly xenophobic society, which out of fear of foreigners, does not naturally value the human rights of non-nationals".
"As a result of long-standing patterns of labour migration, conflict and economic hardship in neighbouring countries, and South Africa's peace and prosperity, the country has become a primary destination and transit point for migrants from throughout the region."
The paper entitled "Xenophobia in South Africa and Problems Related to It" is by Loren Landau from the African Centre for Migration and Society at Wits, Kaajal Ramjathan-Keogh at Lawyers for Human Rights and Gayatri Singh of the Forced Migration Studies Programme.
It is further highlighted that while attitudes towards non-nationals, especially black foreigners vary, there was strong evidence that non-nationals in South African faced discrimination at the hands of citizens, government officials, the police, and private organisations contracted to manage their detention and deportation.
"For South Africa to achieve its promises of human rights, tolerance, and prosperity, it must develop norms, laws, and practices that can capitalise on the contributions of foreigners to the country; promote the country's reputation abroad; and protect the rights, security, and livelihoods of all of South Africa's residents." 
"Xenophobia in South Africa Literally an irrational fear of outsiders, xenophobia manifests itself in various forms and its roots are equally varied. For present purposes, we are adapting an expansive definition of the concept to include all forms of discriminatory attitudes towards non-nationals, whatever their source or rationality. We are primarily concerned with the attitudes of black South Africans towards Africans from elsewhere on the continent," – according to the paper.
Landau told The Citizen that government has instead focused on policing rather than institutional or economic reform.
This is evident as we see more police, greater military involvement, and tighter immigration controls, he adds.
Tightened border controls along with encampment only foster underground economies and harder social divides.
Institutional reform will serve up far more palatable side effects: improved efficiency, better service delivery, and safer communities, he points out.
President Jacob Zuma recently admitted that the ANC government had made mistakes in failing to educate people on what freedom entailed, when it came to power in 1994. "We are reaping what we actually did not sow," he said.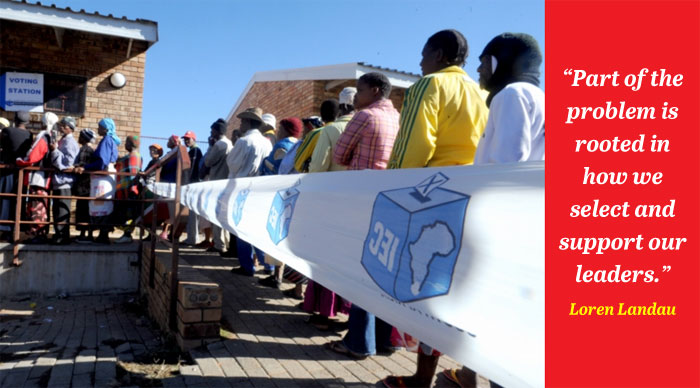 There are decades of demonising foreigners, first as labourers who undermined the struggle and wages during apartheid, and afterward as people "coming to steal the country's freedom and prosperity, says Landau.
While the country remains deeply divided and fragmented, even in the heat of the 2008 attacks, most immigrants however lived peacefully with their local neighbours.
"There is considerable hypocrisy now when leaders condemn anti-foreigner mobilisation when over the past couple of years it is those same leaders who have regaled us with the need to close our borders, to prevent foreign ownership of land, to restrict access to asylum, and to limit the presence of foreigners in formal and informal businesses.
Focus needs shifting
"What we need to focus on here is the intersection of race and space. While the language here is nationalist and exclusive, the struggles are largely local. Whoever is seen as competing at this local level will be targeted regardless of race or origin."
Where they have failed to learn or rather "learned a dangerous lesson"
"Indeed, they have been unwilling to heed to numerous findings that the violence is rooted in micro-level politics and struggles over resources and place. Rather, they have treated this primarily as a question of petty crime, where arrests are made they are of looters, not instigators."
Violence and "scapegoating work", he adds.
Public Protector Thuli Madonsela recently told The Citizen that foreigners were scapegoats for an economic downturn couple by social injustice.
"What the government – and others – have got wrong is seeing this as an immigration issue"
"This is an issue about local government and the country's transformation.
"Rather than focus on place, or the places, where this is happening, we continue our obsession with race and the legacy of apartheid. This legacy matters, but not so much in self-hatred or discrimination, but in the spatialised patterns of inequality and a regular reliance on violence as a political tool."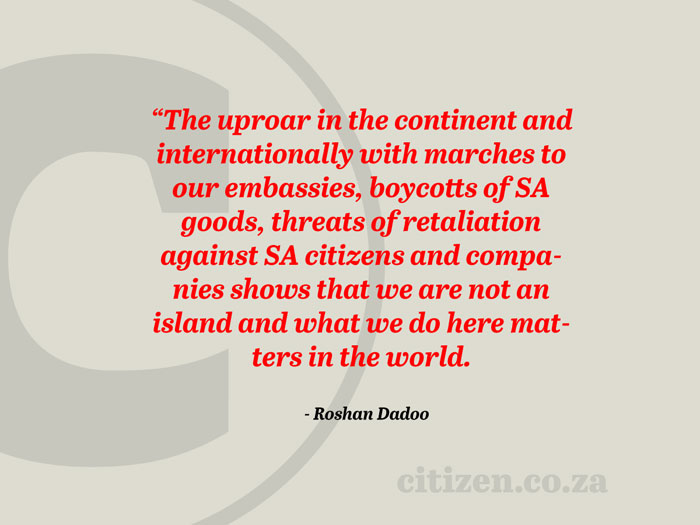 Dialogue could strengthen division
"While dialogue can generally be useful, it may be dangerous and potentially counterproductive. It may also simply be ineffective. Why dangerous? What we've seen in the past are dialogues that require foreigners and citizens to face off on opposite sides of the table.
"This encourages them to strengthen the divisions between them so they can negotiate as unified blocks."
The way forward
"Encouraging solidarity rather than reinforcing divisions seems the way to go.  What we need to do is address the institutional and political incentives for mobilisation."
"Moreover, this argument relies on a logic of reciprocity. How long do we owe them for their help? And what does this say about Pakistanis, Somalis, or Bangladeshis?"
"Are they fair game? Rather, I would prefer to see this discussion being focused on what we owe everyone – regardless of race, regardless of wealth, regardless of where they live among us. This is about what we owe people because they are human."
– yadhanaj@citizen.co.za