Sibuyi was one of the seven people, including robbers, who were shot during an armed robbery in Bedford Centre mall last month.
Recounting the day she got shot, Sibuyi yesterday said after she was shot, a woman dived on top of her to protect her. She later found out the woman's name was Hoolwerf.
Commenting on the shooting, Hoolwerf said: " I had to save her, I know what panic does, I was afraid she was going to move and the robbers would finish her off."
Sibuyi was shot during an exchange of gunfire between the robbers and security guards on Thursday January 29.
A group of armed men pounced on the Standard Bank, resulting in a shoot-out that sent shoppers fleeing in terror.
"I did not know what was happening," said Sibuyi. "I saw the security guard pulling out a firearm and immediately felt something penetrating my back.
Want to read the rest of the article? Get your copy of The Citizen at your nearest news agent or sign up for our e-edition. Try the three day trial for free.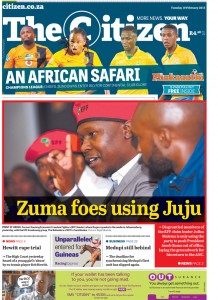 ---