The report – by the South African Institute for Race Relations (IIRR) called Broken Blue Line 2 – analysed 100 cases of police involvement in deadly and potentially deadly crime and found rather than these being isolated incidents, a pattern of criminal behaviour had been established.
"Independent Police Investigative Directorate (Ipid) data shows that 9 000 reports were made to them over the 2013/14 period and that just over 5 000 where successfully completed," said IRR CEO Frans Cronje.
"A total of 1 470 criminal recommendations were referred to the National Prosecuting Authority however Ipid reports that only 83 criminal convictions were secured, with 135 disciplinary convictions."
"If we had continued our search we would have doubtless found thousands more examples," said Cronje. The report covers the period from April 2011 to January 2015.
Funding for the research and production of the report was paid for by Afriforum, the activist wing of trade union Solidarity, both of which concern themselves almost exclusively with minority race groups in South Africa.
Even though Cronje said Afriforum had no editorial or research input into the report, the lens through which it must be viewed stands.
Nonetheless, the report makes for worrisome reading.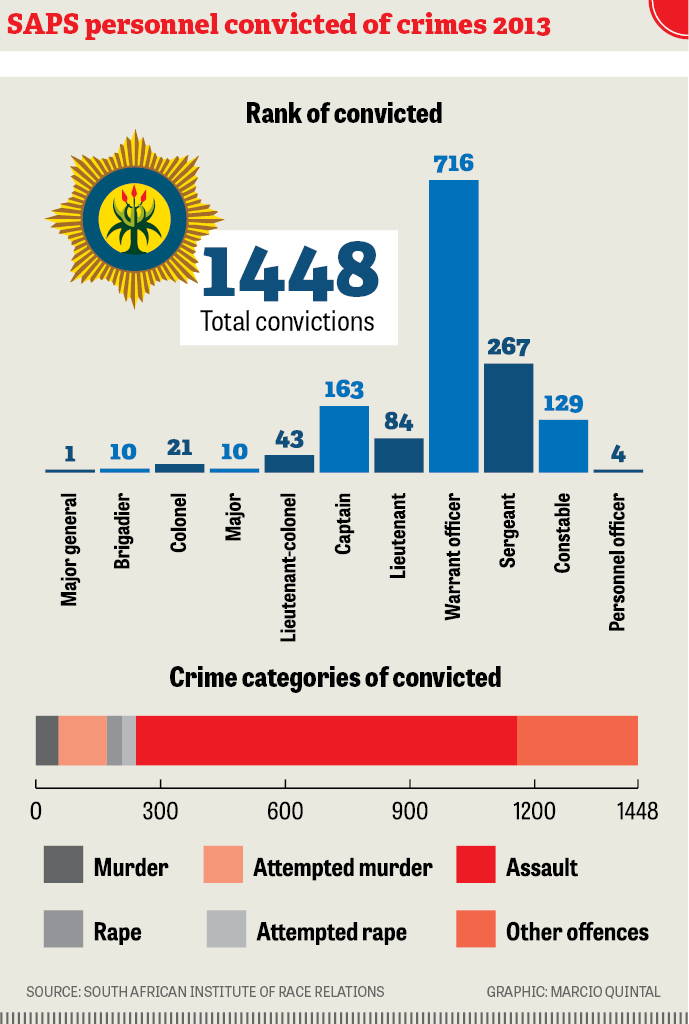 Data for the report was compiled from multiple sources, including newspaper reports, ironically often supplied by the South African Police Service itself, and from police and Ipid annual reports
"The incident of the police officer caught looting on video, is not serious enough for us to take note of," Cronje said. The report focuses on murders and attempted murders, rape, robberies, theft and fraud, among other serious crime. "It only took us a week to find the 100 cases. In 20 of the 32 instances of murder we identified, service weapons were used. Other causes of death ranged from strangulation to beating," Cronje noted, adding six of the 32 cases were domestic violence.
"It is with good reason that members of the public often do not trust the police and that some are even afraid of the police," he said. "South Africans can no longer be sure that when reporting a crime they are not reporting to a criminal in uniform. Certainly women travelling alone and at night have particular reason to fear the blue lights in the rear view mirror."
National Police Commissioner Riah Phiyega considered the report "malicious" and felt "aggrieved" that her photograph was being used on the cover even after she requested it be removed.
National police spokesperson Lieutenant General Solomon Makgale said it was no secret there was criminality within the police.
"We do arrest our own members as and when they are involved in crime. The difficulty we have with the report is that one would go and read a newspaper and out of that newspaper draw certain inferences without doing any real research. So if you are saying because police officer so-and-so was arrested and appeared in the newspaper, therefore it means the entire police service, each and every police man you see in the street is a potential rapist, every police officer is going to rob you, is going to kill you. That is absolutely wrong,"
Makgale said and stated the research methodology was "dodgy".
"The report is not supported by facts, we know it is funded by an institution which has made publicly known it is opposed to the work we are doing to improve the SAPS."
Makgale said it was "an absolute lie" the IRR had reached out to the police.
No fair, say police
According to the police:
* The methodology used to conduct the research leading to the compilation of the report, in our opinion, is fundamentally flawed;
* The South African Police Service (SAPS) was never engaged during the course of the research process, yet the report is about this organisation;
* SAPS data bases were never used as a source of information and, as acknowledged by Mr Cronje during the meeting, case dockets were not studied and court reports/judgements were not sourced;
* Mr Frans Cronje frequently acknowledged during the meeting that the report was based on assumptions and inferences and that the research was never stress-tested;
* The above is not apparent in the presentation made available to the media;
* The report contains dangerous generalisations, apparently mostly based on media reports, interviews with journalists and some form of engagement with IPID;
* The report should have been, but is not, based on statistical data, police case dockets or court judgements and therefore does not take into consideration that some accusations were subsequently proved to be false;
* The South African Police Service is of the opinion that the content of the report, by way, inter alia, of the generalisations, is malicious;
* The report, in its entirety, has not been submitted to the SAPS management. – South African Police Service
Policy Proposals
Re-instill respect for the chain of command
We suspect that the extent of criminality within the police is mainly indicative of weak command and control structures as well as a breakdown of the overall chain of command.
The choice of Riah Phiyega as police commissioner was inappropriate and is unlikely to instil any confidence in the chain of command.
The police should ideally be led by a career officer with an established track record in policing.
Depoliticise the appointment process
Ensure that senior appointments are made on merit and not in terms of race or political loyalty.
It should be of upmost importance to select the best candidate to serve in the police.
Better equip Ipid
Further resources need to be extended to Ipid to assist that organisation in successfully investigating the complaints it receives.
We think cases reported to Ipid are the tip of an iceberg – and their success in dealing with these cases is not great. – Broken Line 2
Blue lights in your mirror?
"If you are driving alone at night and for what ever reason you feel it is not safe to stop for a police officer, put your hazards on, drive slowly and indicate to them that you need to get to a place that is well lit or to a garage or to the nearest police station." National police spokesperson Lieutenant General Soloman Makgale
Overview and methodology of the 2015 report
This 2015 Broken Blue Line report has followed the methodology of the 2011 report.
IRR analysts identified 100 incidents of alleged police involvement in perpetrating serious and violent crimes.
These 100 case studies were written up and then analysed in order to look for trends or patterns of behaviour.
We then tested those results against two sources of information on disciplinary action against police officers implicated in criminality.
This allowed us to come to some conclusions about whether anything had, indeed, changed since 2011.
From those conclusions a series of new policy recommendations were developed. – Broken Blue Line 2
How effectively are the police dealing with problem?
In November 2014 the IRR sent an enquiry to the office of the police commissioner asking for data on the number of police officers successfully prosecuted for serious and violent crimes over the period April 2011 to October 2014.
No response was forthcoming.
Approximately a month later a draft of this report found its way into the media.
The police commissioner then suggested that the IRR should have contacted her office as she would have been able to explain what the police were doing to curb the problem and asked to meet with us.
We again proposed a meeting (for January 2015) where we said we would be happy to show a prepublication draft of this report to the commissioner.
Again we asked that the police supply us with their disciplinary action records – including criminal conviction data. However, a spokesman for the commissioner declined to do this. – Broken Blue Line 2
Data from the SAPS 2013/2014 annual report
The second source is the police's own annual report for 2013/2014.
Here the data is at times contradictory (in places the report states very different numbers of police officers dismissed from the service for example).
Taking the higher of those contradictory numbers, the police report that more than 5 578 disciplinary actions were instituted against their members over the year.
In more than 3 435 cases some or other sanction ranging from a verbal warning to a fine were issued – a number significantly higher than that of the IPID report.
In more than 503 of these incidents the member in question was dismissed.
This is in line with data the police have quoted in the media that in 2014 alone more than 800 officers were fired.
In fact add the latter two numbers together and almost 1 in 100 officers have been fired over the past 24 months.
We therefore suspect that the police are themselves taking far more disciplinary action against their members than the IPID data suggests – which is a very good thing.
However, despite this the new cases just keep coming – suggesting that what action is taken is still insufficient to stop police criminality. – Broken Blue Line 2