Senzo Meyiwa's death
On October 26th, South Africa awoke to the tragic news of the death of Bafana Bafana and Orlando Pirates captain Senzo Meyiwa.
He was shot during an alleged robbery at his girlfriend Kelly Khumalo's house in Vosloorus.
The only man arrested in connection to Meyiwa's death, Zanokuhle Mbatha, was released after magistrate Daniel Thulare of the Boksburg Magistrates' court found that there was not enough evidence for him to stand trial. The investigations continue.
Watch the emotional relatives of Mbatha after their son  was released. 
---
Read more: Insufficient evidence in Meyiwa case – NPA 
---

Oscar Pistorius murder trial and sentencing
This one doesn't need much explaining because the whole world was watching. There was even a television channel dedicated to to the Oscar Pistorius trial.
This comes after the Blade Runner shot and killed his model girlfriend Reeva Steenkamp on February 14, 2013. He claimed he mistook her for an intruder.
Judge Thokozile Masipa sentenced Pistorius to 5 years' imprisonment for culpable homicide and a further three-year term (suspended for five years) for firing a gun in public.
---
Read more: Oscar Pistorius sent to jail for 5 years (gallery)
---

Nigeria SCOAN church building collapse
The story of the Nigerian building collapse was arguably one of the most talked about events of 2014.
A building linked to Nigerian pastor TB Joshua collapsed, killing 116 people, 85 of which were South African. To this day, some of the bodies have yet to be repatriated.
Be warned the videos contain graphic images 
A view of the collapse from a different angle
The incident triggered debates on matters of faith, with some referring to TB Joshua as a false prophet, while others referred to him as a true man of God.
@Loyd_Robinson tweeted:
Criminal conman and false prophet TB Joshua didn't even care or have the balls to come to the repatriation ceremony of bodies arriving in SA

— Lloyd (@Lloyd_Robinson) November 18, 2014
While @IspeakWisdomBro tweeted:
https://twitter.com/IspeakWisdomBro/status/544783543348789248
Bisi Adedire, a town planner who worked for the pastor, recently told an inquest the building did not have planning approval.
---
Read more: TB Joshua's church building 'had no permit'
---

The Shrien Dewani murder trial
After years of legal wrangling, British businessman Shrien Dewani finally saw the inside of a South African court room.
He was accused of killing his wife, Anni, while on honeymoon in South Africa in 2010.
However, Dewani was acquitted after Western Cape High Court Deputy Judge President Jeanette Traverso found "there is no evidence on which a reasonable man can convict the accused".
---
Read more: Shrien Dewani walks free
---

Ellen Tshabalala resigns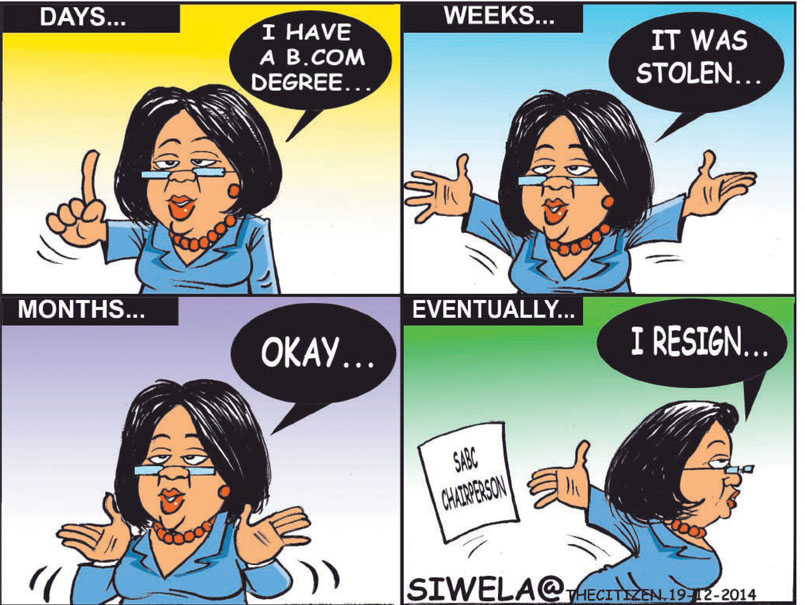 Former SABC chairperson Ellen Tshabalala stuck to her guns after allegations of her falsifying her academic qualifications came to light.
At first, she claimed to have completed a BCom degree and a Labour Relations diploma at the University of South Africa (Unisa).
Not even a Parliamentary committee could get Tshabalala to own up after Unisa insisted that it had no record of her supposed degrees.
After months of continued pressure from the media, Parliament and political parties, Tshabalala eventually resigned.
---
Read more: SABC board chairperson resigns
---

Generations cast fired
MMSV Productions announced that the contracts of 16 Generations actors (some pictured above) were terminated on August 18, 2014.
This came as a shock to the South African viewers of the dearly loved show.
Mfundi Vundla, the creator of the show, expressed disappointment at the actors who were fired and said he felt betrayed.
Watch Mvundla venting during a media briefing: 
The show stopped broadcasting for two months and restarted broadcasting on the December 1st with the new name, Generations: The Legacy.
---
Read more: Striking Generations cast fired
---

Numsa expelled from Cosatu
Numsa's expulsion from Cosatu was described by some as the fall of the tripartite alliance.
The expulsion caused quite a bit of public outrage, with Dali Mpofu tweeting he never thought Cosatu "would die in the hands of a nursing sister".
29 years ago I drove all the way to Durban to attend the launch of COSATU. I never thought it would die in the hands of a nursing sister….

— Dali Mpofu (@AdvDali_Mpofu) November 8, 2014
Numsa has since moved on to launch the United Front, a movement which was lately joined by former intelligence minister Ronnie Kasrils.
---
Read more: Numsa expelled from Cosatu
Ronnie Kasrils UF appointment a 'sign of things to come'
---

Steve Hofmeyr and his tweets
Things got intense when Steve Hofmeyr tweeted "blacks were the architects of apartheid".
Sorry to offend but in my books Blacks were the architects of Apartheid. Go figure.

— Steve Hofmeyr (@steve_hofmeyr) October 23, 2014
The tweet caused a stir on social media. The puppet handler of political commentator Chester Missing, Conrad Koch, was among those who took to Twitter to rebuke Hofmeyr for his controversial tweets.
Unable to stand the heat, Hofmeyr took to court, where he secured a court order against Koch in November, which meant that Koch was not allowed to mention Hofmeyr, his sponsors or his business partners directly or indirectly.
However, Koch was able to win on appeal, and magistrate Naren Sewnarain said Hofmeyr exposed himself to criticism, satire and ridicule, and he agreed with Koch's defence that Koch had the right to campaign against Hofmeyr's remarks.
Watch a video of Chester Missing being "klapped" by Hofmeyr's representative and activist Dan Roodt:

EFF's first elective conference
The Economic Freedom Fighters held their first elective conference at the University of Free State campus in December 2014.
As usual, the party pushed for their controversial policies of land expropriation and nationalisation of mines without compensation.
The party went as far as calling on its members to occupy "free" land across South Africa.
However, AfriForum laid criminal charges against EFF leader Julius Malema for this call.
---
Read more: AfriForum lays charges against Julius Malema
---

Pierre Korkie Murder
The death of Pierre Korkie, who was held hodstage in Yemen, came after a failed operation by the American Special Forces, which was aimed at freeing hostages in Yemen.
According to the Gift of the Givers Foundation, Korkie's death comes on the eve of his expected release.
Read more: Read more: Yolande Korkie salutes Pierre's allies