The 37-year-old South African man, who works as health and safety officer in a mining operation in Liberia, was admitted to hospital on Sunday. Professor Lucille Blumberg, deputy director of National Institute for Communicable Diseases (NCID) confirmed that the results of the tests would be released on Monday afternoon.
This is the second 'Ebola scare' that has taken place in the city after a Guinea woman was suspected to have been infected with the virus after she was admitted at Rahima Moosa Mother and Child Hospital because she was in labour. She had a high fever and was screened for the virus, but the tests came back negative.
Things You Need To Know
1) Ebola is Often Fatal
Ebola is a severe, often fatal illness, with a death rate of up to 90%. The illness affects humans and non-human primates for example, monkeys, gorillas, and chimpanzees.
2) Ebola is Not Airborne
Unlike infections such as influenza or tuberculosis, Ebola is not airborne. Dr Isabelle Nuttall, Director of the WHO's Global Capacity Alert and Response says: "It can only be transmitted by direct contact with the body fluids of a person who is sick with the disease."
3) How People Are Infected
Infection occurs from direct contact through broken skin or mucous membranes with the blood, or other bodily fluids or secretions (stool, urine, saliva, semen) of infected people. Infection can also occur if broken skin or mucous membranes of a healthy person come into contact with environments that have become contaminated with an Ebola patient's infectious fluids such as soiled clothing, bed linen, or used needles.
In the current outbreak in West Africa, the majority of cases in humans have occurred through human-to-human transmission.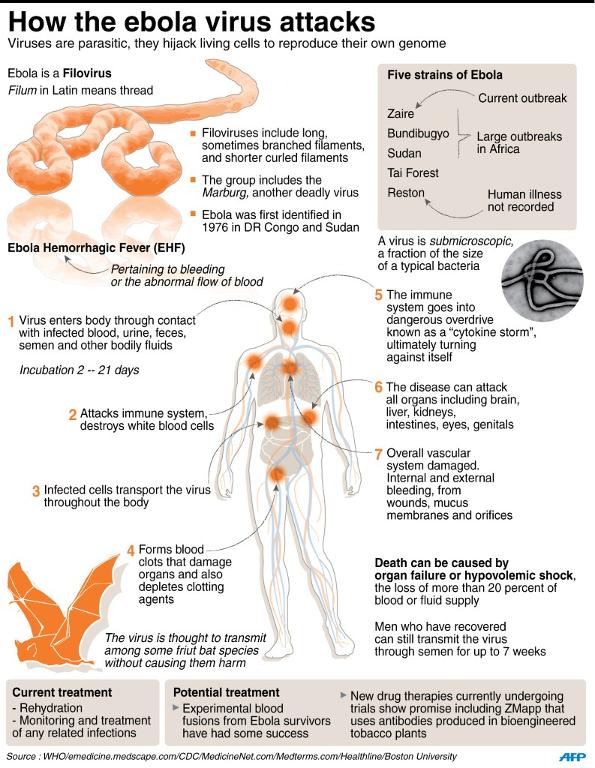 4) Who is at Risk
During an outbreak, those at higher risk of infection are health workers, family members or others in close contact with infected people. This includes mourners who have direct contact with the bodies of the deceased as part of burial ceremonies.
5) Symptoms of Ebola
Symptoms include a sudden onset of fever, intense weakness, muscle pain, headache and a sore throat. Vomiting, diarrhoea, rash, impaired kidney and liver function, and in some cases, both internal and external bleeding then occurs.
6) No Cure For Ebola
There is no cure for Ebola. The best treatment is intensive supportive treatment provided in the hospital by health workers using strict infection control procedures.
7) Countries Affected
Guinea, Sierra Leone, Liberia, and Nigeria have reported more than 1,600 cases of Ebola as of August 2014.
8) Visitors/Tourists Pose Low Risk
The risk of a tourist or businessman or woman becoming infected with Ebola virus during a visit to the affected areas are extremely low, even if the visit included travel to the local areas from which primary cases have been reported.
9) How South Africa is Handling the Ebola Threat
There is currently a policy in place to transfer any South African with confirmed Ebola to a designated hospital for treatment. Eleven hospitals in the country's province have been designated to manage Ebola patients.These hospitals are: Charlotte Maxeke and Steve Biko hospitals in Gauteng, Polokwane Hospital in Limpopo, Rob Ferreira Hospital in Mpumalanga, Addington Hospital in KwaZulu-Natal, Klerksdorp Hospital in North West; Pelonomi Hospital in the Free State; Kimberley Hospital in the Northern Cape; the Frere Hospital in East London and Livingstone hospital in Port Elizabeth in the Eastern Cape; and Tygerberg Hospital in the Western Cape.
The National Health department has instructed all ports of entry into South Africa remain on high alert during the outbreak. OR Tambo International Airport and Lanseria Airport have been fitted with thermal scanners for anyone entering the country, displaying an extraordinarily high temperature.
10) How to Avoid Infection
• Travellers should avoid all contact with infected patients.
• Health workers travelling to affected areas should strictly follow WHO-recommended infection control guidance.
• Anyone who has stayed in areas where cases were recently reported should be aware of the symptoms of infection and seek medical attention at the first sign of illness.
• Clinicians caring for travellers returning from affected areas with compatible symptoms are advised to consider the possibility of Ebola virus disease.
– Information courtesy the World Health Organisation (WHO)