The frail boy from Zeerust, North West does his best to ignore the pain as he watches a movie. His mother Yolandi wonders if it not time for more morphine.
She says when the pain is gone that's when he is the best version of himself: A young boy who loves to play with his two-year-old brother Chris, animals and his beloved Spiderman toys.
Jordan is not your average three-year-old, who will be turning four next week. He's been fighting for his life since being diagnosed with Burkitt's leukaemia less than a year ago.
His fearlessness in the face of constant pain, chemotherapy and isolation stays has drawn a lot of attention, particularly after his family started an online record of his daily struggle with cancer. Now his journey has become a symbol of hope, strength and a beacon of awareness for others.
The beginning
In February 2014, Jordan started complaining of pains in his legs, coupled with unusual weight loss and a fever.
Initially, doctors said they were just normal growing pains, but as symptoms grew worse, Jordan and Yolandi left their small town for Potchefstroom, where a number of tests were conducted, including a bone marrow biopsy.
"They first suspected juvenile arthritis, but all the tests came back clear. They didn't know what was causing the pain," says Yolandi. "So a bone marrow biopsy was suggested and that's when they saw it was cancer."
A mother's worst fear
In May, the Pelser family found out that Jordan suffered from the very rare Burkitt's leukaemia. This cancer accounts for three to four cases per 100 000 children according to Jordan's doctor, Prof David Reynders.
Yolandi says no mother wants to see her children sick and in pain.
"I just want him to not have the pain. Nobody wants to see their children go through pain like this. Can't it just be me? I'll do anything to take this pain away," she says.
Burkitt's leukaemia is a form of mature B-cell leukaemia that accounts for about 2% to 3% of childhood acute lymphoblastic leukaemia.
The difference between Burkitt's lymphoma and Burkitt's leukaemia is that if the white cells in bone marrow comprise more than 25% Burkitt or blast cells it's then referred to as the more serious diagnosis, leukaemia.
Facebook
Jordan's fight with cancer soon gained attention when the family took to Facebook to document his daily journey.
Little did they know that the page would grab substantial attention from people supporting the fearless three-year-old as well as looking to him as inspiration.
"We started doing this so friends and family could see his progress. We decided to post it. A friend started it. It was called 'perfect miracles', but along the way we started our own page," says Yolandi.
Yolandi thought only family and friends would be interested in the page.
"It just grew and grew. We never expected it to become this big. "
Jordan's grandmother Illara Schoeman has taken on the task of telling his story on Facebook. She captures the ups and downs, the highs and lows, but most importantly the strength and bravery Jordan displays.
Here are inserts from the Facebook page called Jordan's Brave Journey: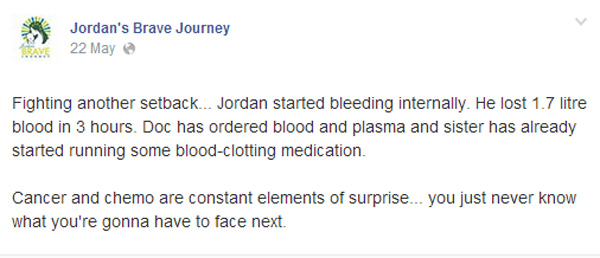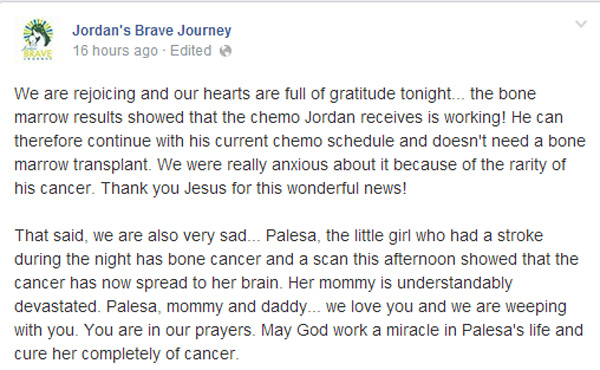 Jordan's darkest hours
Since being diagnosed, Jordan has survived several secondary infections and the agony of chemotherapy.
Yolandi recalls a night in May where she thought she would lose her son.
"With the first two infections, he was very sick, to a point where they thought he would die – he picked up a secondary infection and, with no immune system, the body cannot fight it," she says.
"Even when he was at death's door, he never stop fighting. That night, he didn't want to sleep – so much so that a nurse had to sit with him until three in the morning. I think deep down he knew if he went to sleep he would slip in and out of consciousness..
"But he really was very close to death, to a point where the psychiatrist he saw said he was displaying what they call 'the silent death'.
"For many days he showed no emotion."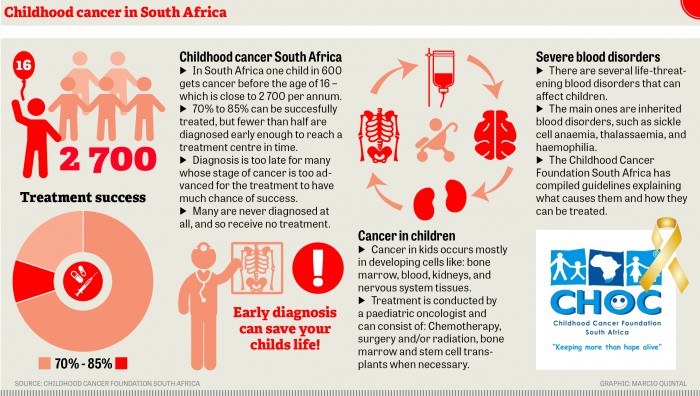 The little things
Jordan's brother, Chris, who is two years old, comes to visit him when he is not in hospital. His mother says: "The other day they started fighting over a toy, which was nice, because it's a sense of normality – someone treats him the way he used to be treated. When his brother leaves, it's like he is back to being in a sick environment. "
Yolandi, who has been by Jordan's side every step of the way, remains optimistic.
She values every moment spent with her son, growing together and learning day by day.
"I live for the day he recovers, because you never know what can happen tomorrow," she says.
Jordan's treatment
Jordan is currently on his fourth round of the chemotherapy. Although he does not fully understand what is going on with him, he knows he is sick and must receive medicine to get better.
Yolandi explains that all kids fighting cancer are extremely strong and an inspiration.
"I don't know how they do it. These kids and the strength they have … they just go on and don't stop fighting," says Yolandi.
"Kids are stronger; they don't ask 'why me?' Because of their attitudes, they have a better chance."
Prof Reynders remains optimistic about his prognosis.
"The treatment for Burkitt's leukaemia is very complex and based on proven international treatment protocols. It consists of numerous chemotherapy agents given at specific time intervals over a six to nine month period," explains Prof Reynders.
He says survival rates of 60-70% can be achieved.
Jordan may be too young to realise it now, but his courageous battle not only epitomises his strength, but the power of all kids who are fighting cancer. Their battles are testament to the power of the human spirit and a source of light to those looking for hope.
Find out more about Childhood Cancer here