Rene Smit who initially stated she worked for the ANC's Western Cape branch posted the image (above) on her facebook page.
The image of Hitler displays the ex-German leader with the title "Yes man, you were right…" with the caption below the image reading; "I could have killed all the Jews, but I left some of them to let you know why I was killing them."
The image has since been deleted but not before the post caught the attention of several South Africans who have taken to twitter, reposting the image and venting their anger.
The ANC however has distanced itself from the post.
Party spokesperson Keith Khoza added that the ANC does not associate with Hitler at any cost.
"He represented the backwardness of humanity. We equate the nazi movement with apartheid and will not be associated with that," said Khoza.
Khoza said the ANC will look into this matter and deal with it accordingly.
Western Cape ANC spokesman Cobus Grobler said Smit was not employed by the ANC.
"She assisted in our recent election campaign. Anybody can help us as a volunteer."
Smit has since removed all mention of her ANC connections on her facebook bio but has not removed her previous posts connecting her to the party.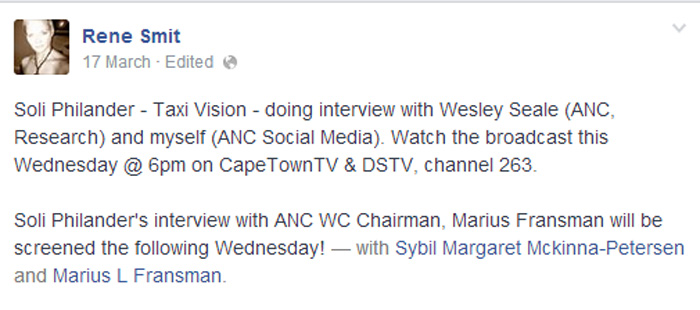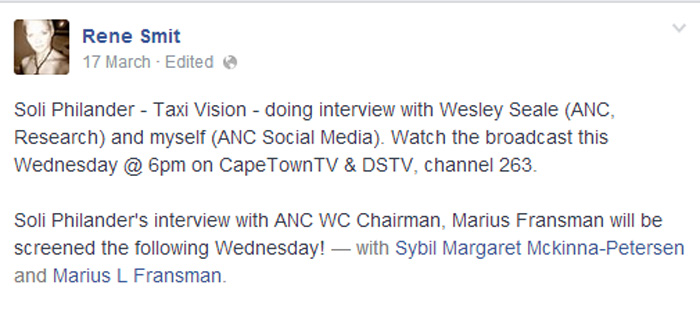 This incident comes a week after a chief rabbi challenged Deputy Secretary General of the ANC, Jessie Duarte to retract or debate the statement that she released equating Israel to Nazi Germany and the Gaza conflict to the Holocaust death camps.
Duarte released a statement condemning the Israeli attacks on the Palestinian people of Gaza and called on South Africans in expressing solidarity against the Israeli onslaught.
Chief Rabbi Warren Goldstein said, "Ms Duarte's comparison of Israel to Nazi Germany and Gaza to the Holocaust death camps, is abhorrent and beyond the pale of civilized discourse. The Nazi Holocaust is history's greatest crime, meticulously detailed by the criminal regime that planned and executed over six million Jews."