The Organisation Undoing Tax Abuse (Outa) came under fire over the weekend for the use of an alleged right-wing cartoonist's image as the feature image for one of their latest media releases.
#OUTA launched a local branch in Cape Town to help residents fight #taxabuse and #corruption in the city. Read here and join us! Civil society plays an important role in keeping governments on the right track. https://t.co/DbA8BH7Pc8

— OUTA (@OUTASA) November 30, 2018
Twitter user  @ex_post_facto retweeted the tweet asking "why is @OUTASA using the services of a white supremacist cartoonist who pushes far right Race and IQ theories and runs a platform that hosts racist anti-black gollywog cartoons?"
@ex_post_facto then followed up the tweet with images of some of Jerm's previous work.
We need answers @OUTASA pic.twitter.com/CgJpLVGBre

— Ex Manenberg Facto (@ex_post_facto) November 30, 2018
The organisation has since taken to social media to distance itself from Jerm.
"OUTA was not aware of this cartoonist's affiliation/links to racist individuals or platforms. Jerm was asked to compile occasional cartoons to drive our messages in our fight against corruption. Now that this has come to our attention, we will no longer use his services," a tweet from the organisation's official account said.
OUTA was not aware of
this cartoonists affiliation/links to racist individuals or platforms. Jerm was asked to compile occasional cartoons to drive our messages in our fight against corruption. Now that this has come to our attention, we will no longer use his services.

— OUTA (@OUTASA) December 3, 2018
Self-described as South Africa's 39th-best cartoonist, Jeremy "Jerm" Nell has been active since 2005 and has been published in the Sunday Times, The Star, City Press, Rapport, Beeld, The Times, FHM, Playboy, Rolling Stone, Daily Maverick, The New Age, EWN and eNCA, to name a few.
His views appear to have moved considerably to the right since he started and his work is currently rarely found in mainstream publications.
Jerm appears to have lobbied to crowd-fund cartoons on race and IQ theory on message boards and seems to be proud of producing work that "no editor or cartoonist wants to go near".
Jerm is also associated with AltToons, a page he reportedly started to create a space for work that is not politically correct and which has hosted cartoons featuring popular anti-black imagery (golliwogs) from the late 19th century.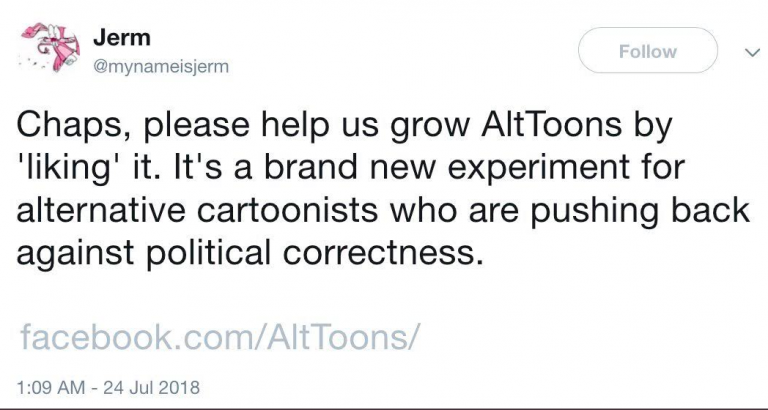 Various Twitter users added to @ex_post_facto's thread with more work associated with Jerm and they criticised Outa for its use of his content.
Honestly @OUTASA ? Not sure this is the best look at all. The fellow peddles in controversy and blatantly racist and highly offensive cartoons. And I know we will get the "his political views are unimportant" schtick…but he put himself on a public platform WITH those views.

— Post-truth politics will kill us all ???? (@populistmorons) November 30, 2018
oh my god pic.twitter.com/MRTDLwcOuV

— karl polanyeet (@said_mitch) December 1, 2018
This is what has been nagging me I knew in my gut that they are not kosher. I called them out as being in the same WhatsApp group with Afriforum pic.twitter.com/u2QxnwTEcn

— ????????????????I'm Mabena???????????????? (@Wandile72) December 1, 2018
i would venture it is emblematic of OUTA's motivation.

— The Influenzar named ☭ Esoterik #BLF Killmonger✊???? (@EsoterikDude) November 30, 2018
Earlier this year, Jerm told The Citizen that the race/IQ cartoon has been misinterpreted and is not in fact racist.
He was initially included in a story about Willem Petzer and Danie Barnard, two far-right vloggers who had been exposed for hosting and sharing racist memes. It was mentioned that Nell was also included in Unicorn Riot's Discord Leaks, which the story used as its primary source, as hosting a Discord chat group completely separate to Petzer's.
Nell felt he had been linked to Petzer and Barnard unfairly, and was removed from the story about them in The Citizen.
He explained that he felt his race/IQ cartoon had been misinterpreted. The cartoon was interpreted as endorsing the idea that some races are inherently more intelligent than others due to genetics, which he denies.
"I did feel that your interpretation was unfair," he said, but added "to be fair, you're allowed to interpret the cartoon any way you like."
"If I make a gay joke, then am I suddenly homophobic? Of course not. The purpose of the 'race and IQ' cartoon is to open up the discourse around the talking point. For some reason it is extremely taboo and, as a satirist, I feel nothing should be taboo. The second purpose of the cartoon is purely to mock the talking point. After all, if it were racist, then who is it racist towards? The white and black guys being dumber than the Asian guy? No," he continued.
"That said, it IS true that some population groups show signs of over-achievement, such as in technology or sports. But this isn't due to race (and IQ) as many people might think, but rather due to environment and culture. And this is researched at length by many people, one being economist and Stanford professor Thomas Sowell (who grew up in Harlem). Stereotypes are generalisations, but they do exist nonetheless," said the cartoonist.
"In other words, simply labelling the cartoon as racist is quite narrow-minded," he concluded.
UPDATE: Comment from both Outa and Jeremy "Jerm" Nell was added at 10:03am, December 3, 2018.  
READ NEXT: Outa slams survey that suggests most people are cool with e-tolls
For more news your way, download The Citizen's app for iOS and Android.