The Department of Environmental Affairs revealed this week that 277 rhinos have been poached since the beginning of the year.
This week, two Kruger National Park field guides appeared in court on charges of conspiracy to kill a rhino and illegal possession of a firearm and ammunition. One of the men was said to be the son of a Phalaborwa regional ranger.
The alleged rhino poachers were arrested after the Gravelotte police in Limpopo received a tip. A .375 hunting rifle with its serial numbers filed off, nine rounds of ammunition, an axe and a panga were confiscated.
"The… firearm is being investigated," said police spokesperson Brigadier Hangwani Mulaudzi. "The accused were remanded in custody for further investigation until April 16."
SANParks spokesperson Isaac Phaahla said it was discouraging that the work of SANParks was being undermined by colleagues.
"We have said from the start of this war, [SANParks] is not an organisation full of angels, but those that involve themselves with criminality will be treated as criminals and shown no mercy."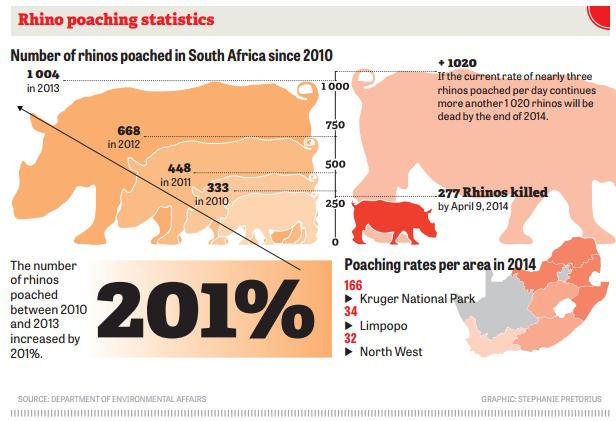 This brings to three the number of people arrested this year from within the national parks organisation's ranks.
Phaahla could not be definite as to how staffers were being tempted to kill animals. However, he noted that syndicates often made promises of quick wealth without mentioning the risks faced by poachers.
Fortunately, the rhino birth rate is keeping just ahead of poachers. "We have not reached the tipping point yet, there are still more rhinos being born than poached," said Phaahla.
He added that some 86 poachers have been arrested so far this year.