Of this number, only 1 500 patients, including adults and children, are on the waiting list for the life-saving procedure, according to the Organ Donor Foundation (ODF).
Fewer than 600 transplants are performed each year and approximately 6 000 patients are on dialysis countrywide, said ODF executive director Samantha Vol-schenk.
"We need to educate the entire population of South Africa about organ donation," she said.
Volschenk said there has been an escalation in "lifestyle diseases", which has led to an increase in the number of patients needing a transplant.
Fears, misconceptions and cultural and religious beliefs all play a role in the shortage currently being experienced, she said.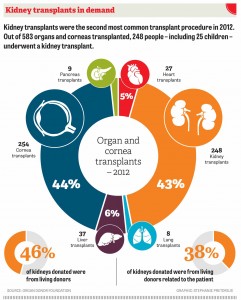 According to a "myth and fact" sheet released by the United Network of Organ Sharing (Unos), people often think emergency room doctors will not "work as hard to save you" if it is known that you are an organ donor.
"If you are sick or injured and admitted to the hospital, the number one priority is to save your life," Unos says on its website.
"Organ donation can only be considered after brain death has been declared by a physician.
"Many states have adopted legislation, allowing individuals to legally designate their wish to be a donor, should brain death occur – although in many states organ procurement organisations also require consent from the donor's family."
Volschenk said people needed to be educated about organ donation through continued education drives using electronic communication, mass media, social media and on-the-ground programmes – specifically in the townships and rural areas.
World Kidney Day has been observed on the second Thursday of March since 2006.
If you want to register as an organ donor, visit www.odf.org.za or call the toll free line 0800 22 66 11.