Members of the Economic Freedom Fighters (EFF) disrupted a church service at the church run by controversial pastor Lethebo Rabalago, 24, otherwise known as the "Doom Pastor".
Rabalago, of the Mount Zion General Assembly (MZGA), made headlines after he sprayed insect-killer Doom on his congregants that so they could ostensibly be healed of diseases.
"The Prophet called sick people to come forward. [Mrs Mitala] went to the forth [sic] and told the Prophet that she suffers from ulcer. The Prophet sprayed doom on her and she received her healing and deliverance [sic]," one of the church's Facebook posts read.
When asked why he would use Doom to heal people, Rabalago said he was chosen before birth to do this.
Watch the video of the EFF disrupting the service below:
The EFF, which immediately warned the pastor that he was abusing black people and would be punished, is reported to have uprooted part of the tent that houses Rabalago's church. The SABC further reported that Rabalago fled.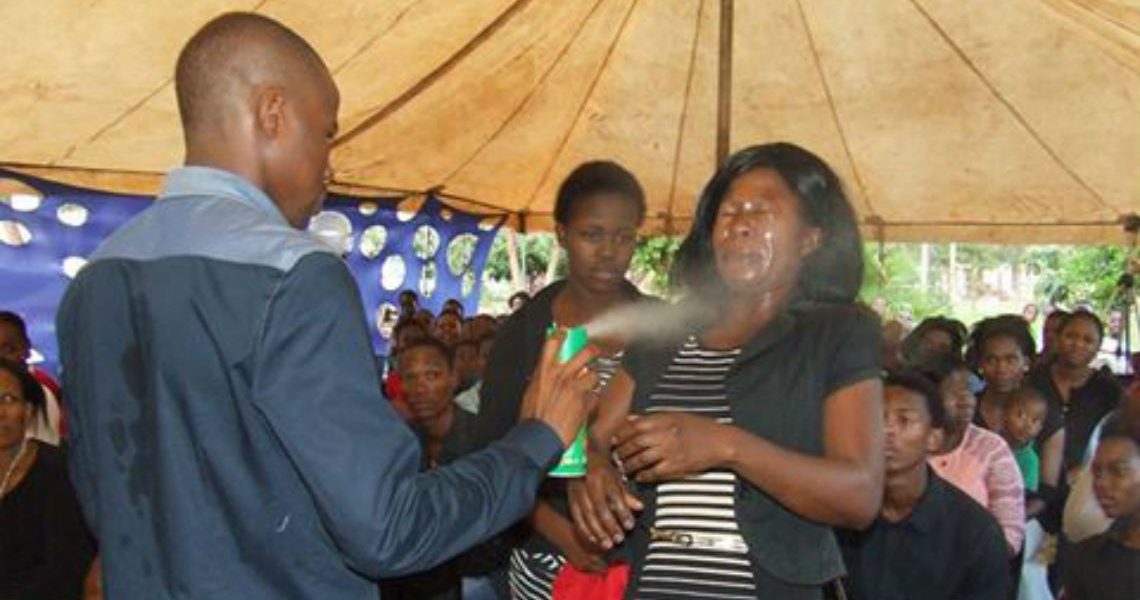 The party's national spokesperson, Mbuyiseni Ndlozi, warned that the EFF iyeza [EFF is coming] last week. Ndlozi asked if Rabalago remembered what had happened to the snake pastor.
In that case, the EFF and the community of Soshanguve, north of Pretoria, burned down the End Times Disciples Ministries, a church whose pastor, Penuel Mnguni, made his congregants eat snakes and rodents.
"Soon, we might have to go & fellowship with the #DoomPastor in accordance with John 2v15. We won't stand the abuse of black people anywhere!
"#ProphetOfDoom has not heard about what happened to the #SnakePastor? No problem! EFF iyeza," said the EFF national spokesperson.
On Friday, The Citizen reported that the Doom Pastor needed to flee from his home due to increasing hostility towards him. He has allegedly been squatting with friends and relatives in Mathibela, a short distance from Lebowakgomo township.
The Citizen revealed that the wayward young pastor had not been sleeping at home since Limpopo MEC for health Phophi Ramathuba threatened to take him for mental evaluation last Wednesday.
Ramathuba vowed this week to approach the courts to seek permission to take Rabalago for an evaluation.
"He is no longer sleeping at home. He is hopping from one place to the other. The last time I saw him was early this week," said a close relative who did not want to be named.
During visits to Rabalago's village on Wednesday and on Thursday, there was no sign of him. Neighbours claimed the "pastor" comes and goes during the day and that he was never seen after dusk.
ALSO READ: Pastor makes congregation touch live electric wires
Rabalago's mother, Everista, said on Thursday he was not at home and that she had no idea where he was. The mother, who is physically challenged, confirmed she was not a member of her son's Mount Zion General Assembly Church.
"I don't know where my son is, and please, in the name of God, I do not want anything to do with him, his claims or his church," said Rabalago's perturbed mother.
Earlier on Wednesday, Rabalago said he was ordered by his senior pastor not to talk to anyone about the Doom fiasco.
"I have realised that since I used Doom to assist my people, I have created more enemies than friends. Even some of the pastors have already perceived me a satanist," said Rabalago.
"I will, therefore, not say anything … Let's speak after the dust has settled."