According to Institute for Security Studies senior researcher Dr Johan Burger, POP members receive rigorous training in the application of minimum force when dealing with protesters.
The POP unit takes the brunt of the violence at the often euphemistically termed service delivery protests. "They are supposed to be equipped only with their side arms as far as live ammunition is concerned," he noted. "The side arm is for personal protection, like every other police officer it is not part of crowd control."
Since being taken off the shelf in 2011 after having been closed by disgraced national commissioner Jackie Selebi, only three of seven POP units have been reopened. Late last year, the POP staff complement was 35% below 2006 levels, Burger has said.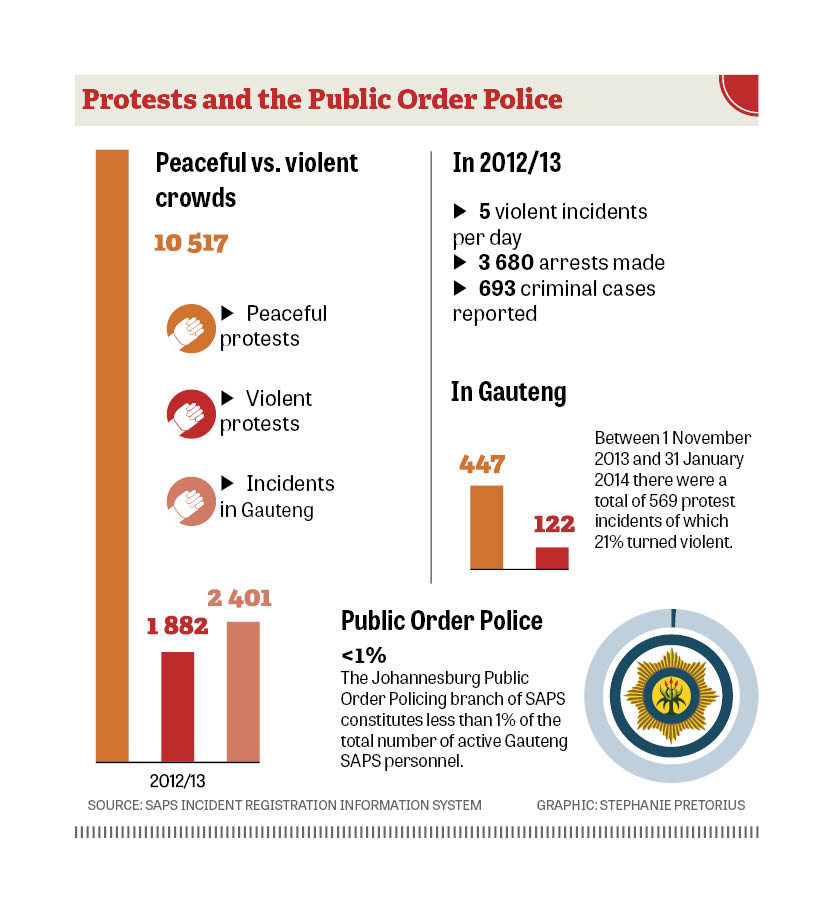 Lizette Lancaster, project manager at the Crime and Justice Information Hub, said yesterday South Africa had some of the best trained POP units in the world. "But I do not know if everybody at the scene is trained. Often, given the situation, police react too quickly. Sometimes what happens – instead of managing the situation in a way, such as waiting for back-up to arrive when it starts getting violent – is that certain groups within the police react too quickly, and that can lead to an aggravated situation," she said.
Lancaster and Mpho Mtshali wrote in a research paper that the police were caught in a cycle of violence with certain communities. "The root cause often tends to be frustration with poor service delivery or inadequate responsiveness from local governments," they found. "There are several reasons for these incidents. One being a material need such as water, also complete feelings of inequality and not being taken as seriously as other groups and suburbs that have more resources. So it's really important to understand the complexities behind these protests."
Burger said much could be done to rebuild the POP unit and continue its training. "Without ongoing training, you will see incidents where they lose a little control and people get seriously injured or die, then we criticise them again. What is expected of them now, given the dilapidated conditions they have to function within, is absolutely unfair."