This is indicated by the 5.7 million people living with HIV who are 15 years and older. Disproportionately, there are an estimated 3.4 million adult women living with HIV, compared to 2.3 million men. Around 410 000 children are estimated to be living with HIV.
While the number of people needing ART was put at 2.7 million in 2012, it grew to 3.2 million in 2013. Access to ART had grown exponentially after the adoption of the raised eligibility criteria to a CD4 count less than 350 cells/mm3 in 2010.
"Almost 2.2 million people in South Africa had been started on anti-retroviral treatment in 2012, making South Africa's ART programme the largest in the world. This represents 81% of the 2.7 million South African adults and children estimated to be in need of ART in 2012," according to UNAIDS estimates.
A shocking report late last year by civil society organisations, including the Treatment Action Campaign (TAC) and Médecins Sans Frontières/Doctors Without Borders, had indicated that South Africa's drug supplies for HIV positive patients were critically low.
The report detailed the percentage of "stock-outs" at facilities requiring anti-retroviral (ARV) and tuberculosis medication.
Out of 2.2 million people on treatment, one in five faced a repeated stock-out. The Free State, Limpopo, Mpumalanga, Gauteng and the Eastern Cape are the five provinces with the highest percentage rate of health facilities experiencing stock-outs.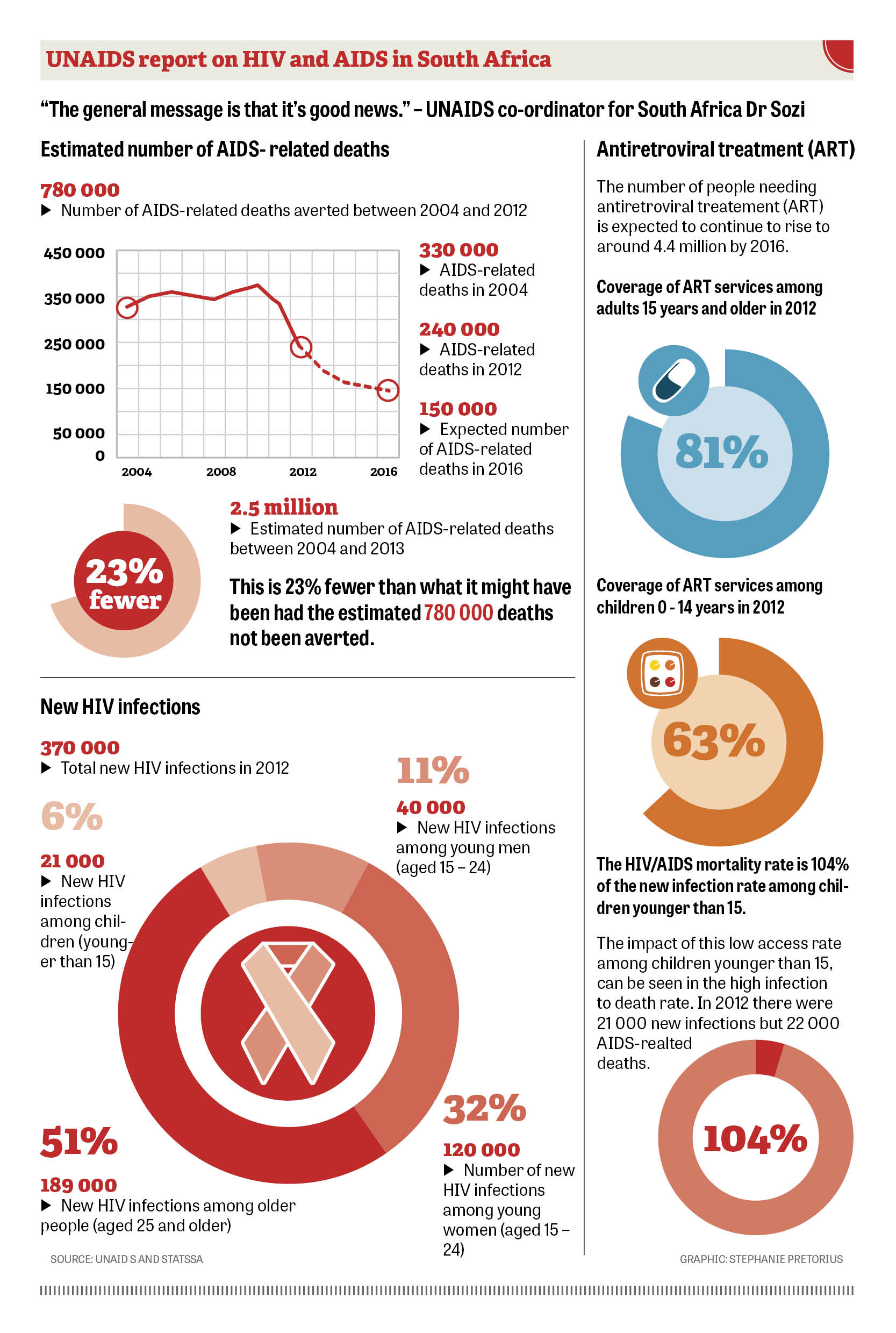 Health Department spokesperson Joe Maila at the time labelled the report as being "hugely exaggerated".
The UNAIDS report estimates adults needing ART would increase from 3.2 million in 2013 to 4.4 million in 2016 due to increasing new HIV infections. Children under 15 years needing ART access increased by 57% – from 140 000 in 2004 to 220 000 in 2012. "Treatment coverage among children in South Africa is still unacceptably low," the report says.
The rapid rise in need for ART in adults, as well as the need for ART among children, is expected to remain relatively constant, according to the report.
Aids-related deaths have meanwhile reduced significantly.
The 240 000 lives claimed by Aids in 2012 were 30% fewer than the 330 000 lives lost in 2004.