To what extent this has had an effect on the breakdown in our family structures isn't well understood, but it is important.
Decades of enforced family separation through the migrant labour system is widely accepted to have been hugely destructive to family cohesion, going all the way back to Alan Paton's 1948 depiction in Cry, the Beloved Country.
But this alone cannot explain the accelerated self-destruction of the family unit since apartheid ended. South Africans are increasingly marrying less, divorcing more and having children out of wedlock.
Between 2003 and 2010, registered marriages fell 8%, civil marriages were down 4% and customary marriages 42%. Half of our children now have to contend with grow- ing up with absent but living fathers, while the fathers of another 16% of children are dead.
Only 28% of black children grow up in households with both parents. For Indians, the figure is 81% and for whites it's 78%. The proportion of households with absent but living fathers has increased significantly among blacks and whites since apartheid ended.
Unsurprisingly, studies consistently show that children who grow up without a father tend to live in poverty and are more vulnerable to negative behavioural, emotional and intellectual outcomes.
Teenage pregnancies jumped by 150% from 2003 to 2008, and in the latter year 144 girls under 18 years were recorded to have fallen pregnant every day.
That the number of births from teenage mothers also fell significantly during this time appears to be the result of the legalisation of abortions.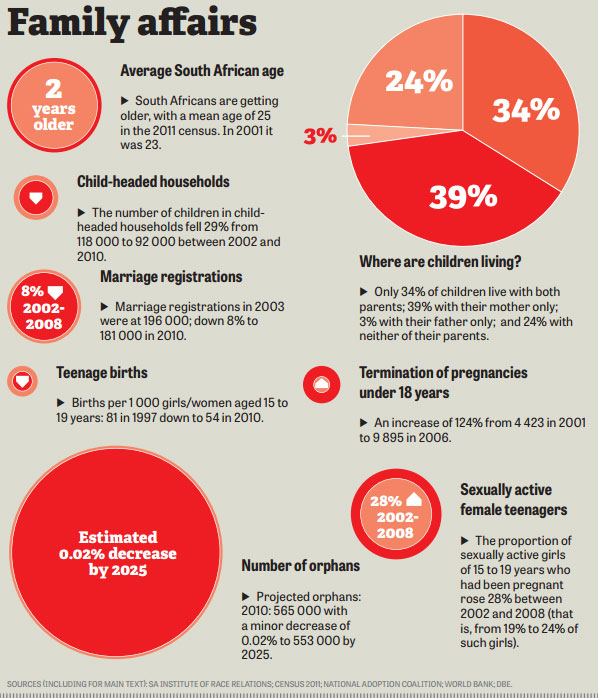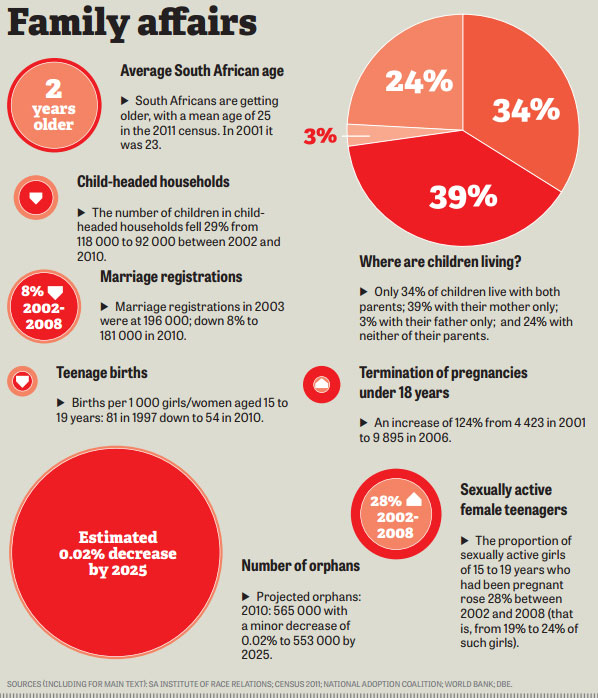 President Jacob Zuma has said that "it is not right to be single" and he would know. Confusingly, he adds that "kids are important to a woman because they actually give extra training to a woman to be a mother".
Government has issued a raft of Green Papers, White Papers and legislation since 1996, but it seldom speaks of individual responsibility or morality being the bedrock of family and society. Sometimes government contradicts itself.
The Department of Health has authored legislation making the provision of contraceptives and abortions to children aged 12 years and up legal, while another law prohibits sex between children under 16 years.
For its part, the Department of Basic Education does not allow nationwide distribution of contraceptives at schools (leaving this to individual school governing bodies to decide on). But the health department would prefer that it did do this.
In one instance, the health authorities provided contraceptive injections to children at an Eastern Cape school without their parents' knowledge and to the fury of the education department.
Meanwhile, foster care of orphans attracts social grants of R770 a month, while those who adopt children do not get any grant. This may be one reason why more than 500 000 children were in foster care by 2011, but just over 2 000 were adopted.
Still, it's not all worrying or bad news. One positive development is that the number of child-headed households fell 26% between 2002 and 2010, the proportion fell by 29%.
This may have a lot to do with a decrease in parental deaths from HIV/Aids. Yet, overall, the family as a core institution of society is in trouble, and from that will flow all manner of problems.