The number of people injured in the structural collapse caused by the tornado that swept through Tembisa has risen to 20.
ANA reported how month-end shoppers at the mall stood dazed as search and rescue teams pulled people out of the rubble of damaged shops.
Health department spokesman Steve Mabona said some 20 people who suffered injury at the mall had been brought to the hospital, where the tornado destroyed the fence and carports and damaged about 20 vehicles belonging to employees, as well as three ambulances.
It collapsed the roof of part of the hospital and uprooted trees, he said, but patients were spared injury.
"Fortunately, no patient or employee sustained any injury as a result thereof," Mabona said.
"The hospital is currently attending to people who were injured at the destroyed Phumlani Mall in Tembisa, about 20 people have been transferred to the hospital."
Mabona said ambulances from neighbouring areas had been dispatched to assist.
Spokesperson for the Ekurhuleni metro police department, Wilfred Kgasago, said the tornado struck Tembisa at around 4 pm.
"At around 4pm this afternoon, a tornado hit Tembisa and damaged roofs at Phumlani Mall, Tembisa Hospital and at Total garage on RTJ Mamani Road," Kgasago said.
"According to information at out disposal, two people were reported injured at the mall and our search and rescue teams are currently rummaging through the rubble searching for survivors."
Kgasago said no casualties had been reported so far.
He added: "We have not got more information about the extent of damage caused at the Total garage but we got a report that the roof was also ripped off there."
"The whirlwind has gone in the direction of Bronkhorstspruit and we will be trying to establish how many people are injured."
The SA Weather Service warned that the country would suffer from stormy winter weather this week, with heavy rains and snowfalls forecast in KwaZulu-Natal, the Eastern Cape and Western Cape.
Update: July 26, 18.20pm:
There are discrepancies on how many people have been injured in the structural collapse at Phumulani Mall and surrounding areas in Tembisa this afternoon, however, emergency medical services as well as fire and rescue services are on the site to search for people who may still be trapped under the debris.
ER24 reports on its blog that three people suffered minor injuries in the structural collapse at the Phumulani Mall and surrounding business this afternoon. It is believed their injuries were caused by falling debris in the collapse.
Emer-G-Med spokesperson Max Cohen said the tornado also damaged some shacks in the vicinity of the Tembisa Hospital near Olifantsfontein Road.
"At this stage, Emer-G-Med has transported four patients, including a young child, who sustained minor to moderate injuries after the structure collapsed. At this stage it is unclear how many people have been injured, or are still trapped underneath the rubble," said Cohen.
He further stated that paramedics and rescue personnel were working effortlessly to search for any further injured or trapped people.
ER24 also said: "Paramedics and rescue workers found debris scattered across the parking lot of the mall as well as twisted metal lying at the entrance of the mall. Several vehicles were also damaged."
ER24 said the area was closed off by the local police and emergency services.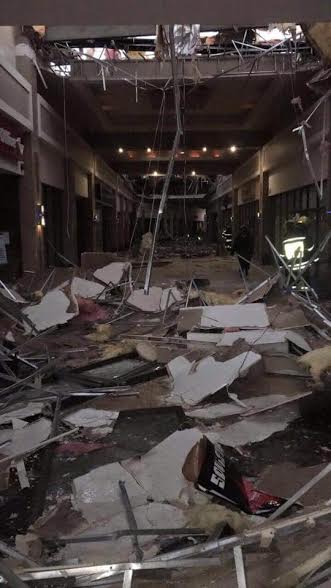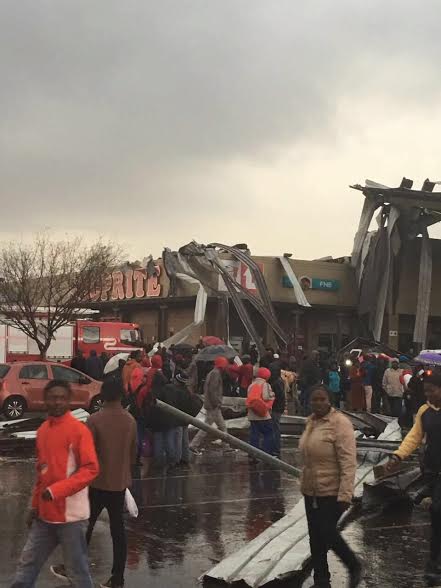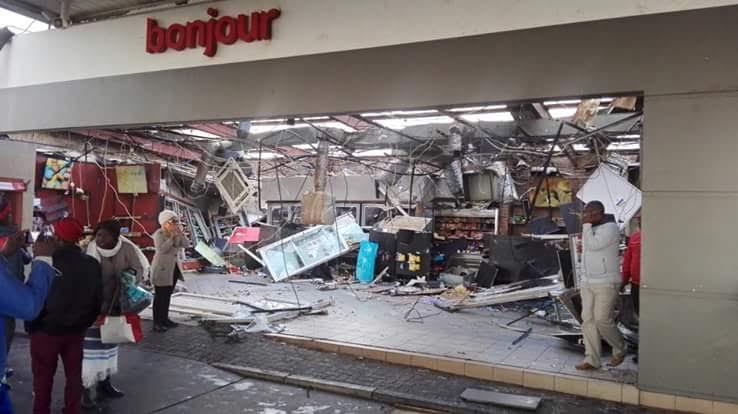 July 26, 4.25pm:
Following the tornado that was spotted in Magaliesburg yesterday, there are reports of multiple sightings of a tornado in Johannesburg.
The roofs of three big buildings, including a hospital, in Tembisa on the East Rand have collapsed as a storm lashed Gauteng on Tuesday, police confirmed.
ANA reported that a spokesperson for the Ekurhuleni metro police department, William Kgasago, said roofs collapsed at Phumlani Mall, Tembisa Hospital, and at a local Total petrol station due to a severe rain storm.
Gauteng Weather tweeted that the Tornado was visible from Midrand and along the R21 in Boksburg. Others took to Twitter to say it had been spotted in Kempton Park, at OR Tambo Airport and Tembisa.
According to a witness on the scene, there has been huge damage caused to Phumulani Mall, including cars in the parking lot, Kempton Express reports.
Reports suggest the tornado was headed towards Springs.
ER24 was en route to the scene to attend to possible injuries. About 11 injuries had been reported by Tuesday afternoon.
Further details to follow as more information comes to light.
South Africa is no stranger to tornadoes. Newcastle Advertiser compiled a list of the worst tornadoes in the country's history:
Welkom – March 20, 1990
This tornado caused more than R230 million worth of structural damage over a 20km-wide path of destruction. The multi-vortex tornado, part of a 240km-long storm front, scoured through the suburbs and had a width of up to 1.7km.
Utrecht – November 3, 1993
This tornado devastated a 200m-wide, 35km-long stretch of rural Utrecht and Glencoe. Forty people lost their homes, and seven were killed.
Harrismith – November 15, 1998
This tornado destroyed more than 750 homes over a 9km path. It caused damage to a number of telephone and power lines. Reports indicated 15 people were injured. The Harrismith tornado has been described as the "most spectacular" ever in our country.
Roodepoort – November 26, 1948
Seven hundred homes were wrecked when this tornado struck the suburb of Roodepoort. Four people were killed and damages of almost R150 million were reported. The tornado left a path of destruction 64km long, with the tornado touching down 15 times in different areas.
Mount Ayliff, Eastern Cape – January 18, 1999
A violent F4 tornado ripped through areas surrounding Mount Ayliff and Tabankulu. The majority of towns were destroyed, with 95% of residents left homeless. Numerous vehicles were thrown significant distances by the storm, with one travelling almost 500m. This is largely considered the deadliest tornado in our history. Twenty-five people were killed and about 500 others injured.
– Caxton News Service