Perhaps the only thing surprising about the news that Porsche is working on a new SUV with a sloping coupe-style roofline is that it's taken this long.
While Porsche was one of the first manufacturers to deliver a truly sporty SUV in the shape of the Cayenne, which launched in 2002, it has taken until now for a Porsche SUV coupe to be spotted out on the road undergoing testing.
Although the German automaker hasn't made an official comment about the new model just yet, there are spy shots appearing of what seems to be a less-practical version of the Cayenne with one of those sloping rooflines that are so popular at the moment.
It's certainly not a radical redesign of the Cayenne as it looks almost the same as the current model with four doors and a rear hatch, but this time with a fastback roofline.
If anyone is in any doubt, this is a model that will go squarely head-to-head with German rivals the BMW X6 and Mercedes-Benz GLE Coupe.
Some false chrome and window vinyl has been added to the test car to try to obscure the differences between this and a regular Cayenne, but at certain angles it's possible to see the top of the window line starts to descend at the B-Pillar and continues to drop until reaching a curved angle to meet the window sill.
If you compare how the windows differ between the regular Panamera and the Sport Turismo version, that's basically what's happening here with the Cayenne.
As the current Cayenne has a rear hatch that already leans forward, what's being done to the Porsche isn't as dramatic a change as the X6 was when it was introduced.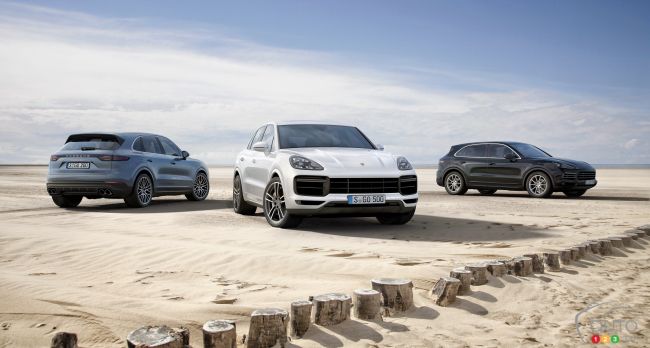 The prototype does have a larger rear spoiler than any existing Cayenne, and although the test car is sporting some obviously fake tail-light vinyls it's almost assured this Cayenne coupe will use the kind of full-width lights found on every other Porsche at the moment.
We're a long way from this model making it into showrooms though as it's not expected to go on sale until towards the end of next year.