The country's top off-road racers will enjoy a dirty weekend in the Champagne Castle Valley area of the Drakensberg this Friday and Saturday.
The occasion will be the Berg 400, round two of the 2019 South African Cross Country Series. With the route in the Winterton and Estcourt areas being used for the first time, the playing field will be level for all teams. Topping the entry in the premier FIA Class will be the Gazoo Toyota Hilux entries of Giniel de Villiers and Dennis Murphy and Henk Lategan/Brett Cummings.
The four will be chased by teams like Chris Visser and Philip Herselman (Atlas Copco Toyota Hilux), Ernest Roberts and Riaan Greyling (JCP Roofing Navara), Jaco van Dyk and Michel Rust (24-7 Race Fuels Nissan Navara), Thomas Bell and Patrick McMurren (Dragon Energy Navara), Schalk Burger and Elvene Vonk (King Price Extreme Navara), Shameer Variawa and Juan Möhr (Gazoo Toyota Hilux), Johan van Staden and Mike Lawrenson (Elf Renault Duster) plus Terence Marsh and Letshego Zulu in the Motul Navara. Heading up Class T will be Lance Woolridge and Ward Huxtable in the Castrol Ford Ranger.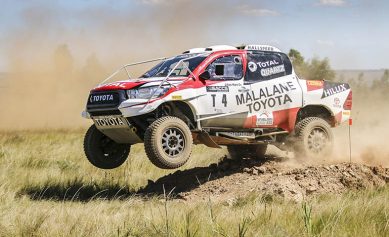 They will face off against Marcos Baumgart and Kleber Cincea (Castrol Ford Ranger), Gary Bertholdt and Geoff Minnitt (Atlas Copco Toyota Hilux), Johan and Werner Horn (Malalane Toyota Hilux), Jacques van Tonder and Sammy Redelinghuys (Ford Ranger), Richard Leeke and Danie Stassen (ATS Ford Ranger), Theuns Joubert and Henry Kohne (Elf Renault Duster) plus Wors Prinsloo/Kenneth Venter (Ford Ranger). Lance Trethewey and Adriaan Roets in the LT Earthmovers BAT will be the team to beat in the Special Vehicle category.
Their closest challengers will include Ralph and Andre Voigt (Voights Group BAT), Taahir and Talha Moosajee (Tyre Rack Stryker), Lais and Rayhaan Bodhanya (Tyre Rack Porter), John Telford and Victor Ntsekhe (Calcamite BAT), Sandra Labuschagne-Jonck and Jaco Jonck (Total Agri Porter), John Thomson and Maurice Zermatten (Mormond Zarco), Dean Bradbury and Rikus Hattingh (Bradbury Logistics BAT Venom), Nic Goslar and Andrew Massey (SA Clinics Zarco Magnum), and Keith Makenete and Ntaote Bereng (BAT).
With teams in the SideXSide (SxS) category also competing for national championship titles, competition can be expected.
All teams are competing in Can-Am Maverick SxS vehicles and have to complete the full race distance. Werner and Leon Mostert are the championship leaders.
For more news your way, download The Citizen's app for iOS and Android.