Meet South Africa's youngest motorcycle circuit racer. His name is Bohlale Mafokate, and he is four years old. He rides a pocket bike in the regional short circuit racing series, held on inland kart circuits. Bohlale has been dubbed Littleman#110, reflecting his size and date of birth, which is October 1.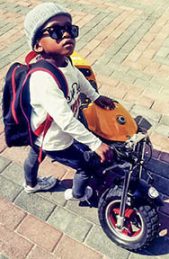 It all started with Bohlale and his father, Zenzele Mafokate, riding bikes together over weekends on the roads around FNB Stadium. The four-year old then developed a love of motorsport, since his dad – who raced bikes in his time – would watch all sorts of racing on television.
After getting the go-ahead from administrators, Bohlale became the country's youngest competition licence-holder and he had his first pocket bike race at the Zwartkops karting circuit in August last year.
He has since taken part in races at karting circuits in Polokwane, Vereeniging and Zwartkops, with his results creeping up from 11th to recent third and fourth places. He has six more races scheduled this season.
For more news your way, download The Citizen's app for iOS and Android.