Competition is NOW CLOSED.
Congratulations to our winner:
1. Mark Metzler
Is your home office a pain in the neck?
In celebration of National Healthy Lifestyle Day, on Monday 22 February 2021, SA's leading designer and manufacturer of ergonomic products,
Ergotherapy
, wants to improve the health and comfort of your work life. With working from home, everything is now around the corner – instead of walking to the office kitchen or across the building to meeting, we now hardly move.
The result is that sitting has become commonplace, and this leads to prolonged inactivity, which increases load on the spine. As the back becomes stiff, weak, and deconditioned, the discomfort increases, activities are further reduced, exacerbating the cycle. It's no wonder there has been such a significant rise in back and neck pain.
However, neck and back pain should not be your normal!
Ergotherapy's core business is ergonomic chair design and manufacturing to provide the best possible support. They take a unique approach to comfort and are medically endorsed, combining ergonomic principles with the expertise of physiotherapists to ensure every chair is designed with the body in mind. Check out their range of innovative desks and workstation accessories too – www.ergotherapy.co.za.
Win an Ergotherapy Metro Midback Ergonomic Office Chair and ensure your home office comfort is guaranteed.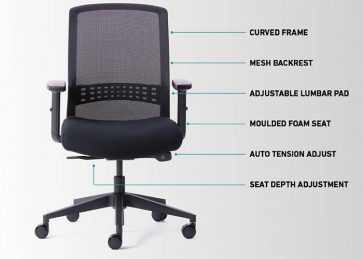 Visit: https://ergotherapy.co.za/
Join the conversation on Social Media:
Twitter: @ErgotherapyZA
Instagram: @ergotherapy
Facebook: @ergotherapysolutions
Competition closes Monday, 1 March 2021 at midnight.
Ts&Cs apply. Competition will run online only. By entering the competition, you accept The Citizen's standard terms and conditions. Premium members get an automatic entry to all citizen.co.za competitions.
For more news your way, download The Citizen's app for iOS and Android.