According to the latest statistics in its quarterly employment survey, Stats SA's December 2018 data showed that an estimated 10,151,000 people were employed in the formal non-agricultural sector of the SA economy, which was up by 87,000 from 10,064,000 in the previous quarter.
The number of people working part-time increased by 37,000 to 1,065,000 in the fourth quarter of 2018. The number of people working full-time increased by 50,000 to 9,086,000 in the same quarter.
Stats SA added that "the business services industry accounted for the biggest share of the observed increase in employment, contributing 53,000 employees, followed by the trade industry with 49,000 employees, community services industry with 9,000 employees and transport industry with 5,000 employees.
"However, there were decreases in employment reported by the construction industry with 18,000 employees, the mining industry with 7,000 employees, manufacturing with 3,000 employees, and the electricity industry with 1,000 employees.
"Employment increased by 158,000 or 1.6% year-on-year between December 2017 and December 2018, with 134,000 being full time jobs and 24 000 part time jobs."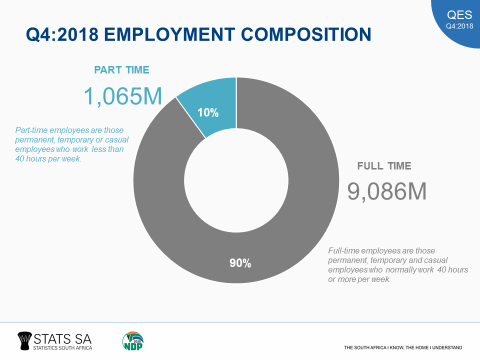 You can read the full report here.
For more news your way, download The Citizen's app for iOS and Android.