The photo, captured by US media, shows Williams in a yellow swimsuit with what appears to be a baby bump.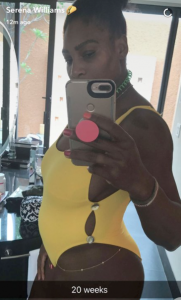 Williams, 35, hasn't played since beating her sister Venus in the final of the Australian Open in January to clinch a record 23rd Grand Slam singles title.
She cited a knee injury in pulling out of tournaments in Indian Wells and Miami in March.
In December she announced her engagement to Reddit co-founder Alexis Ohanian, first sharing that news on the Reddit social media site.
This is the reaction on Twitter to her post
Serena Williams really won the Australian Open while pregnant and I was sore for three days after losing Wii tennis…

— timmy (@underlord5000) April 19, 2017
https://twitter.com/Archibald_m1998/status/854742592331939840
https://twitter.com/TheTennisTalker/status/854736930734526464
Serena Williams won a Grand Slam while pregnant. Please tell me more about women not being as athletic as men.

— Lexi LaFleur Brown (@lexilafleur) April 19, 2017
Beyoncé and Serena Williams both gave excellent performances this year while pregnant. Those kids are already more successful than me.

— reggie (@1942bs) April 19, 2017
For more news your way, follow The Citizen on Facebook and Twitter.