A grateful man recently took time out to pay back an act of kindness by four homeless boy following a harrowing accident in Rosebank, on September 17, reports the North Eastern Tribune.
Northcliff resident Xavier Saet explained in a Facebook post that he could have lost his life on September 17 after a driver, who he alleged was drunk, "crossed a red light at high speed" and hit the passenger side of Saet's vehicle. "My car spun, flipped and ended sideways on the opposite side of the road," read the post.
While he expressed his disappointment with the culprit, who he said never claimed responsibility and "escaped with a tow truck", he was grateful for the witnesses that came forward.
Furthermore, he said he felt grateful for the homeless "boys" who turned his car back on its axis so that he could alight from it.
Saet said: "I couldn't open any of the doors because of the accident, but these four young guys managed to turn the car back on its axis so I was able to get out."
On his Facebook post he wrote, "I have no idea how they managed to turn my car back on its axis, but all I remember is them saying, 'We can't give up … Push harder … We are almost there …'"
To show his gratitude, Saet pledged to take care of the homeless boys by giving them food and getting them much-needed help.
On September 19, Saet decided to help the Samaritans under the sentiment, "love breeds more love". "So I'm going to sponsor them and make sure that every week they have something to eat. And I vow to get them off the streets." 
He further stated he would be grateful for any assistance and is reaching out to experts to see how best the youths can be assisted.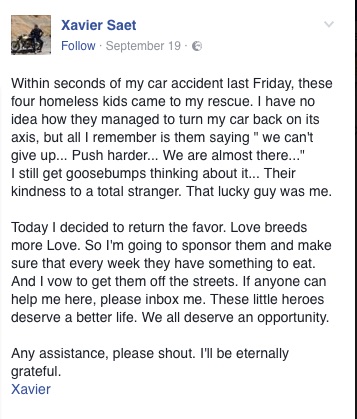 A screenshot of Xavier Saet's post on Facebook.
"At the moment, I'm in the process of reaching out to various contacts and experts to see what else can be done to help the boys out and get them appropriate attention," he said.
Saet concluded by explaining that helping the boys was a way to return the compassion shown to him and urged others to get involved in helping empower the young men. "It's all about showing ubuntu, taking care of others and empowering these boys to empower themselves," he said.
Many people have commented on Saet's Facebook post praising the youngsters who helped him, and they also offered their assistance.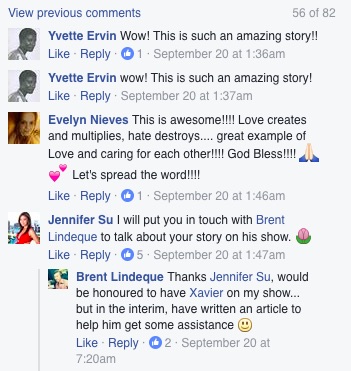 – Caxton News Service