Controversial businessman and self-declared king of sushi Kenny Kunene says watching his controversial nude painting of Helen Zille brings a smile to his face.
He said this during an interview with the SABC on Wednesday morning, in which he also slated EFF leader Julius Malema for being "a liar".
Kunene says the painting, which depicts Zille and others naked, is in his room and that every morning when he looks at it, his face is filled with a smile. The controversial former prisoner says he made the painting public because he wanted to see if the DA would have the same reaction to it as when President Jacob Zuma was painted naked.
Also read: Kenny Kunene 'the witch' is burning – Malema 
Kunene set the internet on fire in July this year when he posted a painting tha featured Zille, DA leader Mmusi Maimane and the party's federal executive chairperson, James Selfe. The painting depicted Maimane's penis as gigantic, while Selfe's was tiny.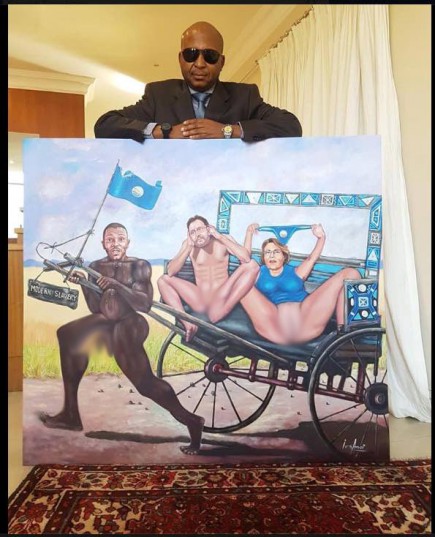 Earlier this year, painter Ayanda Mabulu also caused a stir when he painted Zuma and a member of the controversial Gupta family, Atul, as pilots who happened to be engaging in explicit sexual activity while still on a flight. He depicted Zuma licking Atul's behind in a painting many described as "too graphic".
Also read: Mabulu 'hits below the belt' with Gupta-Zuma paintings
"If you go to my house it's me all over. I love myself. I decided to buy it [Zille's naked painting] because if you look at the paintings that have come have always been about Jacob Zuma. And they have always been supported by the DA. So my issue was … It is not just an insult to President Jacob Zuma.
"It's an insult to every black father. So I've bought the picture to see if the the nude artwork is about the DA, how will the DA respond. But also to have a laugh every day when I wake up. The painting is in my bedroom."
When asked how he feels about it every day when he wakes up in the morning, he said: "I just smile, hey".
"I just smile. Maimane's comment after the painting was a politician's comment. I would have loved to hear his personal comment. But the fact that they condemned it shows the hypocrisy of politicians … of the DA politicians also; because when it is them, they condemn it, but when it's the president they support it."
Also read: Kenny's naked Zille and Mmusi painting shocks Twitter