The Johannesburg Society for the Prevention of Cruelty to Animals (SPCA) hospital team celebrated a proud and historic moment recently as they performed their first Persistent Right Aortic Arch Surgical Repair in 10 years.
A statement posted on the Johannesburg SPCA Facebook page read that Snoekie, a five-month-old puppy, was presented to them with a history of chronic vomiting after eating, and X-rays of her chest showed a dilated oesophagus caused by a band around the oesophagus called a persistent right aortic arch.
"Surgical repair to tie off this band can cost well over R8 000, as this surgery requires opening the chest cavity after which a ventilator is required," the statement read.
The Randburg Sun further reported that chief veterinary surgeon Dr Asheena Surajpal at the Johannesburg Society for the Prevention of Cruelty to Animals (SPCA) said: "It broke our doctors' hearts to have to put this bundle of hugs and kisses to sleep due to financial reasons, so it was decided to perform the surgery."
The SPCA also decided to pay for it, the organisation's spokesperson Jolene Beyleveld said.
The surgery, performed on August 31, was successful, and the team was relieved when Snoekie began breathing on her own.
"With a dedicated team of theatre surgeons, Dr Leo Manyora and Dr Asheena Surajpal, assisted by Dr Tina Engel, and our fantastic team of nurses namely Jerusha, Luyanda and Dineo and theatre orderlies Fistos and Caiphus, the delicate corrective surgery was performed," Beyleveld said.
Snoekie was released a week after the surgery and reunited with her owners and is now "eating like a trooper with no regurgitation".
Beyleveld added the emotional reunion with Snoekie's owner was worth all the hard work.
Many Facebook users shared their support for the Johannesburg SPCA's work by commenting on the post on the Johannesburg SPCA Facebook page: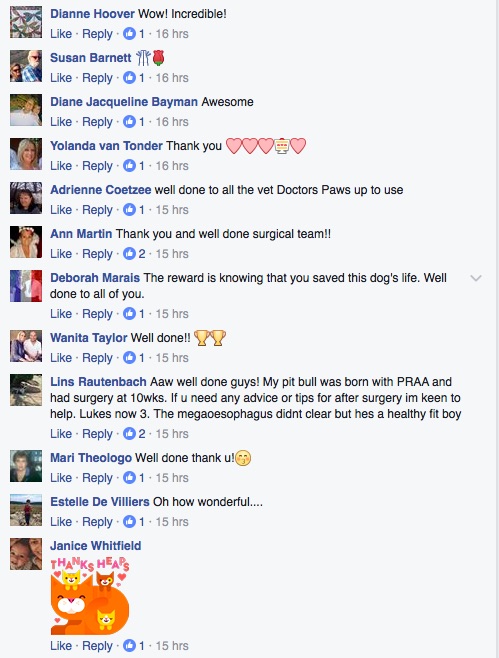 – Caxton News Service