Former SABC journalist Cliff Saunders waded into the debate about the black girls and their hair at Pretoria Girls High, taking to Facebook to launch a string of opinions directed primarily at the young woman who became the face of the protests against hair and language policy at the school.
Girls at the school have alleged that they were called monkeys and the k-word, as well as warned they could not speak their African languages.
READ MORE: Pretoria High: Teachers called us 'monkeys, dirty k****rs'
Even Public Protector Thuli Madonsela was not spared his ire, with her "wigs" coming in for attack and how she must "hate" her natural hair.
Saunders, who now describes himself as retired, started off on Tuesday night by writing: "RIDICULOUS..Pretoria Girls High accussed of discrimination (racism?) because it does not want to allow such huge "hair bushes"in classrooms!
QUESTION: How does student behind her see teacher or blackbard? [sic]."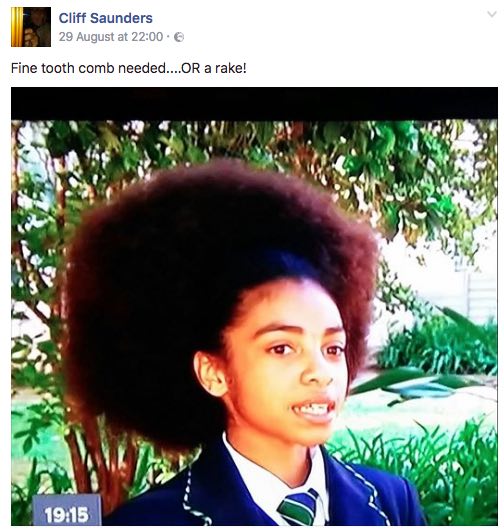 He then recommended putting a "tight plastic bag" over Afros at concerts and in class and theorised they could pose a danger if struck by lightning. He soon added to that with a comment about how to groom the hair, saying a "fine tooth comb" or a "rake" would be needed.
He later wanted to know "what lives in that bush?"
He was still only getting started, calling the children at the school a "bunch of whingers" who should have asked what "it was like in our old Boer schools".
His antipathy towards Madonsela continued with a comment that: I SUSPECT THAT THULI MADONSELA (whom I have no time for!) will now be purchasing an extravagant Afro Wig to replace the STRAIGHT HAIR ONES she always wore. Expect the flamboyant publicity-seeker to wear an AFRO so large that if she is seated in front of a theatre half the audience at the back will have to be vacated…..!!!"
Saunders was an active journalist at the SABC during the apartheid years and has often come in for criticism for penning opinion pieces coming across as favourable towards the old regime.
David Robert Lewis, writing in 2012 about Saunders, called him the "apartheid propaganda chief" and "one of the better known horrors of the apartheid regime".
He has again come in for some heavy criticism on Twitter for his hair comments.
To HELL WITH CLIFF SAUNDERS..Why is our Hair suddedenly Blocking your view?Thats bigotry pic.twitter.com/osCT4cTimB

— Donald Laka (@Don_Laka) August 31, 2016
Repeat after me, Cliff Saunders is a racist vark. RT to increase awareness #CliffSaunders pic.twitter.com/ifsIDuPxZD

— Anele Mfazwe (@mfazwe) August 30, 2016