High performance car buyers have more choice than ever, specially in the year 2016, with the local launch of a variety of high performance cars that can make your choice a hard one.
We have rounded up the five best new cars that have appeared in 2016 so far. Some models will put driving thrills first and foremost, while others will push the boundaries in terms of design.
BMW M2
After driving the M235i (the essential replacement of the 135i) when it was still new in the market, I certainly couldn't leave this one out!
Apart from it being the smallest in size in the M Performance Division, the baby M3 (if I can call it that) is an indirect successor to the 1-Series M Coupé. Powered by the N55 engine and tuned to produce 272kW and 465Nm of torque (500Nm with overboost).
The M2 can be had with a standard 6-speed manual gearbox which will enable it to sprint from 0-100km/h in 4.5 seconds, or 4.3 seconds if equipped with the optional 7-speed DCT automatic. The M2 will max out at an electronically limited 250km/h.
The limiter can be raised to 270 km/h with M Driver's Package as an option. Although a convertible M2 is rumoured for production, only a coupé variant has been confirmed.
What we love about it
Rear-wheel drive system is pretty good on the track.
Oversteer-reducing Stability Clutch Control.
The M2 has a playful charisma as you nose it on to the road ahead of you.
Pricing from R850 600 and R906 600 for the M2 Coupe M-DCT.
---
Volkswagen GTI Clubsport
The GTI Clubsport is a special edition 'birthday cake' from VW for its 40 year GTI anniversary.
The year 2016 saw the introduction of the GTI Clubsport boasting the same 2.0-litre turbo engine that powers the standard GTI. It has been our favourite, having driven it a couple of times; the hatch ticks all boxes of sporty usage.
The GTI Clubsport celebrates 40 years with 195kW and 350Nm of torque offered only with a 6-speed DSG gearbox sent to the front wheels. If you want more power, there's a boost function which grants 213kW/380Nm over a 10-second stint. The feature requires another 10 seconds to cool down before you can give it another go. This overboost function is activated via a kick-down function when sport mode is selected.
Zero to 100km/h is dispatched in 5.9 seconds, and it will top out at 249km/h.
ALSO READ: Taking Volkswagen's excellent hot hatches sideways
Although VWSA says SA is set to receive a much tamed model called the Golf GTI Clubsport S in November 2016, we certainly believe it will stand out of the crowd.
The Golf GTI Clubsport S churns out 228kW, breaks the lap record for front wheel-drive cars on the Nurburgring Nordschleife with a time of 07:49:21.
What we love about it
Bucket seats which really serve their purpose as soon as you start unleashing the Clubsport sideways.
Feels lighter and makes the Golf R look heavier and slower for the first few seconds.
Reworked interior/ exterior compared to the standard Golf GTI, the GTI Clubsport has that 'don't mess with me look.'
Serious pulling power in all six gears.
The GTI Clubsport carries a starting price of R541 520
---
Audi R8
The R8 is a mid-engine 2-seater sports car which uses Audi's trademark quattro permanent all-wheel drive system.
The sports car was introduced by the German car manufacturer Audi AG in 2006 and the second generation of the Audi R8 was also launched locally this year at the Kyalami race track.
The new Audi R8 is available with two engine derivatives – with 397 kW for the R8 V10 and 449 kW for the R8 V10 plus. Their maximum engine torque – 540 Nm and 560 Nm respectively – is available at 6,500 rpm for both engines.
The V10 accelerates from 0 to 100 km/h in just 3.5 seconds, and it accelerates to a top speed of 320 km/h. For the V10 plus, the fastest production Audi ever, the figures are 3.2 seconds and 330 km/h, and it takes just 9.9 seconds to sprint from 0 to 200 km/h.
Only 55 R8 models were planned for South Africa, sadly all of them have been ordered for already.
What we love about it
It is therefore the perfect car for one of the prettiest rabbit runs on the planet.
The gear change is instant, although smoother on the way up than on the way down.
It's naturally comfortable, as you would expect from Audi, with an abundance of high-quality leather wrapped around almost everything.
Pricing
Audi R8 V10 quattro S tronic: R 2 630 500
Audi R8 V10 Plus quattro S tronic: R 2 970 000
---
Ford Focus RS
Apart from authorities in some countries willing to ban the RS's 'drift' mode; we find it very fun to play around with.
The new Focus RS introduces advanced performance technologies and is the first RS equipped with selectable Drive Modes – including an industry-first Drift Mode – and a Launch Control to spice things up.
Launched locally a few months ago, the new AWD Focus RS is powered by a 2.3 litre Ecoboost engine capable of producing 257kW of power and 440Nm of torque (470Nm available for up to 15 seconds on overboost during hard acceleration).
READ MORE: Jeremy Clarkson picks top 10 cars
This new 2.3-litre EcoBoost engine shares its fundamental structure with the all-aluminium four-cylinder engine in the all-new Ford Mustang, but the engine has been significantly upgraded for the Focus RS.
Ford said this is the fastest-ever RS model and claim it can get to 100km/h in a mere 4.7 seconds, going on to hit a top speed of 266km/h.
What we love about it
We love everything about it more specially its Drift Mode.
Pricing from R699 900
---
Mercedes-Benz C300 Coupe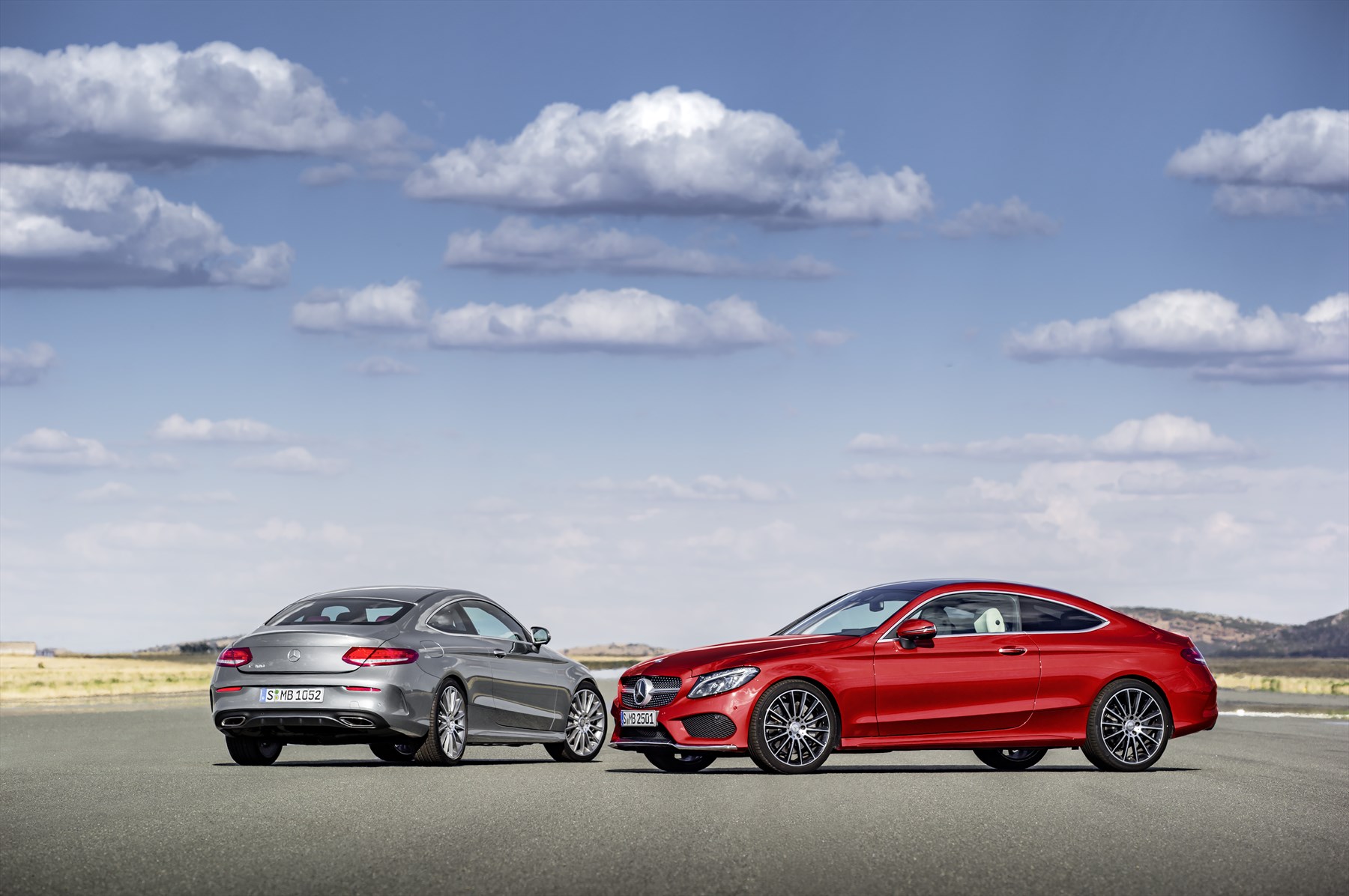 The sportier sister of the hugely successful Mercedes-Benz C-Class finally hit ZAR shores a few months ago and I was there to put it through its paces.
It's driving position was spot on, and the front seats supportive and comfy enough to create the right balance of a sporty, premium coupe. Pushing the C300 derivative on rain drenched roads it proved less of a handful as expected.
Under the bonnet you get a four-pot turbo engine tuned to produce an ample power of 180kW and 370Nm of torque. Power is sent to the rear wheels through a 7G-TRONIC PLUS 7-speed automatic gearbox giving the Coupe a sprint from 0-100km/h in 6seconds.
Mercedes-Benz only asks for R660 300 for this. If you want, you can either choose the lesser versions C 200 R551 000| C 220 d R592 700
What we love about it
AIRMATIC can be optioned for self-levelling and excellent ride comfort
All models are equipped with Frontbass technology, optionally available is a Burmester® sound system.
There is plenty of head and shoulder room.
The C300 is on point, its exhaust and engine acoustics emitted through the special AMG exhaust system adding to the pleasantries of its drive.
---
MORE MOTORING NEWS
Are we finally getting a BMW bakkie?