With the preparation and selection process that the athletes go through before representing their country at the Rio Olympic Games, have you ever wondered how much money they make for bagging medals?
On Monday morning, South Africa went in celebration mode when Wayde van Niekerk produced the best performance by a South African athlete in half a century.
Starting in lane eight, Van Niekerk charged out of the blocks and held the lead from start to finish in the men's 400m final at the Rio Olympics, shattering the world record to secure the gold medal in 43.03 seconds.
The 24-year-old speedster, who won the world title last year, chopped 0.15 off the 17-year-old global mark previously held by American star Michael Johnson.
Defending champion Kirani James of Grenada took second place in 43.76, and Beijing 2008 champion LaShawn Merritt of the United States ended third in 43.85.
"I was so scared someone was going to catch me I just kept pushing and pushing, and at the end I just dove for the line," Van Niekerk said.
South Africa is being represented by a delegation of 145 athletes and so far has bagged seven medals: one gold, five silver and one bronze. According to MarketWatch, our gold medallist Van Niekerk is guaranteed a R484 579 incentive from the South African Sports Confederation and Olympic Committee
This is before the millions of rands that could come his way in endorsement deals and appearance fees.
This is what athletes from other countries get: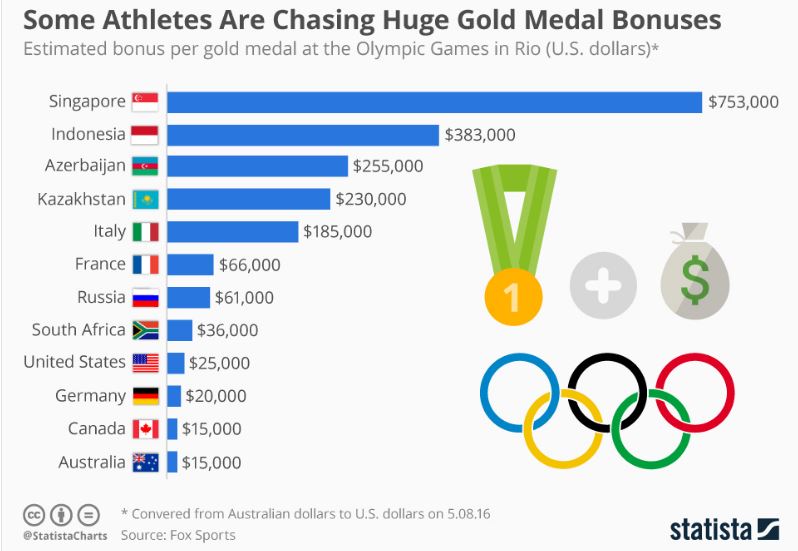 The United States of America – having won 84 medals: 28 gold, 28 silver and 28 bronze – gives its gold medallist R336 626.
Australia and Canada: R201 880.
Germany: R269 310
France: R888 693
Italy: R2 490 174
Singapore: R10 142 872
Other countries, including the UK, don't offer cash bonuses to medallists.
Addditional reporting by Wesley Botton.